My first attempt to make a tuna dish, Chinese Spicy Tuna Veggie, which turns out to be surprisingly good. Less than 15 minutes to make, less than 300 kcal. How good is that!
I cannot remember whether I had tuna dish when I was in China. We lived in the south of China, the fish we often had is carp. My father makes a yummy Red Cooked Carp dish, which turns out to be very popular on my Youtube channel, since many people in the West do not know how to cook carp.  
In the UK I have seen tuna used in salad, sandwiches, and wrap, which appear to be healthy ways of eating tuna. Today, I am trying to make my own Chinese style tuna dish.
Because the tuna I tasted here is very light, in fact, most time it is plain. I want to add bit "wow" taste to it by adding the red chili. So here is my Chinese Spicy Tuna Veggie dish.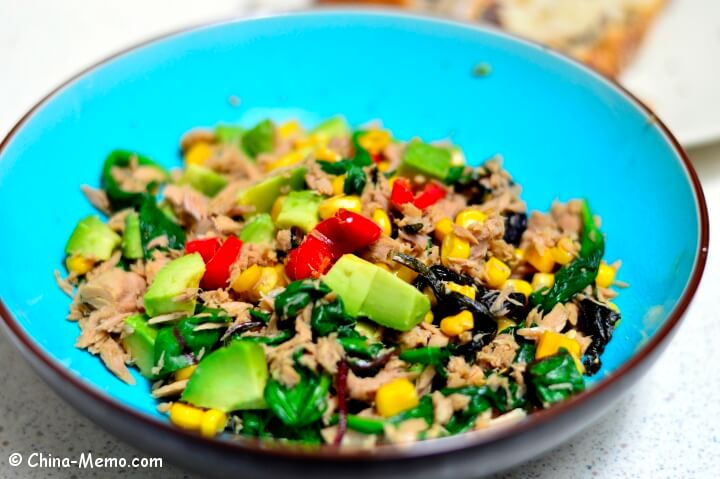 It is very simple to make, takes less than 15 mins, but it is surprisingly goooood. A even better news, it has less than 300 kcal! I love it!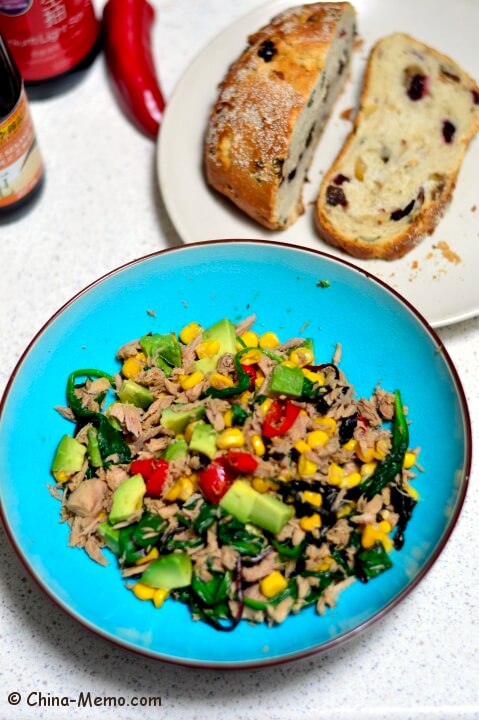 ---
Prep: 5 mins Cook: 10 mins
Ingredients:
• 100g tuna steak, 114 kcal
• ½ medium avocado, 100 kcal
• 4 tbsp sweet corn, 80 kcal
• 30g baby leaves, 6 kcal     
• 1 medium red chili
• 5 cooking spray, 5 kcal
• 1-2 tsp light soy sauce
• few drops of sesame oil
• salt (optional)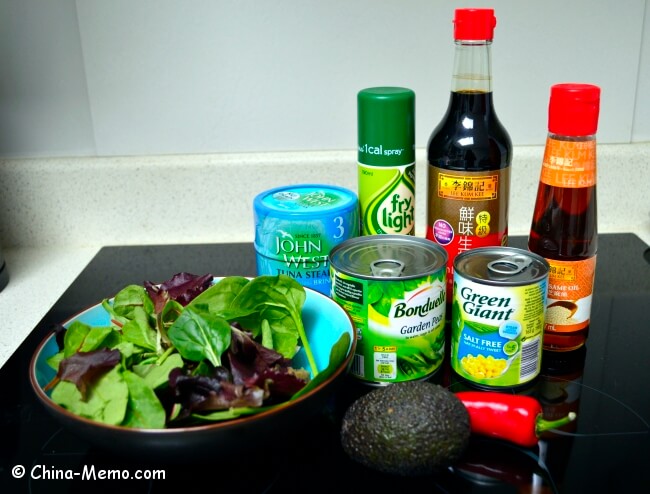 You may notice that I used the tuna and corns from tin, which is easy to get. My plan was to use the fresh green peas too, but no time to buy it. The peas from tin taste ok, but unfortunately, the color is just not good enough for my food photo. I think if using fresh peas, it will taste good and looks good too :)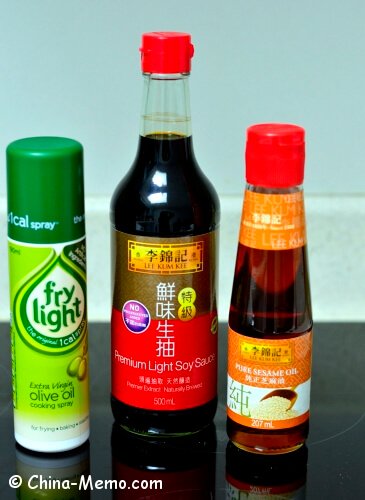 I used cooking spray, 1 kcal per spray. You can use oil, but  because I prefer light dish, I found cooking spray is a healthy option. In fact, we really don't need that much oil, and by using the spray, I can control how much oil I add to my dish, perfect!

Method for Chinese Spicy Tuna Veggie

Prepare:
• Cut the avocado in half, remove skin and stone. Then cut it into small cubes.
• slice the red chili.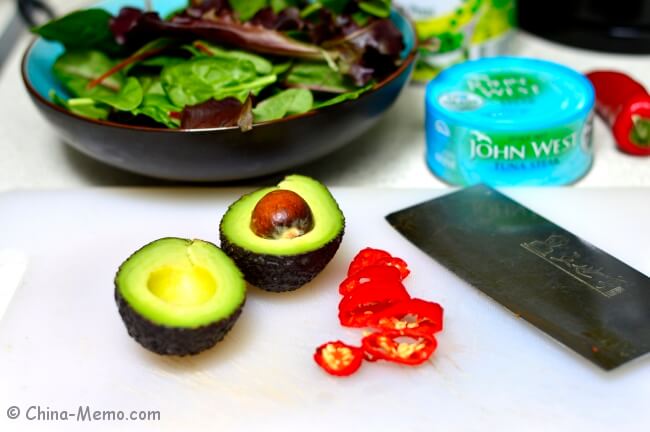 Cook:

•  Heat up the cooking pan to the medium heat. Use cooking spray to grease the pan.  Add red chili to fry for about 1-2 minutes or till you can smell the chili is in the air.

• Add sweetcorn to mix with chili. If you buy the corn in the can, as I did here, the corn is ready to eat, this step is just to heat the corn with chili together.  Mix for about 2-3 minutes. If you use the fresh corn, it might take 4-5 minutes depending on the cooking temperature.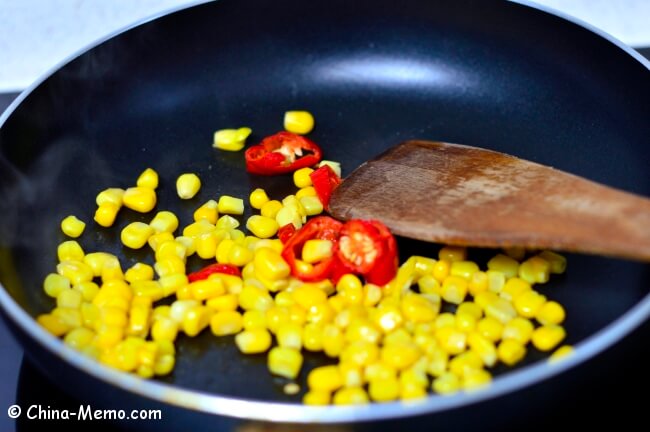 •  Add tuna steak. I used the tuna steak from the tin, so it is almost plain. Add light soy sauce. You may add bit salt if you like. Stir and mix with chili and corns for about 2-3 minutes.
• The final step is to add green leaves, cook for less than 2 minutes, otherwise, the veggie will loose the fresh look. Alternatively, you may just mix veggies with tuna in a bowl and eat it like eat salad. But here I just want to have a warm dish, not a cold salad.
• For a final touch, add few drops of sesame oil and mix well. It will give the dish a lovely smell:)
• Transfer the dish to a plate or a bowl, add avocado to mix. That's it!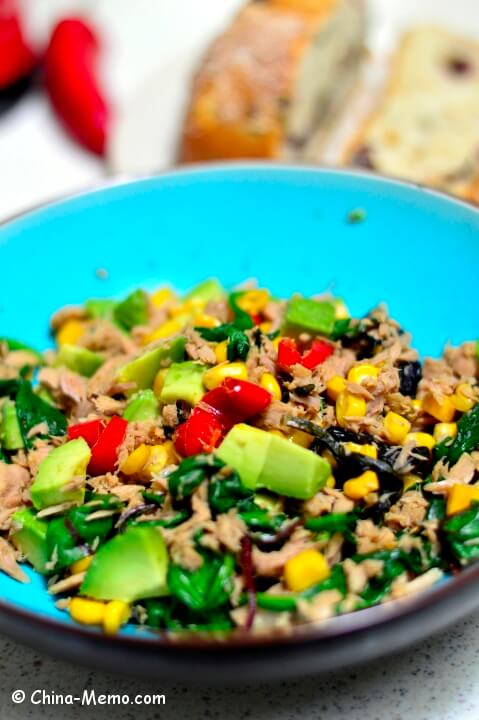 Serve this Chinese Spicy Tuna Veggie with my favorite fruit bread, hmmm, that's my delicious quick, easy and healthy meal for today! :)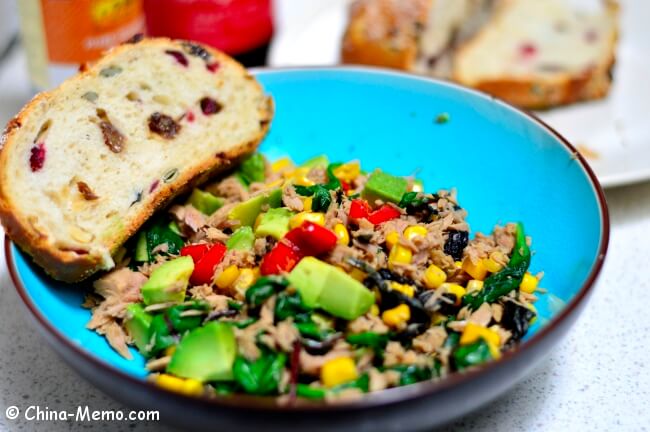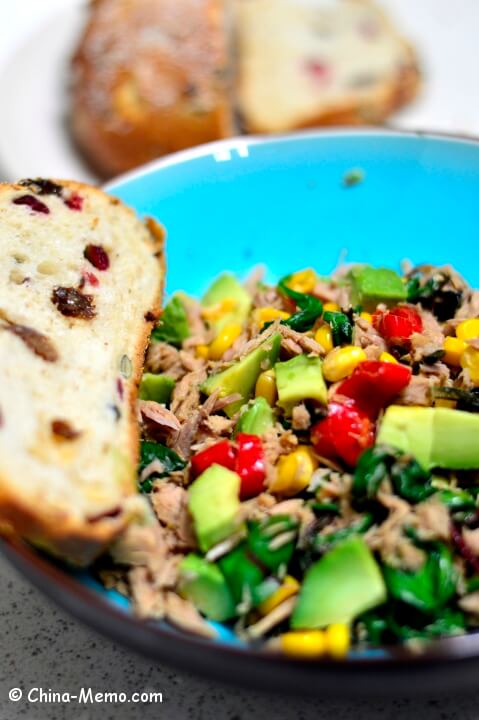 If you are interested, here is something behind the scene , and my little complains :) 

Hope you like this Chinese Spicy Tuna Veggie dish. If so, please like it on Facebook and share with friends.

If you like Chinese home cooking, you may subscribe to my YouTube Channel to get a regular update for our home cooking videos.

I have more Chinese fish recipes you may check, for example Sichuan Style Cod Fillet, or to check more Chinese Meat Recipe.
(Post: 01/04/17)
You may also like:

Like It? Share It!