This page covers the information for Guizhou food travel, mainly for Huangguoshu waterfall, how to get there by public transport, stay and Guizhou local food. Details for each part are added as separated pages with links (to be updated in future). Scroll down to watch the video.

Guizhou & Huangguoshu Waterfall
Guizhou is a province of the People's Republic of China located in the southwestern part of the country. Its capital city is Guiyang.
The most famous tourist attraction in Guizhou perhaps should be the Huangguoshu Waterfall, literally translated as Yellow Fruit Tree Waterfall.

The Huangguoshu waterfall is the is one of the largest waterfalls in China and East Asia located on the Baishui River (白水河) in Anshun, Guizhou province, which has been classified as an AAAAA scenic area by the China National Tourism Administration.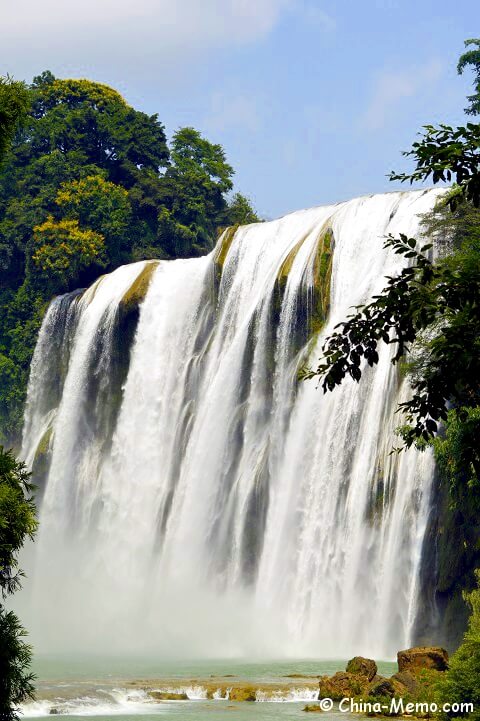 How to Get Huangguoshu Waterfall by Public Transport

Here is the route I took: Guiyang train station --> Jin Yang coach station --> Huangguoshu waterfall park.

I visited Huangguoshu waterfall in 2014 summer. First I traveled from Hunan to Guizhou Guiyang city by train. I have some information on how to get the china train ticket here.

The train arrived Guiyang train station at early morning, so I have a whole day to visit the waterfall. This is the Guiyang train station, which was under construction in 2014 but should be completed now.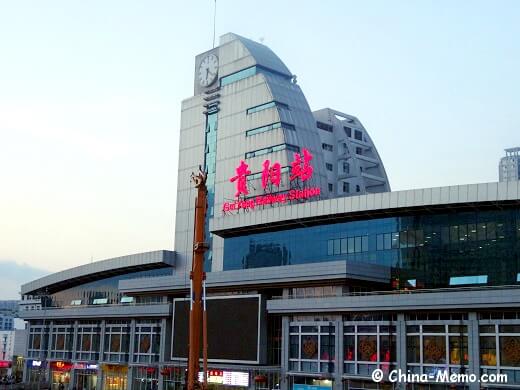 I checked in a hotel near the train station and left the luggage there in the morning. Stayed there for one night then took the flight from Guiyang airport to Xian at the second day. More information on the place I stayed will be added here later on.

From Guiyang train station I took a taxi to Jin Yang coach station, which has the direct tourist bus to Huangguoshu Scenic Park. The taxi took about 40 minutes and the price was about 36CNY by using the meter. When I came back, the taxi driver did not use the meter and asked the price for about 50CNY. 

From Jin Yang coach station to Huangguoshu waterfall, the coach took less than 2 hours roughly. You need to queue up with many locals to get the tickets. Don't think there were options for buying it online. The price for bus was about 55CNY per adult (in 2014).

The Huangguoshu Waterfall Scenic Park
The Huangguoshu scenic park includes three parts: Tupotang waterfall, Tian Xin Qiao park, and Huangguoshu waterfall.

You can drive to the scenic park but have to change to use their transports inside the park. As there are too many visitors each day, they have to control the traffic inside.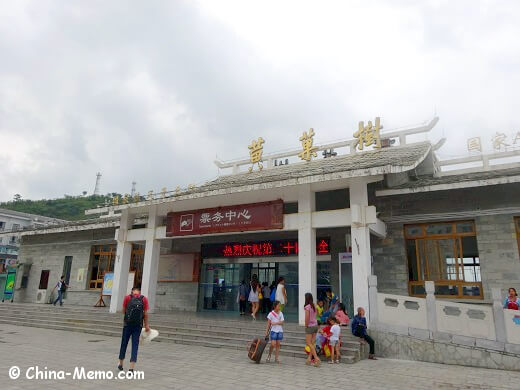 You can take the taxi outside the ticket office, which are managed by the scenic park and will take the visitors to each of the three places.

The first stop is Tu Po Tang waterfall. It is a nice waterfall but of course, cannot compare to Huangguoshu. The time for this can be within 30 minutes. However it may take longer than one hour if it is in the summer and there will be many visitors, you basically will just be stuck inside and cannot move faster.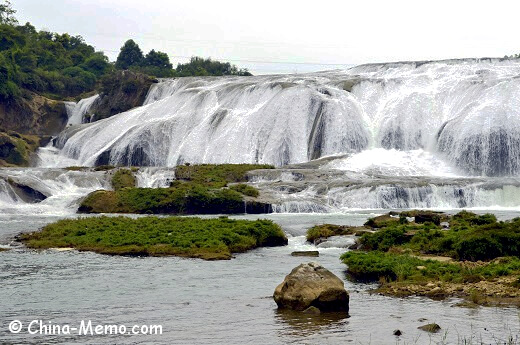 The second stop is Tian Xin Qiao, which in fact is a very nice area. Small stone road path, streams and pond with lotus, plus local farmers selling local food along the road, which can be interesting to explore if you have time.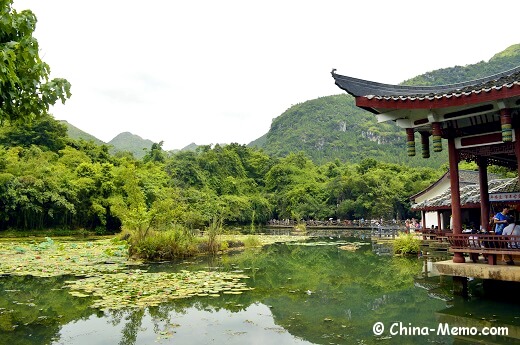 But if you were like me, only have half day and just want to see the famous Huangguoshu waterfall, then you may just briefly look around and move to the final stop.

Warning, if it is in the summer time, you might be stuck inside. Because most roads are very narrow and there are so many tourists, you just cannot move fast. So if you are short of time, may choose to skip one of the first two stops, directly go to Huangguoshu waterfall.

It can take half day to fully explore the Huangguoshu waterfall and nearby region, but it is worth it. More information and pictures of the waterfall will be posted on another page later on.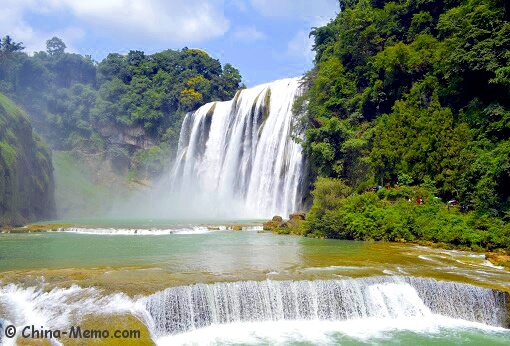 Guizhou Local Food

What I heard there was several famous Guizhou local food, such as, Si Wa Wa, a snack food similar to the spring roll, but it uses very thin rice made skin, and the fillings are the fresh veggies, so it is a very healthy snack. (Can't believe that I didn't take a good picture for it, I was supposed to have it for the post of Guizhou food travel. What I was doing there?)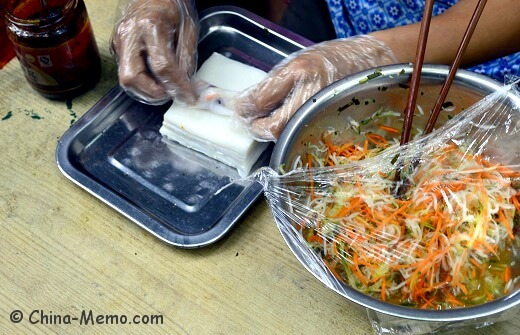 Another famous food is the pork intestine noodle soup, which might not be you like but it is worth to try:)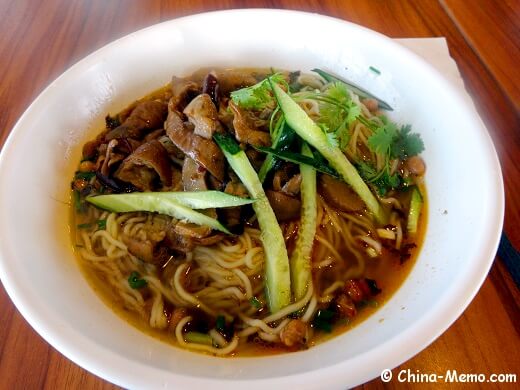 I also had some Hunan dish in Guiyang city center, plus some Guizhou local food from the scenic park. The post and link will be added here later on.  I also edit a video clip taken from there. You can watch it here. To get more regular update, please subscribe to my Youtube Channel.

Hope you find the information about Guizhou food travel useful. Please share and like it in Facebook or Twitter. Thanks.

You may also check Chinese Daily food and Chinese Festival Food.
(Post: 25/11/16)
Back To Top

Like It? Share It!