Hello and welcome. My name is Min, thanks for visiting my website. This page is something about me and this site.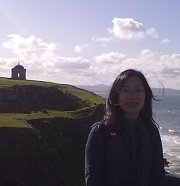 I am a native Chinese currently living in the UK. When I was in China, I used to work for a government owned institute. My job was stable and the benefit was good. Everything in my life was peaceful and, well, predictable.
By predictable I mean it was the life every grownup SHOULD have: university degree, decent job, house and family. It was the life that you can see what would happen to you in next twenty or thirty years.
Many people around me were happy with this kind of life, such as my parents. But for me, knowing what will happen in next twenty years somehow just terrified me. I couldn't help asking, "Is that all? Is that all I will have in the rest of my life?"
At the end I decided to follow my inner voices and took the action to change my life.
After four years' hard working, I landed at a new country, thousands of miles away from my homeland. I left my peaceful life behind and started a totally unpredictable journey.
Living in a new country that I knew nobody was never an easy task. I had to face the challenges of language, culture differences, pressure from study and making living.
Today when I look back, I am grateful of all those tough experiences, which helped me to become a better and stronger person.
About This Site

I like food and travel, taking food and travel pictures is a fun for me. I hope I will get better in these things and share what I know with others.  

I never realised how much I loved Chinese food until the day I left China. The Chinese foods I had in the UK and USA have been adapted to suit the west locals, which are different from the food I had in China.
So I just want to share something interesting and wonderful about real Chinese food, what we eat, how we cook in the normal daily life, what the famous local foods are and where to find them.
Having this site also motivates me to practice and improve my English writing. It is hard to write well, and it is even harder to write in a second language. I don't know how English speakers think about my "Chinese style" English. So I will be glad to hear your comments about this. You are welcome to leave comments below.
You may spot some grammar and spelling mistakes although I do take extra care to check my spelling. But the problem with Word is that it can't detect the errors like "steamed bums (buns)" and "fired (fried) dumplings" (LOL). Sorry if you find the similar errors and thanks a lot if you can let me know.
How I Built It?

To build this site I used a web host called Site Build It (SBI) because I was impressed by their successful stories. I was amazed that people can turn their hobbies or special knowledge into a successful website and small business using the tools from SBI.
You may read more stories about what SBI owners do. More important, just give a try. If you don't like, they will refund you (within certain days), so it is risk free. 
From my own experience, I started as knowing nothing about web develop, internet business, social network marketing. SEO? what is that? What about Google search, Yahoo or Bing, how they work to get the website indexed in their lists? I had no idea.

Today, I still can't say I know all of them, (in fact I don't need to, as SBI takes care some of these for me), but at least I have built a site and I manage it by myself.

I have learned so many things since day one. Thanks to SBI. I like that SBI offers many established tools to make things easy for me. For example,
The

keywords tool

helps me to do research about my online niche.

The

page analyze tool

guides me to write the web page to be understood not only by humans but also by search engines.
With monthly news, SBI always keeps me update about the latest trend in the net.

When I meet problems, I can always find the support from SBI staffs or other SBI owners from the helpful SBI Forums.
Tons of guide and resource to study and try on my site.

Now the site is growing well. People around the world find my site. I feel that I have offered something useful and valuable to the net. I can see my site appears to improve everyday in Alexa ranking and I can't believe that I just did this in my spare time after my day job.  

Everything takes time, I wish I have started my site earlier. But at least, I am in the right track now. Positive about the future:) 

I will keep this page updated as there will be more to share with you in the future.
..........................................................................................

Thanks for visiting and hope you like my site. If so, please Like It on Facebook or share this site with others.
You are welcome to leave comments or your questions here, as your feedback will help me to improve in the future. 
Thank you and all the best,
Min
(Posted on 16/12/12; Update: 14/01/17)

Back to Home page.
---
Like It? Share It!