Guangxi Guilin Attractions & Travel Tips

This article for Guangxi Guilin Attractions & Travel Tips is contributed by my site visitor @WaittingLee370 via Twitter. I really appreciate her effort and support:)

Guilin is located in Guangxi Province and is one of the most popular tourist destinations in China. I visited Guilin twice many years ago. The beautiful Li River and Guilin landscape are still in my memory.  In this article,  @WaittingLee370 shared her photos and travel tips to visit the famous Guangxi Guilin attractions and surrounding areas. The article contains a large amount local information, which I believe are very useful for the foreign visitors. 
The content covers:
Key Guangxi Guilin attractions and famous local food
Guilin travel tips on best visit time
Recommended itinerary for 5 days
Money
Clothing
Local transports 
Warnings
For the rest part of this article, the Chinese writing and photos (except the header image) are provided by @WaittingLee370, the content editing and translation from Chinese to English are made by me.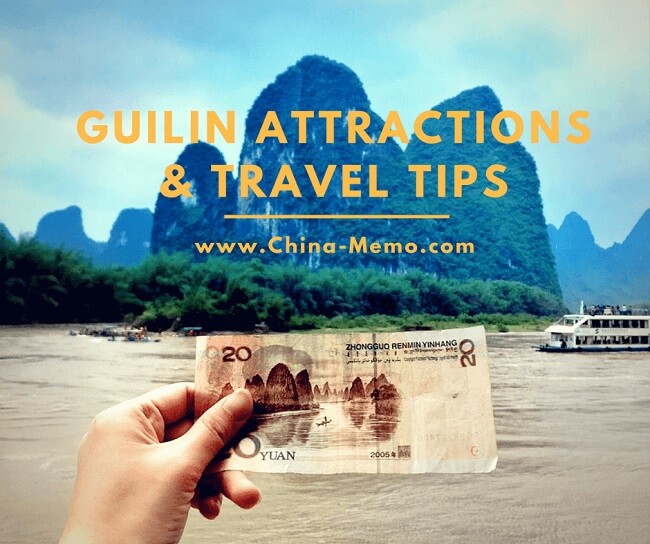 Guangxi Guilin Attractions 1#: Li River
这张就是著名的漓江了!"桂林山水甲天下",漓江的山水可以说是桂林最具有代表性的景色了!来漓江一定不要错过竹筏漂流,筏工开动竹筏在漓江水面上漂行而过,江面开阔,两岸的秀峰奇石尽收眼底,会有一种人与自然的和谐感油然而生,十分惬意。

This picture is the famous Li River. "桂林山水甲天下" is an old Chinese saying, means that Guilin scenery is the best in the world. The landscape of Li River is the most iconic symbol of Guilin. 
When visiting Li River, a must-not-miss activity is the bamboo rafting. When the worker start to move the bamboo raft and we are floating along the Li River. With the view is widely open, the stunning mountains and ### stones are all in the view.  The sense of a harmony between the human and nature is gradually arisen inside, which is such as pleasant feeling.
(Min's addition note: the last sentence in Chinese is very common and standard Chinese writing. But it is so hard to translate. Phew, hope I did this right :)  

在岸边找到了画在20元人民币背后的那座山. 如果路过这里也可以来试试!:-)
Along the shore, we found the spot which has the view used in the Chinese yuan 20RMB. If you come passing here, you can try this too:)   

Guangxi Guilin Attractions 2#: Elephant Trunk Hill Park
这张是位于桂林市内的象山公园,里面最著名的就是照片中的这个象鼻山了,因为形状很像一只将鼻子伸进水中的大象而闻名。象山是桂林的城徽,象山公园也是桂林市内最著名的公园。

This picture is taken from Elephant Trunk Hill Park within the Guilin city. The park is famous and well-known because of this elephant trunk hill. It is named due to the shape of the hill is like an elephant drinking water from the river. It is the symbol of Guilin city and the park is a must-visit attraction for the tourists.

Guangxi Guilin Attractions 3#: 

Dragon Backbone's Rice Terraces

 
这张是在龙脊梯田拍摄的,很幸运地在雨季遇到了一个晴天!龙脊梯田距离桂林市有80公里,是一处居住着壮、瑶两种少数民族的聚居区,在这里可以看到少数民族的原生态服饰,也可以享受原汁原味的民族风情和传统民居。

This picture is taken from Dragon Backbone's Rice Terraces. Although the time when we visited was during the rain season, luckily we met a sunny day!
Dragon Backbone's Rice Terraces is about 80km away from Guilin city, which is a place mainly has two China ethnic minorities, Zhuang and Yao nationalities living here. You can see people wearing the dress in unique and colorful traditional costume. You can also enjoy the authentic original culture from the ethnic minorities and visit their traditional houses too.

由于我们去的时候是4月份,梯田还没有开始放水,据当地人介绍说5月末梯田会开始注水,那个时候的梯田会更加壮观。如果有喜欢摄影的朋友,建议大家在梯田注水的时候过来多住几天,能够拍到很美的照片!
Because we visited it in April, there was no water in the rice field yet. According to what locals said, they start to fill the water to the rice field from the end of May. Once filled with water, the view of rice field will be more beautiful than this. For those who like to take photograph, we recommend to visit the rice field after the water is filled and stay for few days. Definitely you will have lots beautiful pictures here.  (Wow, sounds so good, I 'd love to go! Min :)

Guangxi Guilin Attractions 4#: Guilin Rice Noodle Soup
这张是桂林当地最著名的小吃——桂林米粉!其实桂林到处都有卖米粉的店,不过这张照片拍摄于正阳步行街里的崇善米粉总店。崇善米粉是桂林较有名气的连锁米粉店,如果对路边小店卖的米粉不放心,可以来这家店尝一尝。米粉有很多种类可以选,区别就是加在米粉中的辅料有所不同,有猪肉、牛肉等种类可以选择。

The most famous Guilin local food is -- Guilin rice noodle soup! In fact, there are rice noodle soup shops everywhere in Guilin. But the one we had in this picture was taken from 崇善米粉总店, Chongshan Rice Noodle Shop, located at the Zhengyang shopping street. This noodle shop is a famous brand. If you worry about the hygiene of the rice noodle from the street noodle shops, you can come here to have a try. 
Rice noodle soup would normally have many different flavors. The differences are what meat ingredient you choose. For example, you may choose the soup with the pork or beef flavors.
(Min's additional notes, cannot help adding more here. As seen in this picture, the noodle soup comes with veggie and tofu as the side dish. if pay attention, you will notice that the Guilin rice noodle is the round shape noodle. In Hunan, we also have the flat rice noodle (check this post for famous Hunan food here). Another special part of Guilin rice noodle is that apart from the tender meat and pickled veggie, it normally have the roasted, crunchy yellow peas (or peanuts) on the top, which adds something different to the noodle soup. That was why I still remembered it :)

Guilin Travel Tips 1#: Time to Visit

最佳旅行时间: 桂林的最佳旅游季节是9-11月。一般4-5月桂林会进入雨季,漓江水位会涨,江水会比较浑浊,有时雨势过大还会封航。但是下雨的时候天气会比较凉爽,雨中的漓江也别有一番风味。7-8月是雨季的中期到末期,气候比较闷热,同时也是旅游的黄金季节,游客会比较多。9-11月降水较少,气候也比较适宜,江水的水量适中,适合泛舟漓江。
The best time to visit Guilin is September to November. The month of April to May is the start of rain season for Guilin. During this period, the water level of Li River will increase and the water may appear muddy.  The bamboo rafting or boat trip may be canceled if the rain is too heavy.  Of course, the positive part of visiting Li River in the rain is that the weather can be cooler. The view of Li River in the rain has its unique beauty too.
The month of July to August is the middle of rain season. It is hot and humid but also the gold time for tourism. There will be lots tourists. 
Month Sep to Nov has less rain and better weather, which is suitable to visit Li River (taking the boat trip or bamboo raft).  

此外,梯田大概会在端午节前后注水,如果想看梯田的话,可以在注水后再来游玩。还需要注意的是"五一"和"十一"两个黄金周,分别是5月1日至5月3日,10月1日至10月7日。这两个时间段是中国的法定假日,出行游人很多,桂林这边的住宿预订和交通会比较紧张,价格也会有上涨。
For the rice field, because the locals will start to water the field around Duanwu Festival, it is recommended to visit after the water is filled.
Time to avoid:  the week around May 1st and Oct. 1st, more specifically, the week of May 1st - 3rd and Oct 1st - 7th. These two weeks are the public holidays in China and many Chinese people will take their time to travel. It may affect hotel and transport booking and the price can go up too.  

Guilin Travel Tips 2#: Days to Visit & Itinerary
建议游玩天数:一周左右,第一天可以用来逛桂林市区;第二天去漓江漂流,顺着漓江从桂林漂流到阳朔;第三天可以在阳朔骑行,晚上在阳朔泡泡bar,吃吃小吃,体验一下古镇风情,或者去观赏《印象刘三姐》大型水上音乐歌舞表演;第四天从阳朔沿漓江逆流而上到杨堤,坐车回到桂林,晚上夜游两江四湖看夜景;第五天去龙脊梯田,看看梯田,感受苗族、壮族风情;第六天回到桂林市区,结束行程。:)
Recommended Days: One Week

Day 1: Guilin town center and Elephant Trunk Hill; 
Day 2: Li River Boat Trip, starts from Guilin to Yangshuo;
Day 3: visit Yangshuo ancient town, enjoy local snack and evening bar. There is also a water fountain show Liu San Jie.  Liu San Jie  (Liu the Third Sister),  was the first musical film in China which tells the story of Liu San Jie, a legendary folk female singer of Zhuang minority in Guangxi Autonomous Region. It has many scenes taken from Guilin Li River.)
Day 4: Boat trip return from Yangshuo to Yangti, then take the coach/bus back to Guilin. Visit Guilin city and enjoy the night view of Guilin city by evening boat tour (夜游两江四湖).
Day 5: Dragon Backbone's Rice Terraces, experience the Chinese ethics minority culture of Miao and Zhuang. can stay overnight and return to Guilin on  Day 6.

Guilin Travel Tips 3#: Money

消费水平:景点:桂林的景点都是需要付门票的,象山公园门票75rmb/人,两江四湖游船票价大概200rmb/人,龙脊梯田门票100rmb/人,漓江漂流的船票大概200rmb/人。住宿:青年旅社的均价大概在80rmb/人,三星酒店的均价大约是180rmb/人,四星级酒店均价约为280rmb/人。餐饮:这部分的花费弹性比较大,桂林米粉最便宜的只要5rmb一碗,吃啤酒鱼的话可能需要人均100rmb以上。
The admiration fee for the Guangxi Guilin attractions (price per adult):       

Li River Bamboo Rafting: 200 RMB
Elephant Trunk Hill Park: 75RMB
Dragon Back Terrace Field: 100RMB
夜游两江四湖 Evening boat tour in Guilin city: 200 RMB  

Stay:
Hostel: ~ 80RMB,
3 star hotel: ~180 RMB or higher

4 star: ~ 280RMB or higher

Eat:
Very flexible depending what you eat. The Guilin rice noodle soup, the cheapest is 5RMB. But if you want to have beer fish (啤酒鱼), a popular Guilin local dish), it cost about 100RMB per person.   

Guilin Travel Tips 4#: Clothing

穿衣建议:3-4月气候还稍微有些凉,可以准备一件冲锋衣,挡风保暖还可以挡挡雨;5-6月是雨季,一定要携带好雨具和放水衣物,这个时期湿度很大,气候闷热,最好穿得清凉一些;7-8月是夏季,要注意防晒;9-11月是秋季,可以穿长裤和长袖的单衣;12-2月是冬季,天气阴冷且室内没有暖气,需要准备棉衣和取暖用品。另外,桂林地区山水很多,最好穿一双舒适的平底鞋游玩。
March-April: the weather is still cool (temperature around?). Recommend to take a jacket (wind and water proof).
May- June: rain season, make sure take the umbrella and waterproof cloth.  This period is also very humid, so it is better to wear something breathable and can keep you cool.
July- Aug: summer time, protect from the strong sun lights (sun cream).

Sep-Nov: autumn, can wear trousers and long sleeve cloth.
Dec-Feb: winter, cold and wet, you need to prepare coat to keep you warm. (In the south of China, there is not center heating system installed in most buildings and households. Air condition is likely used in the big shopping malls but for most places)  
Footwear: visit Guilin will involve lots walking and activities near water, it is better to wear the comfortable, flat shoes.   

Guilin Travel Tips 5#: Transport & Taxi

交通:外部交通:乘坐飞机可以到达桂林两江国际机场,机场有巴士能够到达市区,票价大概20rmb/人,终点是民航大厦;乘坐火车可以到达桂林火车站(桂林站)和桂林北站,主要以桂林站的车次比较多。内部交通:公交车基本上是无人售票,基本票价为1rmb/人,空调车是2rmb/人,需要准备好零钱在上车的时候投入,如果我没记错的话,公交车上是没有英文报站的,需要提前查看好需要下车的站点以免坐错。出租车白天的起步价是9rmb/2km,超过之后每1.9rmb/km,晚上起步价是11rmb/2km,超出之后2rmb/km,无论早晚都加收1rmb的燃油费。自行车是在桂林室内和阳朔很好的出行方式,租车大概10-15rmb/天。
Flights can arrive Guilin Liang Jiang International Airport. There are airport shutter buses to city center, the ticket price is about 20 RMB per person. The final stop is the stop at 民航大厦 (Civil Aviation Building).
The train can reach to Guilin Railway station and North Guilin Railway station, but most trains arrive at Guilin Railway station.
Public transport within the city: Bus basically 1RMB per person, air condition bus 2RMB per person. Need to have the exact note or coins as no change will be given.  If my memory was right, no English announcement on the bus, so you need to check the bus stops in advance to avoid miss your stop. (But most case you might just take a taxi)
Taxi fare during the daytime: initial fee: 9RMB/2km, after 1.9RMB/km. Taxi fare for the evening: initial fee 11RMB/2km and 2RMB/km afterward. 1RMB extra charge is always added for fuel cost at any time. (Min: better to print or write the address in Chinese in advance because it is very unlikely the taxi driver can communicate in English.) 

Bicycle: the best way to get around is the bicycle. The rent of a bike for is about 10-15RMB per day. 
Guilin Travel Tips 6#: Other Warnings

其他 warning:不要在火车站广场打车, 可能会有不良司机引导客人去他们合作的酒店,最好出了广场到路边去拦车,也不要听从司机的引导去陌生的地方消费,包括吃饭和景点等;大部分消费场所不能用信用卡消费,如果住宿最好提前和酒店确认一下是否可以刷信用卡;漓江漂流时一个竹筏能坐四个人,如果不够四个人是需要支付空位费的,或者和别人拼一个竹筏一起坐,有的筏工可能会收取小费以减慢划船速度增加游览时间,是否要支付这笔小费需要事先和筏工讲好,一般小费给40rmb左右。
About the Taxi:
Do not take the taxi at the Railway station. There are some taxi drivers will lead the guest to their (affiliate) hotel. It is recommended to go pass the railway station square and get a taxi on the road. Also do not follow the taxi driver's suggestions to somewhere (you don't know), such as a place to eat or an attraction, (as they might charge unreasonable price.)

About the credit card:
Most local shops do not accept credit card. Make sure to check with the hotel before booking.

Bamboo Rafting on Li River:
The price is charged for one raft, which can accommodate four guests, even if you use it alone, you have to pay the whole price for one raft. To save money, you may share one raft with other people.  
If you want to raft operator drive /move/ride slowly so you can have more time on the river, you may negotiate with the worker. The charge for additional time is about 40RMB. (Guess this is a tip for the operator).

---
Well, that's it. This is such a long post. Hope you find the information  for Guangxi Guilin Attractions & Travel Tips useful. If so, please like it on Facebook and share with others. Once again, big thanks to my visitor @WaittingLee370 to contribute this article.

If you have some wonderful travel photos or stories about food and travel in China, and like to share with other via posting on my site, please contact me to find out more about how to contribute to this site. Thank you:)

(Post: 20/03/17)
---
Like It? Share It!