A simple Chinese fish recipe I used to cook my Chinese style cod. Instead of pan frying, I use oven to cook the fish for about less than 10 minutes. Then I make the Chinese style sauce to add on top of the cooked fish. That's it! :)
The ingredients are similar tothose uesd for Chinese red cooked fish recipes. It is very easy to make. For example, you may check this recipe to see how my father cooks Ji Yu (Carp) in China.
I have already changed his recipe to cook the cod here in the UK. It is mainly because the fish fillet available from the UK supermarket, such as cod or salmon, cannot be cooked long, so I have to change the recipe so that the fish can still have the Chinese taste.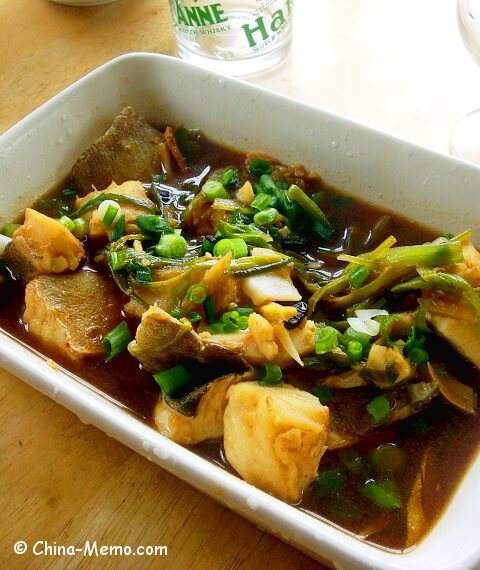 Method for Chinese Style Cod

---
Prep Time: 5 mins Cook Time: 10 mins
Ingredients:
2 cod fillets
2 tbsp oil
½ tsp salt
1 tsp sugar
1 tbsp light soy sauce
2 tsp Chinese chilli bean paste
black beans
sliced leek and gingers
chopped spring onions

Prepare:
Cut cod filet into small chunks. I prefer this as the meat will get more flavour.
Slice leek into thin threads, chop ginger and green chilli pepper.

Cook:
To keep the meat moisture, use the foil to wrap the cod fillets. Place the wrapped fish on the baking tray.

Preheat the (fan) oven to 180c. Cook the fish for about 10 mins.   
Meanwhile, you can prepare the sauce for Chinese style cod. Heat the frying pan until hot, add the oil. 
Wait oil is hot, add chilli bean paste, ginger, leek and black beans to fry for about 2 to 3 minutes, or till fragant. 
Add the water or stock, soy sauce, salt and sugar, adjust the taset. Use medium heat till it is boiled. It takes about 5 mins. 
Using this way to cook the ingredients first so that the sauce can get more flavour. If you prefer the sauce to be thicken, you may add some corn flour. But we normally prefer the sauce more liquid like, not sticky.

Once the fish fillets are cooked, take them out from the oven. Place the fish in the plate and pour the sauce on top of the fish.

Add spring onions on the top. Serve at once.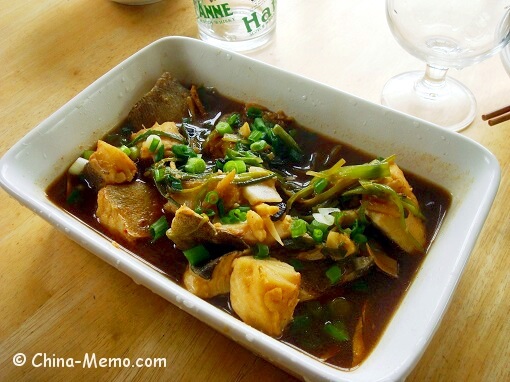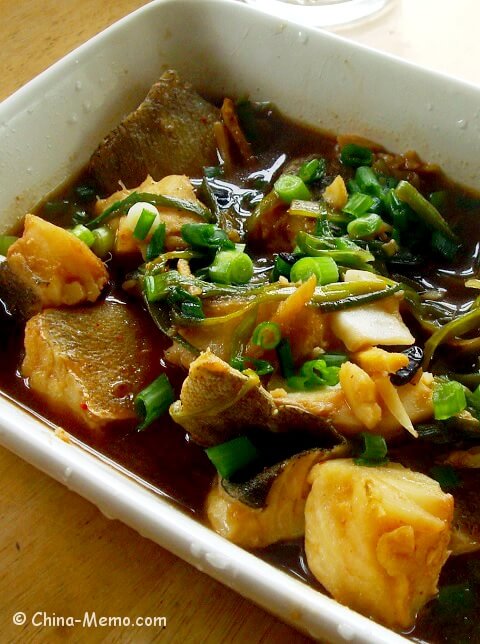 Tips:
Instead of pouring sauce on top of fish, you may mix the fish and sauce in frying pan. As with the heat, the fish will get more flavour from the sauce. But make sure just to mix the fish with sauce, not cook it longer. Otherwise, the meat will become harder.
(Posted: 21/06/13; Update: 21/03/15)
You may also like Chinese Red Cooked Carp and Chinese Style Cod.   
Chinese Red Cooked Carp
Like It? Share It!