This Sichuan cold noodle is our family's favourite dish in the summer. Because both my parents are from Sichuan, most of our family meals are made with Sichuan style. You may find some Sichuan recipes from this website, such as Sichuna bean sprout, twice cooked pork bellies and Red Cooked Ji Yu (carp).   

The ingredients used here are similar to those used in Sichuna bean sprout recipe, in which salt, sugar, vinegar and chilli are the key ingredients to make the sauce for cold noodle.  
In this Sichuan cold noodle recipe, apart from the sauce, I also use the ingredients such as leek and ginger, plus some cooked prawn and hotdog sausages, which add bit more flavour to the noodle.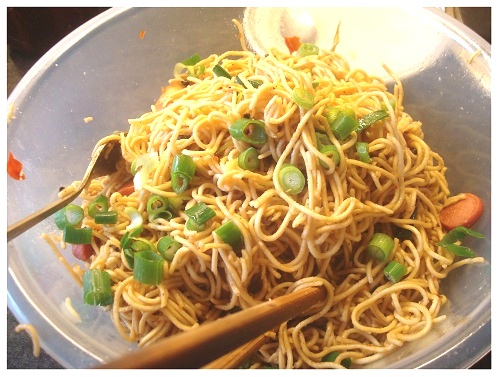 ---
Prep: 5 mins Cook: 15 mins
Ingredients:

cooked prawn and hotdog sausages

1 tbsp Chinese chilli bean sauce

3 red whole dried chillies



Prepare:
Cut the leek into thin threads, chop the ginger.
 

Chop cooked prawn and hotdog sausage into small pieces.
For noodle sauce, mix the salt, sugar, vinegar and sesame oil. Set aside
Cook:
Cook the noodle according to the pack instruction, and drain well.
Heat the frying pan over a high heat. When hot, add oil.
Add chopped dry chillies, leek, ginger, chilli bean paste and light soy sauce cook for 1-2 minutes.   
Add  prawn and hotdog sausages, mix and cook for a further 1 minute.
 

Place the noodle in a large serving bowl, add the cooked ingredients and prepared noodle sauce, mix well.
Top the noodle with chopped spring onions and serve.
Tips:
After the noodle is cooked, you may use cold water to refresh the noodle, or add some oil to avoid the noodle to be sticky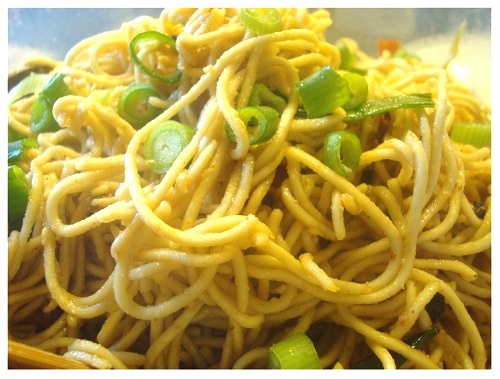 You may also like Sichuan style Chicken Noodle, Sichuan bean sprout and twice cooked pork bellies.    
Hope you like this simple Sichuan cold noodle dish. If so, please share with others :-). 
(Post: 12/04/13; Update: 15/07/13)
Like It? Share It!