In China we call the salad dish like this Chinese food recipe Sichuan bean sprout, Liang Cai (凉菜).
The method is not limited to the vegetables, but can be applied to the cooked meat or noodles.
Because the summer in Hunan is very hot, my parents usually make different Sichuan style cold dishes such as noodle salad.

The sauce used for this recipe is bit similar like Sichuan bean sprout except I use it for noodle mixed with stir fried chicken.
If you prefer to be simple, you may just use the cooked chicken or prawn, which tastes good too.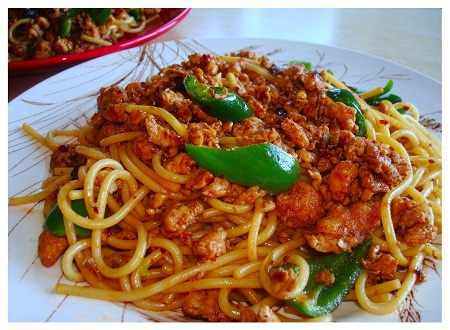 ---
Prep Time: 10 mins Cook Time: 15 mins
Ingredients:
250g chicken
2 tbsp oil (for chicken)
½ tsp salt
1 tbsp light soy sauce
leek
ginger
1 green chilli pepper
250g noodle or spaghetti
½ tsp salt
1 tsp sugar
2 tsp vinegar
1 tsp black bean chilli oil
2 tsp sesame oil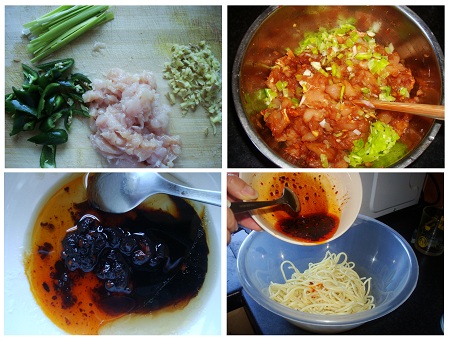 Prepare:
Chop leek, ginger and green chilli pepper.
Chop chicken into small pieces.
Marinate chicken with salt, light soy sauce, chopped ginger and leek for 5-10 minutes
To make sauce, mix the salt, sugar, vinegar, black bean chilli oil and sesame oil.
Cook:
Boil the noodle or spaghetti; drain it.
Add the prepared sauce into noodle and mix; set aside.
Heat the frying pan, add the oil and wait it is hot.
Add the marinated chicken and green chilli to fry for about 5 minutes.
Add the cooked chicken into the noodle and mix.
Place the chicken noodle on plate and serve at once.
Tips:
You may use noodle or spaghetti. I found that noodle is usually easy to take the flavour in but not as strong as spaghetti, so do not over boil the noodle.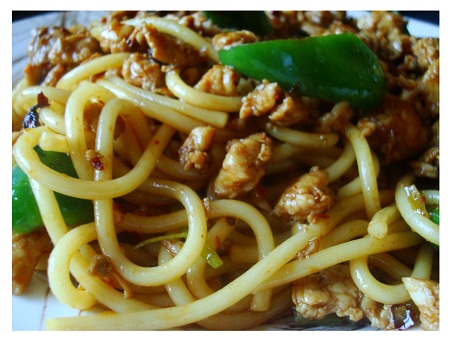 Hmm, this is how it looked when I finished, yummy yummy... Hope you like this, try this Chinese food recipe and feel free to share with your family and friends :-)
A simple clip made by pictures of cooking this dish. I have more Chinese home cooking videos, to get the regular update, please subscribe to my Youtube Channel.  

You may like another Chinese chicken recipe Chicken Fried with Green Chilli, or check more Chinese Meat Recipe.
(Posted: 06/09/12; Update: 18/03/17)
Like It? Share It!