Easy Chinese food recipe for Sichuan bean sprout salad, one of my favorite salad dish. Simple, healthy and tasty.  I learnt it from my parents. Both my parents are originally from Sichuan Province and now live in Hunan (the south of China). Scroll down to watch the cooking video.

In China, we prefer to serve food when it is hot. So the food like cold vegetable salad is often seen in the summer. In Chinese, the salad is called "Liang Ban Cai" (凉拌菜), which means a cold dish.
My parents currently live in Hunan, which is at the south of China. Hunan is very hot in the summer. In August, the highest temperature can reach 39⁰C and the hot weather may last for a couple of weeks.
In that kind of hot and humid weather, I just lost the appetite for everything except to have a cool and mouth watering salad like this.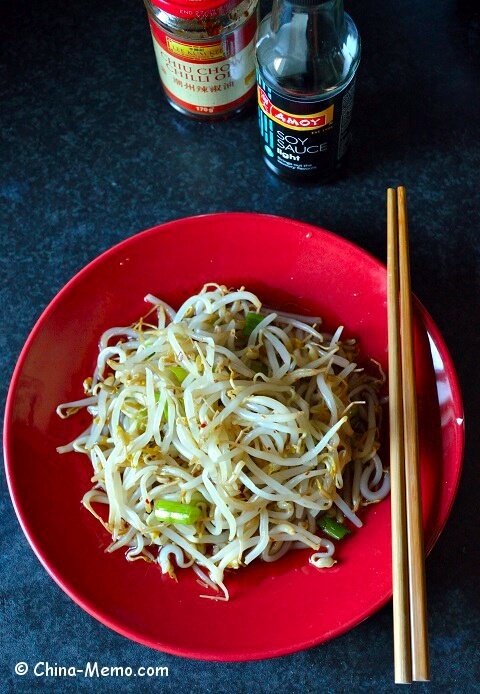 Sichuan style food is famous for its spicy. Peppercorns are usually used in Sichuan dishes, which bring a distinctive spice and can make your tongue feel numb (called "Ma" in Chinese). But, in this recipe we didn't use the peppercorn, I still love the way my parents made it.

---
Ingredients

200g bean sprout

1 whole spring onion
1 tsp sesame oil
1 tsp oil
1 tbsp light soy sauce
2 tbsp vinegar
½ tsp salt
1 tsp sugar
1 tbsp chilli bean sauce
Method for Sichuan Bean Sprout Salad
Wash the bean sprout and cut the spring onions into small pieces.
Add water to a sauce pan (or wok) and bring the water to the boil. Add the bean sprout in water, cook for 2-3 minuts. Drain it. Set Aside.
Mix all ingredients in a bowl to make the salad dressing.
Pour the dressing on top of the bean sprout and mix all together. Or, you may just add each ingredient directly into the bean sprout like you will see in the cooking video. 

Finish by adding spring onions on the top. (This is optional, but I prefer this way, make a dish special:)

Tip:
we prefer the light soy sauce rather than the dark one, because light soy sauce is used for the taste. The dark soy sauce is used to add colour, so it would cover the vegetable's natural colour.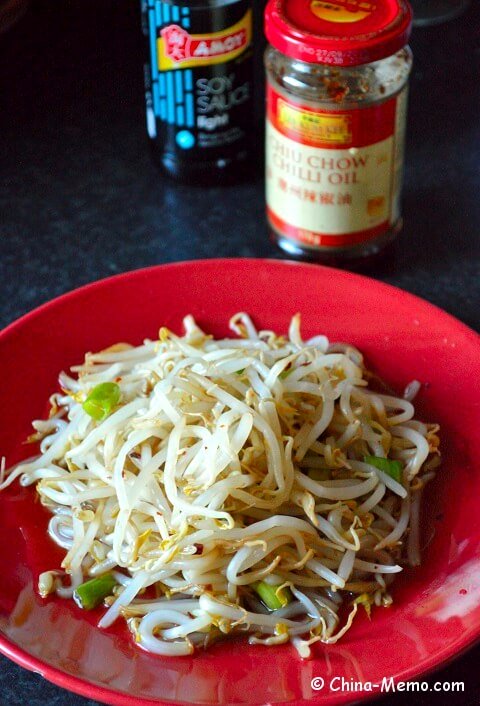 You can watch the cooking video for this dish below. You may also subscribe to my Youtube channel to get the regular update each month.

Like It? Share It!