In this Chinese meat recipe, you will see what is the red cooking ("Hong Shao"), a commonly used technique in Chinese cooking.
The name is based on the red-brown colour of the cooked meat, usually because of using dark soy sauce.
This cooking technique can be applied to meat or vegetable, but more often it is used for cooking meat. The vegetable with dark colour such as aubergine can also be red cooked.
Normally the red cooking starts with frying the ingredients to release the flavour. Then the meat is fried and turns to red brown colour. Finally, add the stock for slow braising. The stock can be water, homemade stock, beer and even coke (such as chicken with coke).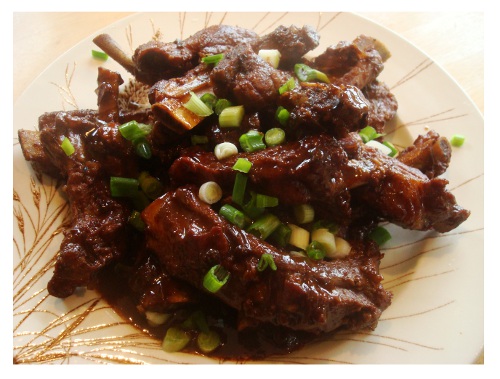 ---
Prep Time: 5 mins Cook Time: 60 mins
Ingredients:
700g pork ribs, chopped already
2 Chinese star anise

(five spice)

2 tbsp oil
2 tsp dark soy sauce
1 tsp salt
1 tsp sugar
1 tbsp Chinese sweet bean paste (optional)

leek

1 whole spring onion

Prepare:
Cut one inch long leek, slice it into the thin threads
Cook:
Heat the frying pan until it is very hot
Add oil and wait till high heat
Add the star anise, sliced leek and sweet bean paste, fry about 2 minutes
Add the ribs to fry. Add dark soy sauce, salt and sugar.
Cook 10-15 minutes. The ribs turn to red brown.
If you use a small frying pan, you may need to transfer the ribs to a big saucepan (optional).
Add water or other stock you prefer, cover the lid, slow cook with medium heat for about 50 minutes or till the meat is tender and can be easily removed from the bone.
If prefer, add chopped spring onions on the top.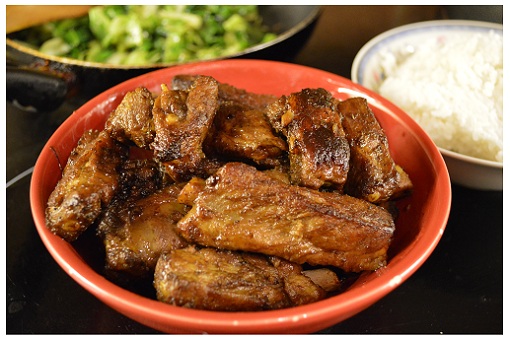 Tips:
For the best result, cook till almost no liquid left, unless you prefer the dish to be bit watery.
If you want to speed up the process after frying the ribs, you may use the pressure cooker rather than saucepan. It normally takes about 20 minutes when use the pressure cooker. But I personally feel the slow cooking gives a better taste.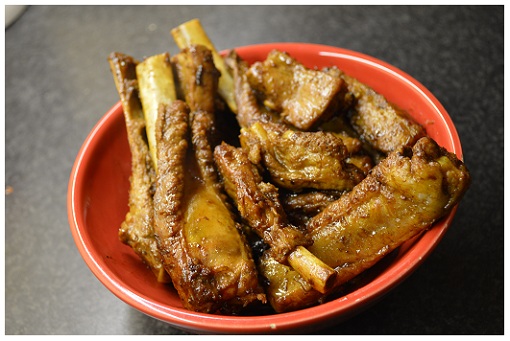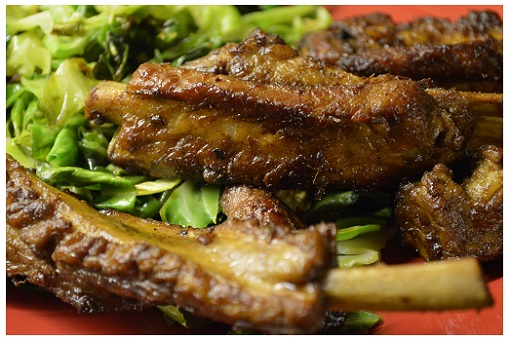 Hope you like this Chinese meat recipe. Please share with others who also likes cooking Chinese food.
You may also like other red cooked meat Red Cooked Tofu and Pork Mince, or check more Chinese meat recipe.
(Posted: 20/05/12; Update:15/03/17)
Like It? Share It!