Our home cooking for Chinese tofu pork mince. Firm tofu is red cooked with pork mince. Easy and full of flavor.

Tofu is healthy, low in fat and high in protein and calcium. In this Chinese tofu pork mince recipe, you will see how I use so called "red cook" to make this dish. 
You may find tofu available from your local Chinese food market. If pay attention, you may notice there are several types of tofu product. The firm tofu is normally square shape like shown in following picture. It may be packed in the bag or stored in the water. The soft one has almost sort of jelly texture, such as Japanese tofu. There is also fried tofu, normally ball-shaped, fluffy, with the fried skin.   
For this recipe it is better to use the firm tofu or fried tofu.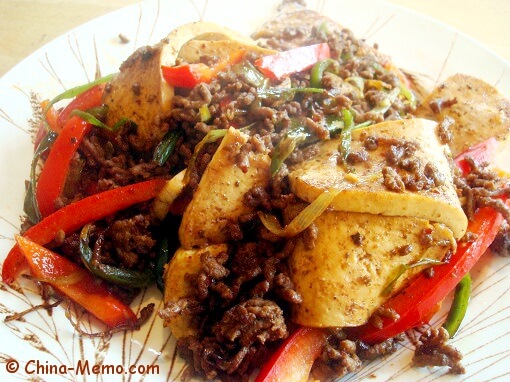 ---
Prep Time: 5 mins Cook Time: 15-20 mins
Ingredients:
To cook pork mince:
200g pork mince
1 tbsp oil
½ tsp salt
½ tsp sugar
2 tsp light soy sauce

½ tsp dark soy sauce (if want to add colour)
To cook tofu:
250g firm tofu
1 tbsp oil
salt
1 tbsp chinese sweet bean paste (tian mian jiang,

甜面酱

)
Leek, one inch long
Ginger, half thumb size
1 tsp Chinese chilli paste
One red pepper
One medium hot green chilli
Method for Chinese Tofu Pork Mince

Prepare:
slice leek into the thin threads; cut ginger into small threads
cut tofu into ½ cm thick slices
cut red pepper and green chill into shreds

Cook:
Heat the frying pan until it is very hot. Add oil and wait till high heat.
Add pork mince to fry. Adjust taste by adding salt, sugar, light and dark soy sauce.
Keep frying mince till almost no liquid left, take the cooked mince out and set aside.
Add oil and wait till it is hot. Add leek, ginger, green chilli and sweet bean paste, fry about 2 minutes or till fragrant.

Add tofu to fry, seasoning by salt and Chinese chilli bean paste.
Fry for about 3-5 minutes, gently turn tofu over and fry another side.
Cook till tofu turn to golden brown, add cooked pork mince and red pepper.
Mix and cook for about 3-5 minutes. Add about 2-3 tbsp water, mix and cover the lid to cook serval minutes so the taste can get into the tofu. Once finished, serve hot.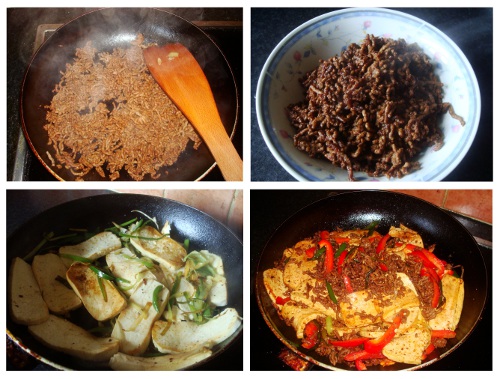 Tips:
To save time, you may start to heat the frying pan first, because it usually takes about 5 mins for the electrical cooker to heat up till it is very hot. You may use the time to prepare the ingredients.
I hope you like this Chinese tofu pork mince recipe. Please help to share with others on Facebook or Twitter.

You may also check my other Chinese Meat Recipe.
(Posted: 25/05/12; Update:11/04/16)
Like It? Share It!