In this Chinese chicken recipe, I am showing you how to use red cook method to cook chicken with coke.
"Red cook" is widely used in Chinese dishes, as you may notice this from other Chinese Meat Recipes in this site, such as Red Cooked Carp and Red Cook Ribs.
The steps are pretty simple. First, fry the ingredients to release the flavour. Second, fry the meat till golden brown. Finally, add the stock for slow braising.
There are different types of stock you can use for red cook, such as water, veg soup, chicken soup, beer and coke. For example, duck with beer is another popular Chinese dish. Once you learn how to apply it, you may try different stocks to make a change for your daily meals.
In this Chinese chicken recipe, diet coke is used. Since diet coke is sweet, you don't need to add any sugar.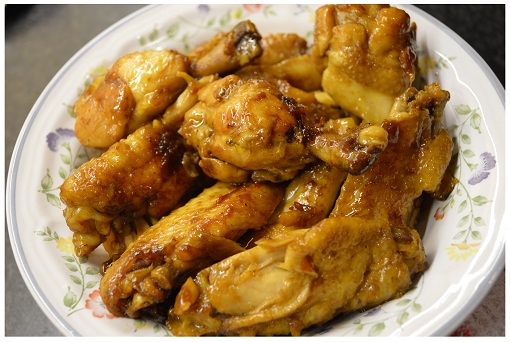 ---
Prep Time: 15 mins Cook Time: 40-50 mins

Ingredients:
500g chicken thighs
2 tbsp oil        

1 tsp dark soy sauce
1 tsp salt
½ tin diet coke
1 tbsp Chinese chilli bean paste
leek and ginger, sliced

Preparation:

 remove chicken skin (if prefer) and chop chicken things into small chunks. why small size? Because it helps the meat get more flavour.
Cut one inch long leek, slice it into a thin thread. 
 Cut and slice the ginger.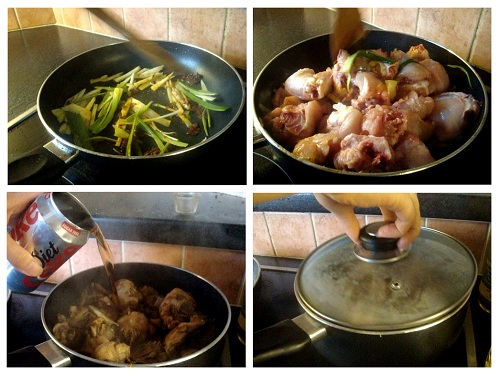 Cook:
Heat the frying pan until it is very hot.
Add oil and wait till high heat.
Fry the sliced leek, ginger and chilli bean paste for 1-2 minutes.
Add chicken to fry. Add dark soy sauce and salt. Fry for 5-10 minutes till the meat turns to red brown.
Move the meat to a big sauce pan. You may not need this step. I do this because I want to cook other dishes at the same time.
Add diet coke, cover about 2/3 of the meat. (No need to cover all meat because chicken is easy to cook. If you add too much stock, you may end up with lots liquid left in the dish.) 

Cover the lid, slow cook with medium heat for about 30-40 minutes till the meat is tender and easy to be removed from the bone.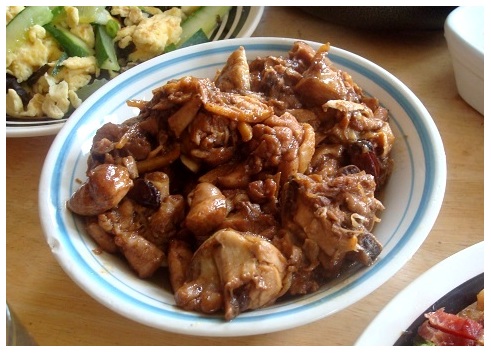 Tips:
You may adjust the cooking time depending on the heat of your cooker. But slow cooking is recommended. 
You may stir the chicken during cooking to mix the flavour, also check how much liquid left. The ideal case is when there is very little, or even no liquid left. As you will see the dish becomes bit sticky (thicken up?), and there is bit oil coming out as well. The smell becomes nicer at this stage. That's the results we want. 

To speed up

the process, you may

use a pressure cooker.
You can watch the video below. To get  the regular update, you  may subscribe to my Youtube Channel.  

---
I hope you like this Chinese chicken recipe. You may also check my other Chinese Meat Recipe.  Happy cooking Chinese food!:)
(posted: 13/02/13; Update: 17/03/2017)

Like It? Share It!