One of my readers asked me about Chinese Kung Pao chicken (Gong Bao in Chinese) recipe. So this post is to respond my reader. Hope it is useful for others too. Scroll down to watch the cooking video.

It seems very common that once the food "travels" from one country to another country, something has to change in order to make the food suit the local eaters, such as the taste, the ingredients or the names. No wonder there are some strange Chinese dishes in the Western countries that l never heard in China, such as the orange chicken and pineapple beef.

So I am glad to see that at least the Chinese dish for Kung Pao Chicken and Mapo Tofu can still keep their original names. I don't know how this dish is cooked in the West, but this is our family version of Kung Pao chicken, the tender and succulent chicken with Sichuan pepper, red chilies and roasted peanuts. One of my mum's best dishes :)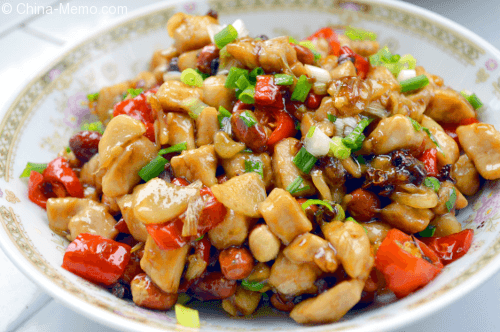 ---
Ingredients
•  chicken breast
•  red chilies
•  roasted peanuts 
•  Chinese chili bean paste
•  Sichuan pepper corns
•  light soy sauce
•  oil, salt, sugar
•  corn starch flour
•  leek
•  ginger
•  spring onion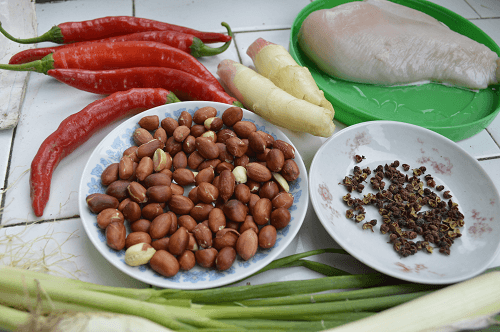 Method for
Chinese Kung Pao Chicken
Prepare the ingredients. Cut the red chilies, leek, gingers and spring onions.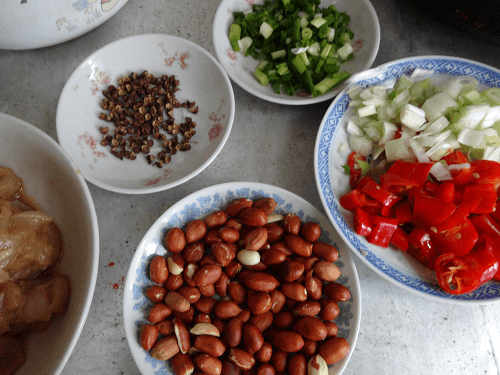 Cut chicken breast into small cubes.  
To marinate the chicken, use light soy sauce, salt and corn starch flour. Add bit water to mix well. Set aside. 
Prepare the sauce using light soy sauce, little bit vinegar (about ½ tsp), salt and sugar. Add about 2tsp corn starch flour and water to mix well. Set aside. This will be used at the end to remove the excessive liquid.
Heat up the wok, add oil, wait till smoky. Add chicken to stir fry Don't cook too long otherwise the chicken is "old". So once see the chicken turns to white colour, take them out.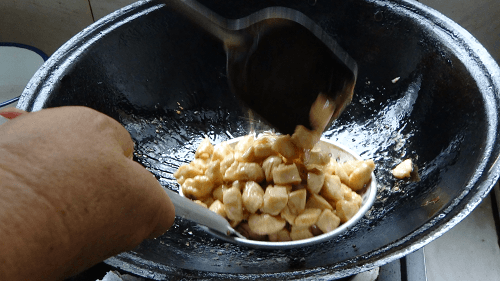 Use the oil left in the wok to fry the ingredients, Sichuan pepper corns first, about half minute, then add red chilies, gingers and Chinese chili bean paste to cook and stir until fragrant, about 1 minute. Adjust the taste if needed.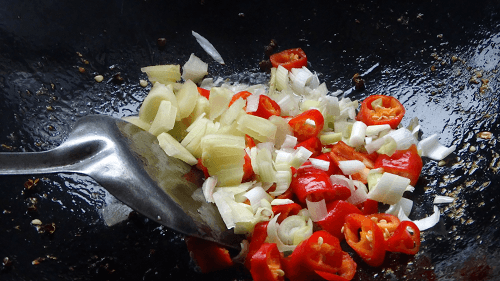 Add chicken back to mix with the ingredients. Add the prepared sauce to extract the excessive water.

Before finish, add the roasted peanuts and chopped spring onions. Just for a quick mix then take them out.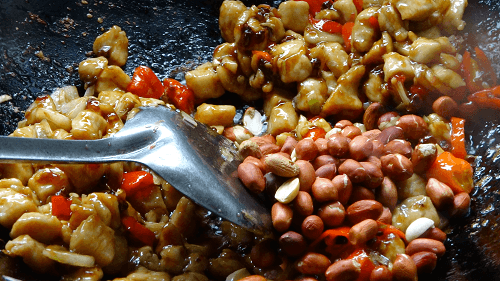 Serve immediately.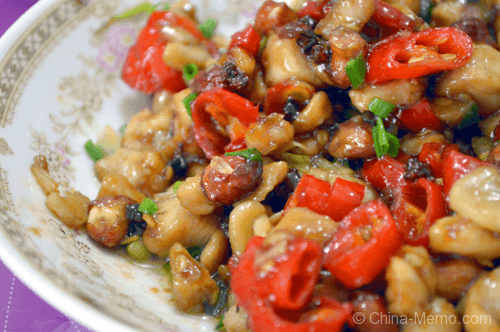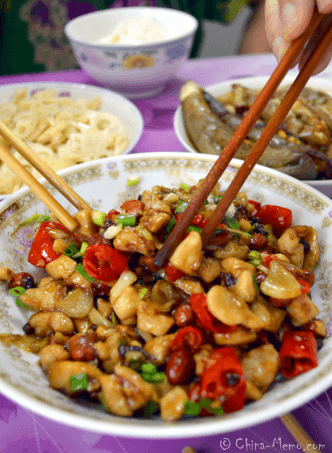 Tips:
•  Do not overcook the chicken; otherwise, it will lose the tenderness. In Chinese we say, the chicken is "old".
•  Use corn starch flour is because it can extract the excessive water at the end.

•  Also don't overcook the spring onions at the end otherwise it lose its special fragrant.
You can watch the cooking video here, or watch it from my Youtube Channel.
If you like this Chinese Kung Pao Chicken, you may also like
(Post:24/08/14; Update: 28/09/14)

Like It? Share It!