Chinese home cooking recipe from my parents, Chinese spicy pork onions, marinated pork shreds fried with green chilli, onions and Chinese black wood ears. very simple to make. Scroll down for video.

My father made this dish, which is a very normal lunch dish for him and my mum. My parents have their way to cook stir-fried meat dish. They prefer to cut the meat into thin shreds so the meat can get the flavour and easy to be cooked very quickly.  You may check this video see how to cut meat into thin shreds. 

In China my parents' kitchen uses the gas cooker so it is easy to get the wok to reach high heat. Because of the high heat, the meat can be cooked very quickly, and remains very tender. (Unfortunately, my kitchen in the UK is the electronic one, slow heat up, so I can never make a quick stir fry meat dish like they do. What a shame.)

Here is the dish, Chinese spicy pork onions.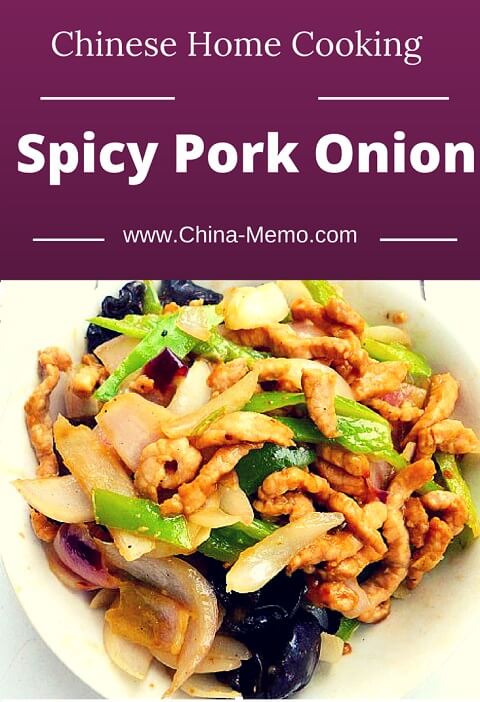 This is my parents' lunch table, one meat, two vegetables and one soup, healthy, isn't it? :)

---
洋葱炒肉
原料:洋葱、.木耳、青椒、瘦肉.
将肉切成片或条,加料酒、生粉、拌匀后高火热油快炒至入成熟出锅备用. 将木耳、青椒入锅炒至八成熟放肉片会炒匀加生抽少许入盘食用.

---
Prep Time: 10 mins  Cook Time: 15 mins
Ingredients:

•  150g lean pork
•  3 green chillies
•  2 big onions
•  10g Chinese wood ears (soaked)
•  2 tbsp oil
•  1 tsb sauce wine
•  1 tsp light soy sauce
•  1 tsp oyster sauce
•  ¼ tsp salt
•  2 tsp corn starch flour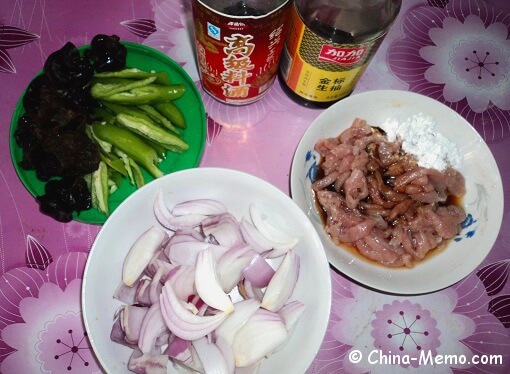 Method for Chinese Spicy Pork Onion

•  Before cooking, soak wood ears for 1- 2 hours. Once soaked, drain it. If the wood ear is big size,  cut it into half. Cut the green chilli and onions.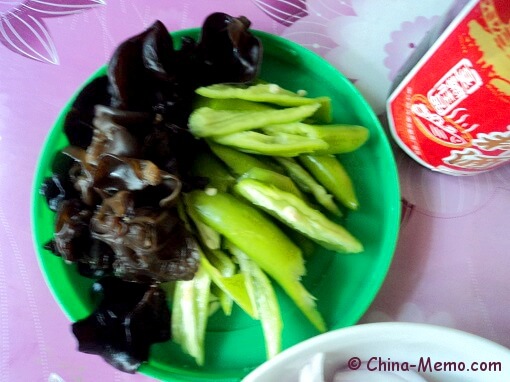 Chinese Black Wood Ears & Green Chilli
•  Cut the meat into thin shreds. Marinate the meat by salt, sauce wine, corn starch flour and light soy sauce, for about 10 minutes.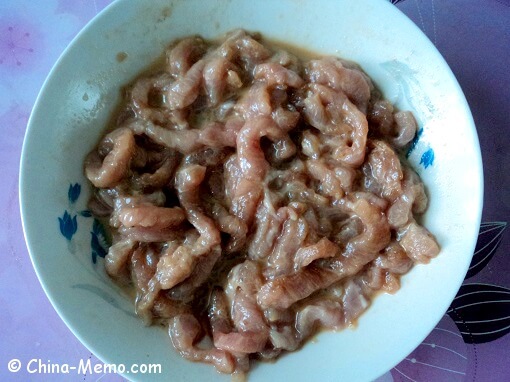 • Heat up the wok till high heat then add oil. Wait oil to be very hot, add the meat for a quick frying.  Once the meat is about 90 percent cooked, take them out.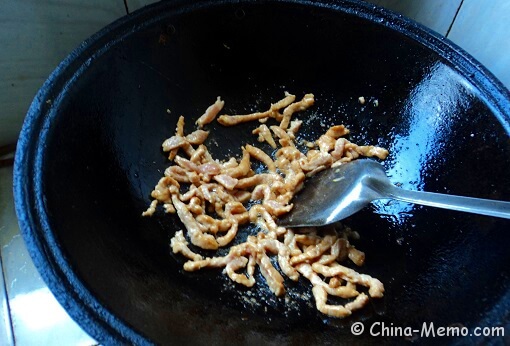 •  Add onions, green chilli and wood ears to fry. Add light soy sauce and oyster sauce for seasoning.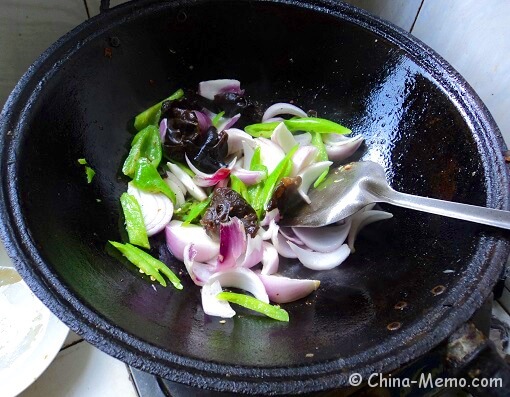 •  Once the veggie is almost cooked (80 percent done), add meat back to have a quick stir frying till mix well.  Add some light soy sauce to adjust the flavour.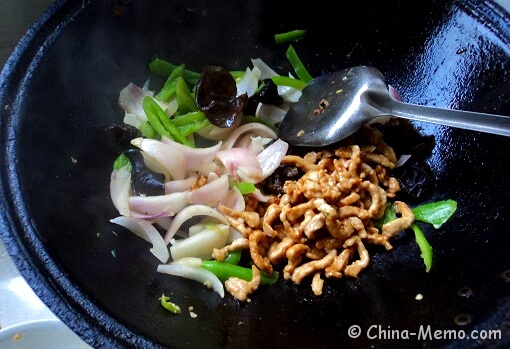 Once done, serve hot.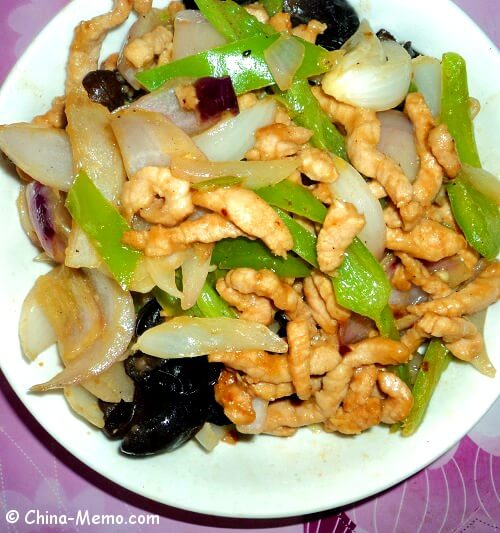 Hope you like this recipe, please share with your friends on Facebook:). You can watch the cooking video here or welcome to subscribe my Youtube channel for the regular update of new videos.

(Post: 16/05/2015)

You may also like my other Chinese meat recipes, or egg and vegetable recipes.
Like It? Share It!