This Red Cooked Rib Potato dish is made by my father. Instead of slow braising, he uses the pressure cooker to make this dish, which saves cooking time but can still keep the rich flavor.

If you have looked my other recipes, you may notice some dishes are referred as "Red Cooked", which is a very common way of Chinese cooking. Basically, the meat is fried first and colored by dark soy sauce, then slow cooked, maybe with chicken stock, beer or diet coke.

You may find these related recipes from this site: Red Cooked Carp, Red Cooked Chicken with Diet Coke, and Chinese Eggplant with dry mushroom.

Because I don't have pressure cooker, I usually use a big size saucepan, slow cooking under medium heat, which usually takes an hour or so. Using pressure cooker takes less than half hour, which is much more efficient.

This red cooked rib potato is a common family dish, takes bit longer than stir fried meat, but has more flavor, and not that difficult to make.

Once cooked, the meat is tender, easy off the bone, with a rich flavor. The potato has a kind of sandy texture, and you can easily mash it by your tongue, which is what I love most about this red cooked rib potato dish :)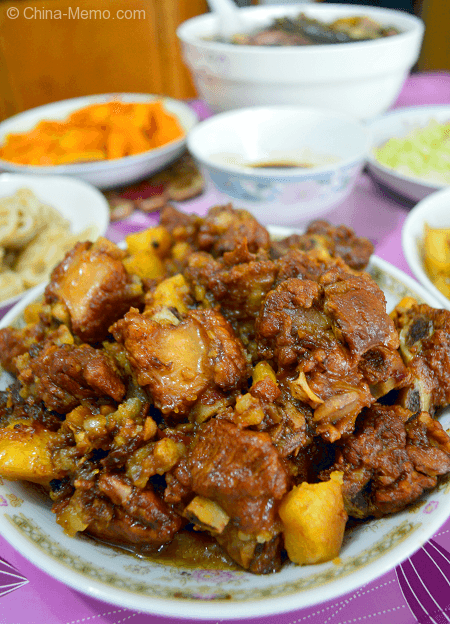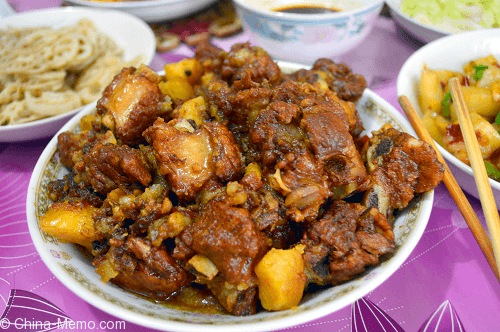 ---
Ingredients
•  800g pork ribs, chopped
•  2 medium size potato, cut as wedges
•  2 Chinese star anise (five spice)
•  ginger, smacked
•  2 tbsp oil
•  1 tsp dark soy sauce
•  1 tsp Sichuan bean paste
•  salt and sugar
Method for Red Cooked Rib Potato

• Cut the potato as wedges. Don't cut it too small, otherwise it will easily become like the mashed one.
• Before frying, some people would like to remove the blood first. Put the ribs in boiling water and cook for several minutes, add ginger as well. You will notice that the blood foam starts to float on the top. Remove the foam and take the ribs out.
• Some people prefer not do this, consider this may also remove some nature flavour of the rib. For my another Red Cooked Rib recipe, I didn't do this. So, it is entirely up to you.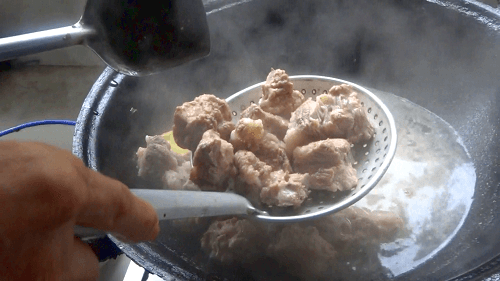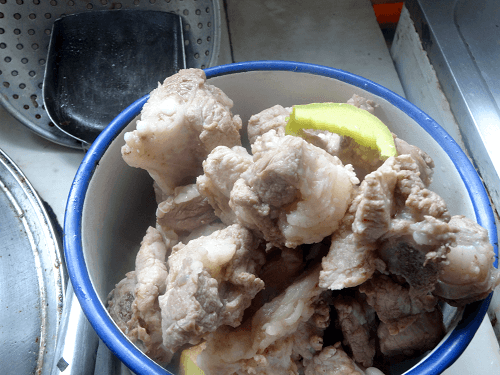 • Once ready, heat up the wok, add oil and wait till high heat. You may almost see the smoke raise up from the surface.
• First fry the Chinese bean paste and Chinese star anise. Then add ribs and potatoes. Use dark soy sauce to brown the meat, seasoning with salt and sugar. Adjust taste as you like.
• Fry till the ribs and potatoes turn to red brown and mix well with all ingredients.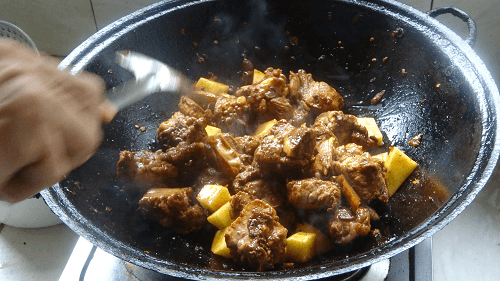 • Add the stock or water, adjust taste if needed.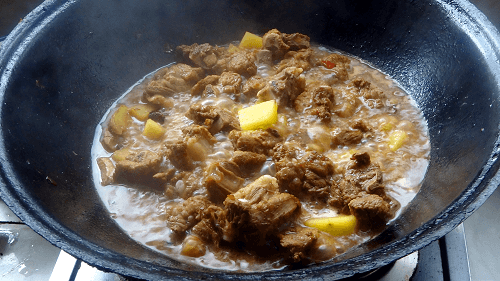 • Transfer the ribs and potatoes to the pressure cooker, and cook for about 20-25 mins.
• Once cooked, the meat should be tender and easily removed from the bone.
• We don't like the dish to be waterish, as water dilutes the flavor. So check if the liquid is almost gone. If not, you can open the lid and continue to cook for several minutes until the liquid is gone.
Once liquid is gone, the dish starts to become bit oily, and ribs and potatoes are fully caramelized.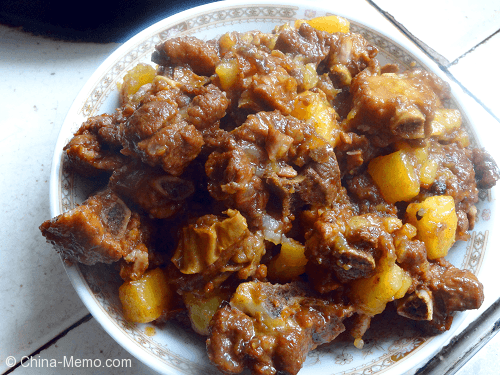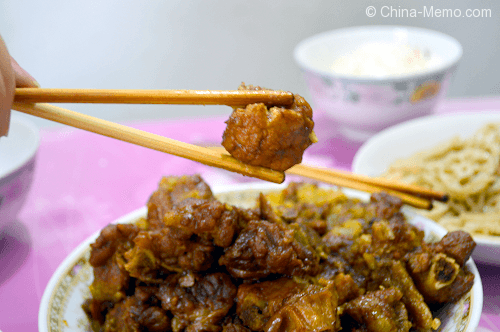 Additional Notes:

•  Instead of potato, chestnuts are good option, some Chinese may also add peanuts too. 

• You may need to try few times to find out how much stock is suitable. Using the pressure cooker is not as using saucepan, as you cannot open the lid to check the process. If stock is not enough, the dish may be burnt before the meat is soften; if it is too much, the dish may have too much liquid at the end.
I often add the stock to almost cover the meat. But this also depends on what kind of meat, such as pork ribs will need more water than chicken. Just try it and you will find out.  
The cooking video is uploaded in  my YouTube Channel, you can also watch it here.
Basically, I post at least one new Chinese food video each month, usually at end of each month. In the middle month, I may add travel video as well. So, if you like get the latest update, please subscribe my YouTube Channel.

Ok, hope you like this Chinese red cooked rib potato dish. If so, please do me a favor to click Like in Facebook (at bottom of this page), or share with others in your preferred social network. Thanks:)

You may also like:
(Post:23/09/14; Update: 22/02/17)

Like It? Share It!