Perhaps the simplest Chinese home cooking recipe, Egg Fried Tomatoes. The tender and fluffy eggs are mixed with the succulent tomatoes, plus the flavour of garlic and spring onion. Simple, healthy and tasty.

Using this easy Chinese recipe, you can cook this egg fried tomatoes dish in just 10 minutes.
You may never see this dish from your local Chinese restaurant's menu or Chinese takeaway, but it is perhaps one of the most common family dishes in China. If you want to teach kids to learn Chinese cooking, this is an easy recipe to start with.  

The fried eggs are tender and fluffy, mixed with the sweetness and sourness of the succulent tomatoes, plus the flavour of garlic and spring onion, the dish tastes really nice :)
It is such a simple and basic Chinese home cooking dish, almost every Chinese knows how to make it. When I was a kid, I remembered this was the first dish I learnt.
My parents cook this dish in a very simple way and you can watch the video at the end of this post.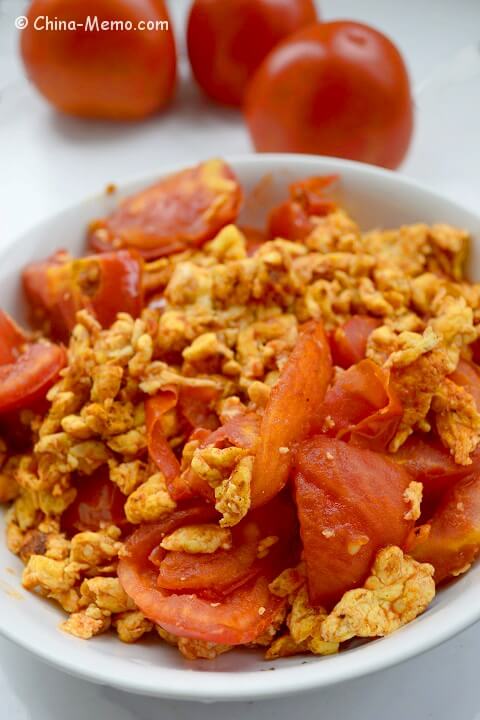 But late on I found out if fry little garlic at begining, and finished with spring onions would make it even nicer. That is how I made this recipe.
This picture was the one I took for the first time, so it might not show its taste. But I am suprised so many people have pinned this picture, amazed. Maybe it is not that bad? ;)
Method for Chinese Egg Fried Tomatoes

Prep Time: 5 mins Cook Time: 10 mins

Ingredients
3

eggs, beaten

a pinch of salt for egg

2 garlic cloves

4 tomatoes

2 whole spring onions

2 tbsp vegetable or sunflower oil

a pinch of salt for tomatoes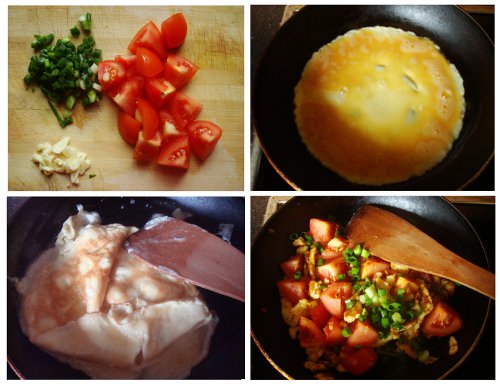 Prepare:
In the cooking video, you will see my father uses his way to remove the tomato skin, but I didn't do this here. 

Cook: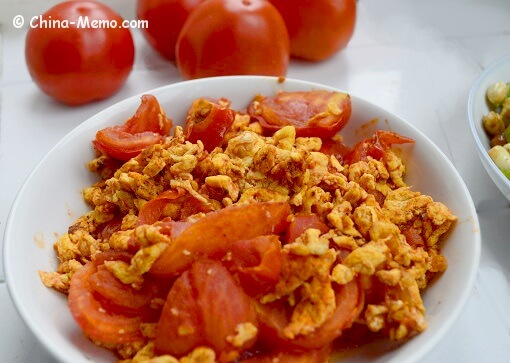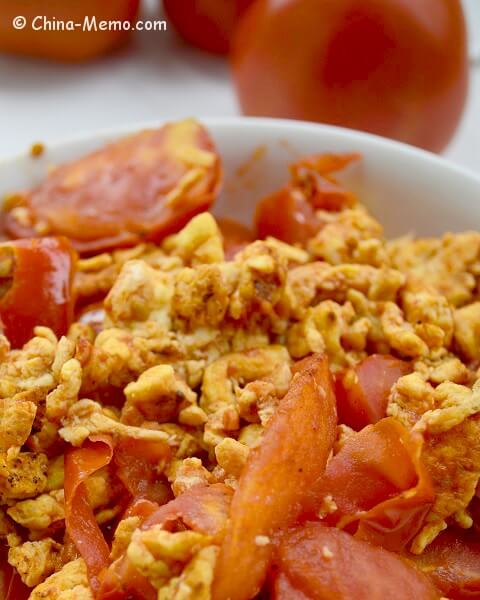 Tips:
Some people might not like the garlic, then you can skip it. In the video, my father didn't use garlic. 

For myself, I don't like the smell of raw garlic. But after a quick frying, the garlic will give the dish a special flavour. Just be careful do not overfry it otherwise it smells burnt.
I hope you like this easy recipe for egg fried tomatoes.. If so, please share with others who are interested in cooking Chinese food.
A cooking video will be posted at my Youtube Channel soon, check it out or subscirbe to my channel :)

You may also like to check my other Chinese Egg Recipes such as Egg Tomato Meatball Noodle Soup, Chinese Egg Dumplings and Egg Fried Rice.

(Posted: 08/04/12; Last Update: 26/04/15)
Like It? Share It!