This is my mum's recipe for Szechuan Tiger Skin Kourou (pork belly) 虎皮扣肉. In my eyes, my mum is our family's master chef and this is her signature dish, because we would have this at almost every Chinese festival.
Sorry for those visitors coming to this page after searching "tiger meat", we are not eating tiger, NOOO!!!! I know we Chinese eat a lot crazy food, but tiger? No, we are not that mad:) 
We name this dish because the surface of the cooked pork belly looks like the "Tiger Skin", at least this is how my mum explains this.  "Kourou" in Chinese means the meat is over turned. You will see what I mean later on.    
Apart from our home cooked Szechuan style "Tiger Skin" Kourou, there is also a Hunan style Kourou, which uses slightly different preserved vegetable, it also has the sliced taro or sweet potato stuffed between two slices of meat, which we don't do that in our version.

It might look bit fatty, yes, I know how sensitive the Westerners feel about the fat. But trust me, the taste is just great. Plus we won't eat this everyday. So don't worry, just enjoy it:) 
Same as the Hunan preserved meat, I think the skin part is the best. The fat part is almost melted after very long hour steaming. The meat is so tender and has a special flavour from the salted vegetable, really tasty:)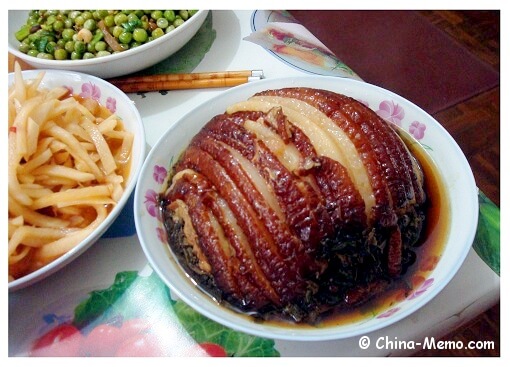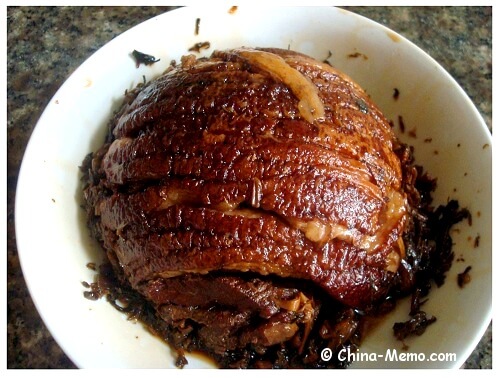 Cook Time: 2-3 hours (depending if use pressure cooker or steamer) 

Ingredients
two square-shaped pork bellies  

preserved salty vegetable, finely chopped

dark soy sauce

oil
Method for Szechuan Tiger Skin Kourou
Cook:
First, boil the water and cook the pork belly.

Once the meat is cooked, next step is to make the belly surface dark brown. To drop some dark soy sauce on the skin, use hand to make the soy sauce evenly cover the belly skin. Make sure to do this when the meat is hot.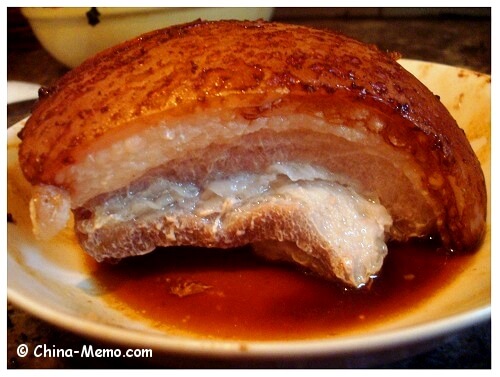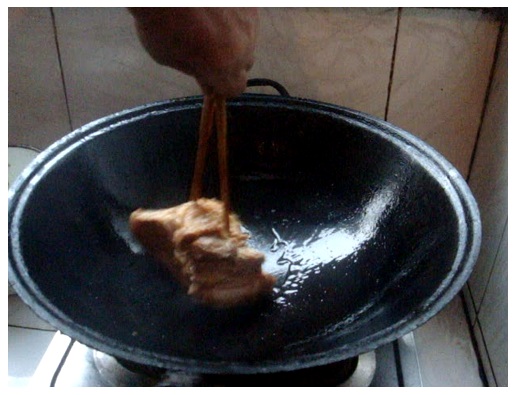 This is how the skin looks like after frying.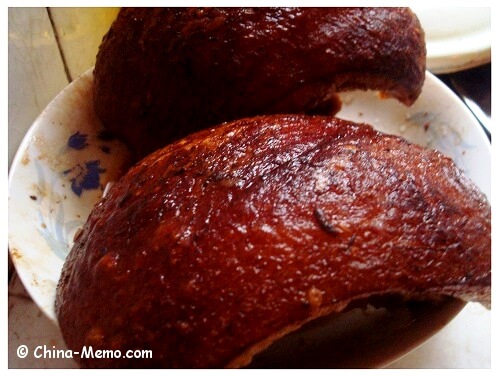 Cut the pork belly into thin slices, roughly a quarter inch thick. Put the sliced meat in a bowl, with the skin side facing down.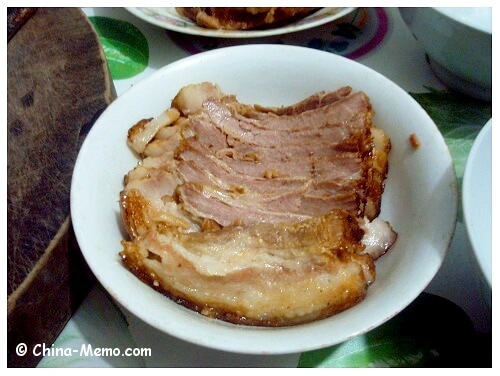 Cover the meat by the chopped salty vegetable. Steam under medium heat for about 2-3 hours until the meat is completely softened. (If you use pressure cooker, it can be quicker but may not taste good as slowly steamed).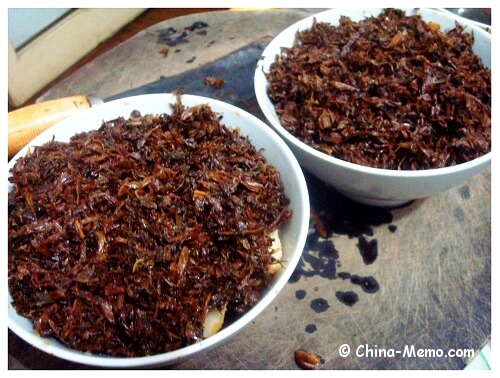 Once steaming is done. Use a plate cover the bowl, then turn over the plate and bowl together, so the meat is now upside down. Remove the bowl from the top. Here we are, the Szechuan Tiger Skin Kourou (pork belly)!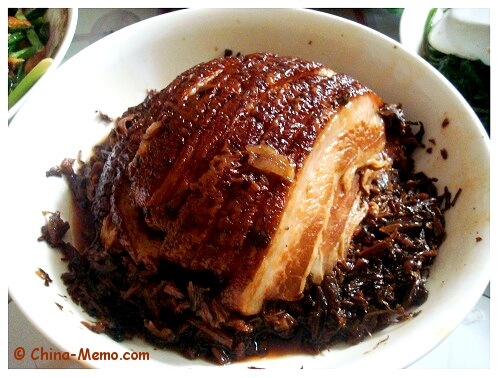 Tips:
Because the skin has been fried first, after steaming, the surface has a lot crepes, makes it look like tiger skin. That is why you need make sure the skin is properly fried, otherwise it won't show the crepe after steaming.

I also see someone has posted online (see Facebook comments below), after frying, soak the meat in cold water for half hour, which can help to achieve the similar outcome. But my mum never did this, so I just pass others information, you may test it by yourself.

Watch the cooking video here, which is one of the most popular videos in my Youtube Channel. Personally, I love the final part when my father turned over the plate and remove the bowl from the belly, which was always exciting to see the final dish looks:) You may subscribe to my channel to get a regular updates of my new videos:)

I hope you enjoy this authentic Szechuan Tiger Skin Kourou recipe. Please help to share with your friends on Facebook or Twitter, thanks:)

You may also check my other Chinese meat recipes, or egg and vegetable recipes.
(Post: 04/05/2013; Update: 12/01/17)

Like It? Share It!