I made this Chinese sweet potato cake (hong shu bing 红薯饼) based on my other recipe for Chinese sweet pumpkin (squash) cake (nan gua bing 南瓜饼). This is my first attempt, not perfect, but tastes good. Happy to share with you:)

If you have seen my other post about Chinese Sweet Treats, you may notice that one of the popular desserts that we have in China's local restaurant is the pumpkin cakes, in Chinese it is called nan gua bing 南瓜饼.
The cake is deep fried to a golden colour, slightly sweet, as usual, China's sweet food is not that heavy and sweet.
Another version of the pumpkin cake is the cake stuffed with sweet red bean mash, or with sesames on its surface.
The cake is made by pumpkin and glutinous rice flour, therefore has the chewy texture, which makes it special.
Here I am trying to make a similar version of pumpkin cake, but using the sweet potato and glutinous rice flour.
This post was based on my first experiment to make this Chinese sweet potato cake, so excited and had a fun. As I said, not perfect. As you can see it is slightly burnt on the surface, but trust me, the taste is great!
I have tried few times later on. Paid more attention to the ratio of potato and rice flour. I can say I can make very good sweet potato cakes now:)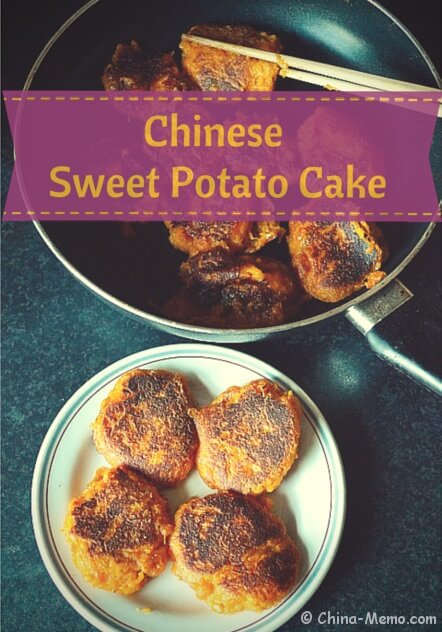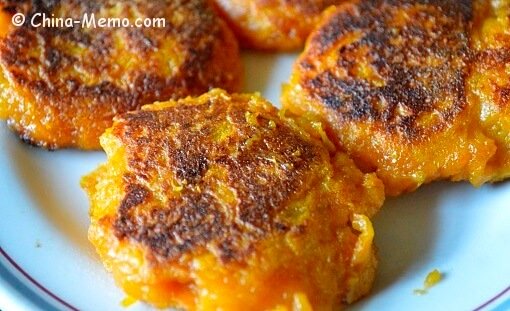 ---
Ingredients
• 750g sweet potato, steamed and mashed.

• 150g glutinous rice flour
• 2 tbsp oil for pan frying   
Update: use microwave is better
3 medium size potato with 4 tbsp flour

Method for Chinese Sweet Potato Cake

•  Remove the sweet potato skin.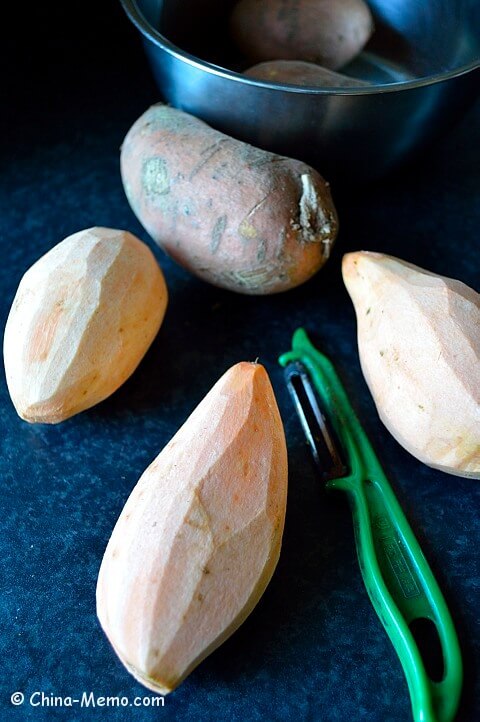 •  Cut the sweet potato into wedges.

•  Steam the sweet potato for about 25 minutes or till it is completely softened. I won't recommend boiling as that will add excessive water into the potato. So steamed or use microwave oven.
Update:
After trying few times, the best way I found is to use microwave, because the steamed ones contain water therefore need more flour. Use the microwave, highest power, 4 minutes, then turn over the potato, cook another 4 minutes.  If use 3 medium size sweet potato, add about 4 full tbsp rice flour, gives the best results of the dough, can make 7-8 cakes,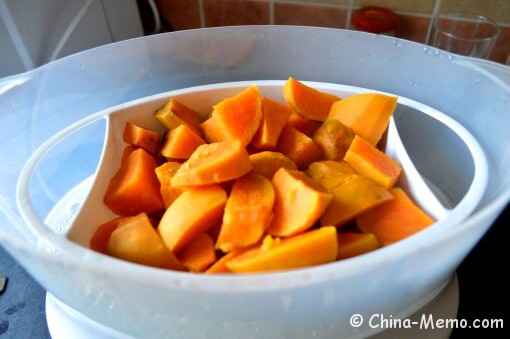 •  Once the sweet potato is cooked, mash it in a bowl. Then add the glutinous flour and mix well.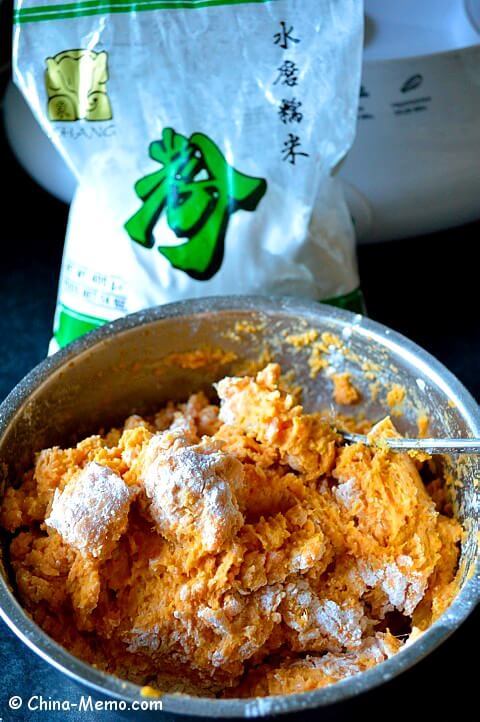 •  Use hand to make the mixture a round shape of cake.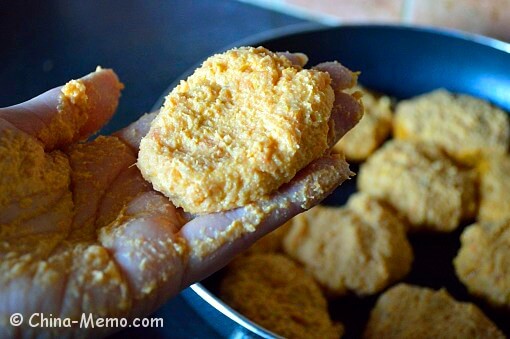 •  Heat up pan till medium heat, add oil and sweet potato cakes to fry. Fry one side for about 5-8 minutes. Turn over to fry another side. Total frying time is about 10-15 minutes.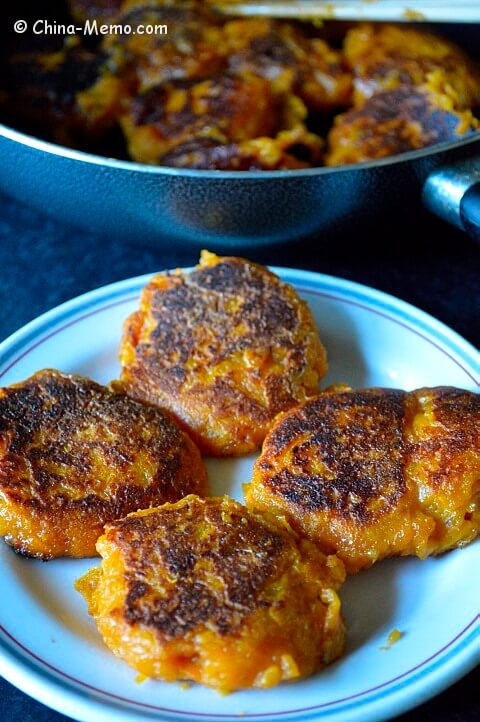 •  Once done, serve in hot.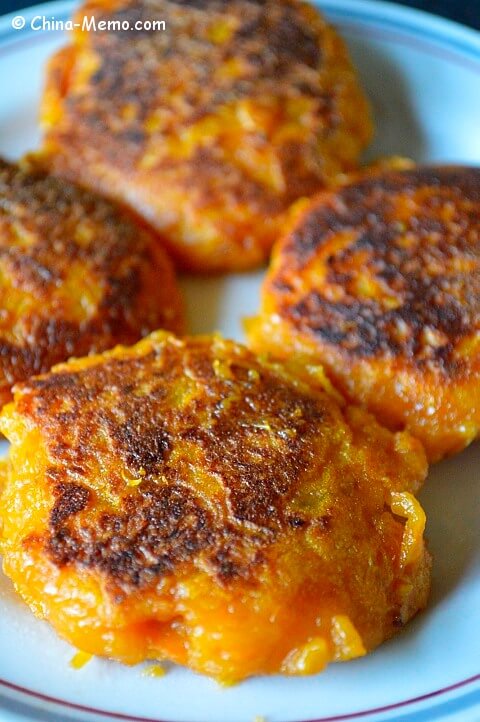 Notes:

•  Good thing about the sweet potato is that it is already sweet, so no more sugar needed. The cake tastes sweet enough.
•  The cake I made here wasn't in a perfect round shape, because the mixture was bit soft. Use microwave, 3 medium size sweet potato with 4 tbsp flour will give a good result.

•  In China local restaurants and local vendors would use deep frying, so it will be similar as frying chips. But I prefer to use less oil as it is healthier than deep frying.
If you like this Chinese Sweet Potato cake recipe, please Like it in Facebook and share with friends, thanks:)
(Posted: 22/04/2015; update: 09/05/17)
You may also like:
Chinese Sweet Rice Balls
Like It? Share It!