This is my parents' home cooking for Chinese Steamed Duck legs with dried mandarin peels flavor.  Scroll down to watch the video.

Something about Chenpi

The dried mandarin peels are called Chenpi in Chinese, (Chinese: 陈皮, pinyin: chénpí), which is used as a traditional seasoning in Chinese cooking and traditional Chinese medicine as well. Some people may make these at home such as by storing them dry.  But nowadays we can easily buy these dried mandarin peels from the local Chinese herb medicine shop.  

The dried peels have a mixed bitter and sweet taste. In fact Chenpi can also be made as a snack, which tastes sweet and sour. It helps digestion and was one of my favorite snacks when I was in China.  According to traditional Chinese medicine, Chenpi, as other dried peels of fruits, can improve digestion and poor appetite. It may also help to relieve cough.
This Chinese steamed duck recipe is based on my parents' cooking in China. They used the pressure cooker to make this dish, which is faster than using steamer. They also use the lower part of cooker to cook a soup, so basically they can make two dishes within 30 minutes.

Why steamed or using pressure cooker? Because it means no frying so it is healthy. My parents always prefer duck than chicken because according to Chinese medicine, duck is  "cooling" food and chicken is "heating" food. (more on the "cooling" and "heating" food can be found from my other post for Chinese Duck & Potato, Chestnuts).  But you can certainly use this recipe for chicken or other type of poultry meat. The pictures used in this post were taken by my parents so some are bit shaky, but hopefully they will not affect you to use this recipe.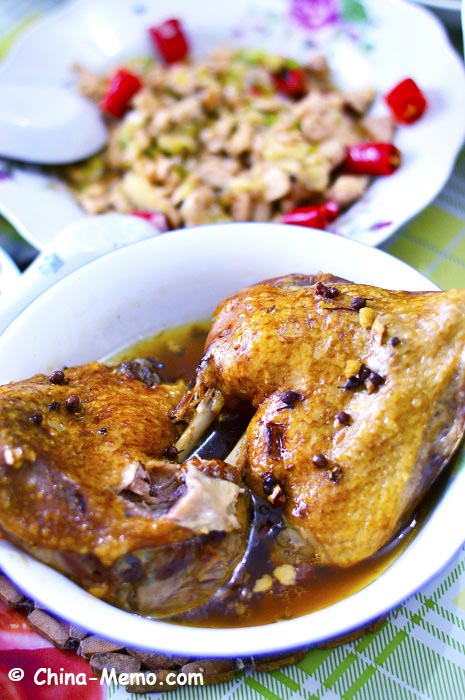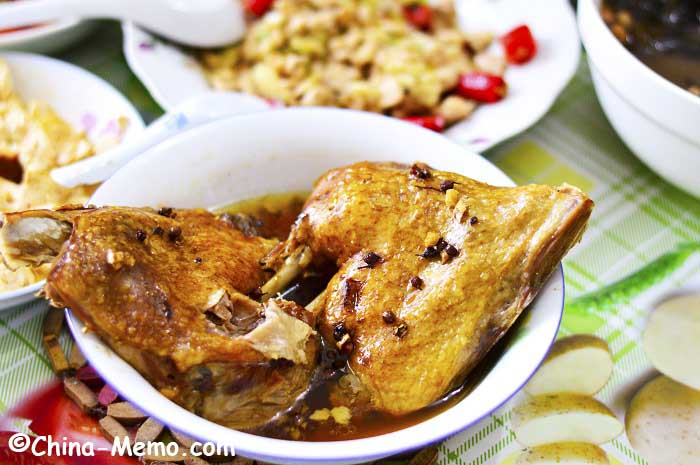 ---
Prep Time: 15 mins + marinate 4~12 hours   Cook Time: 30 mins

Ingredients:

•    2 duck legs
•    salt
•    ginger & five spice
•    Sichuan peppercorns
•    1 tbsp sauce wine
•    1 tbsp dark soy sauce
•    1 tsp Chinese chili bean paste
•    2 dried mandarin peels
Method for Chinese Steamed Duck Legs

陈皮鸭腿
1, 先腌制洗净的鸭腿:一汤勺盐 、姜沫、花椒、料酒, 拌匀密闭放置4至12小时以上.
2, 取出鸭腿用清水稍冲去表面浮液,用老抽涂抹于表面,放盘中放少许陈皮(可干橘皮代) 和其他自己喜欢的调味料.(胡淑粉、酱)
3, 入高压锅蒸30-40分钟 (锅中可放其他食材饨汤), 出锅.

•  Wash and clean the duck legs. Marinate the duck with salt, ginger, five spice, Sichuan peppercorns and sauce wine in a sealed container, for at least 4 hours. My parents normally would do this overnight.

• Once marinated, take the duck legs out from the container. Wash the surface to remove the stuff used for marinating.  If want to add color to the skin, spread the dark soy sauce evenly on the surface.

•  Place the one or two Chenpi in the plate and put duck on top of Chenpi. If you don't have Chenpi, you may use the dried tangerine (mandarin) peels. Alternatively, if you watch the video, my mum put some leek under the duck. You may also add the flavor you prefer to this dish, such as peppers or other sauce you like.

• My parents used the pressure cooker to make this dish. They also use the pressure cooker to boil a soup underneath. As you can see the soup is made with kelp, lotus seeds, white  wood ears and goji berries. For them, using pressure cooker is a very effective way to make two dishes at the same time.

•    Put the marinated duck legs at the upper level of the pressure cooker. Cook for about 30 ~ 40 minutes. Serve hot.

The meat is tender and moist. After marinating for long hours, it is very tasty too. There is no need to add any oil because the fat under skin will come out after steaming. If you perfer even less oil, you may remove the skin but my mum would prefer to keep the skin (see the tip below).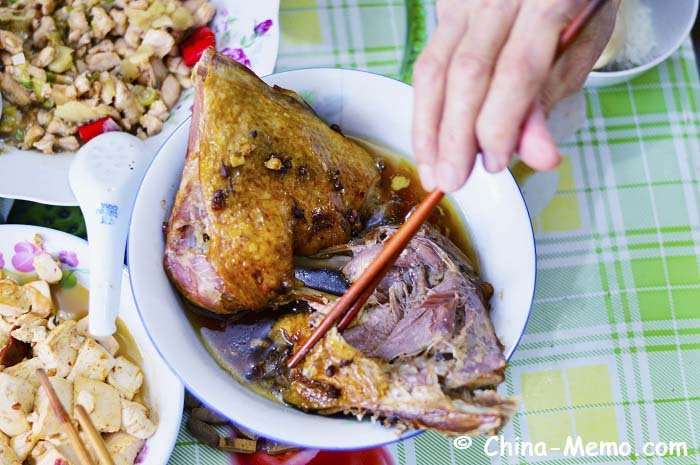 Tips:
Here is what my mum highly recommended, keep the duck skin because it helps to keep the moist so the meat will be tender; otherwise, the meat may taste bit dry and like "wood" (that's how my mum describe it). I know some people do not like to eat the skin. If that is the case, you may remove the skin once cooked. 
There is another recipe from my parents called Chinese Duck Radish Soup (with videos) which also used the Chengpi. You may click the link to see more details on that post.
You can watch the cooking video here. Note , this video was taken at different time, in which may parents didn't use chenpi, but the steps are the same. You can still see how they make a similar dish using pressure cooker. If you want to see more Chinese home cooking, please subscribe to my Youtube channel for more home cooking videos.
Hope you like this recipe for Chinese Steamed Duck Legs with Chenpi flavour. Please like it on Facebook and share with friends.

(Post: 14/02/17; Update: 20/06/17)

You may also like our family cooking for more Chinese meat recipes:
Like It? Share It!