This Chinese pork potato is a very common Chinese home cooking dish. The potatoes are shredded and fried with marinated pork, using cumin also gives the dish an extra flavour. Scroll down to watching the cooking video.

In China, potato is commonly used as one type of vegetables. It is very easy to cook potato with other ingredients. I have already had several potato recipes in this site. If interested, you may check these recipes: Red Cooked Rib and Potato, Chinese Duck Potato and Chinese Potato with Minced Meat.
This Chines pork fried potato recipe is what my parents usually do in China. The potato is shredded and fried with the marinated pork. Sometime instead of pork, we also use chicken or Chinese pork sausages. My father would also like to add the cumin to get some special flavour.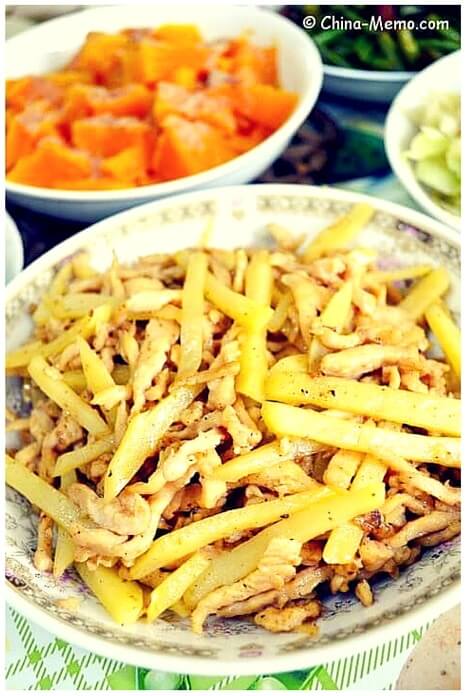 Here is our family lunch in China, with this pork fried potato dish:)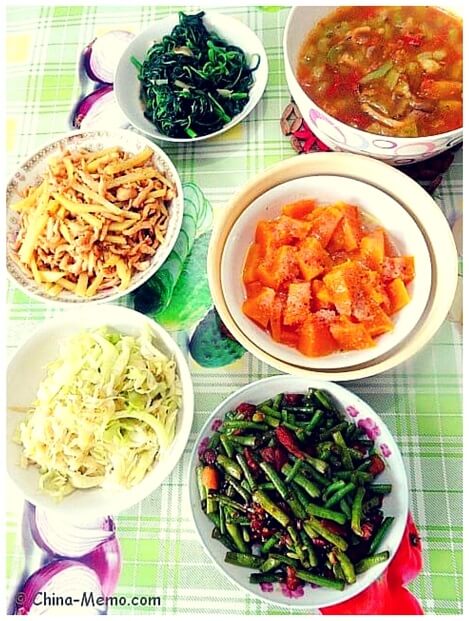 ---
Ingredients:
•  200g pork
•  one big size potato
•  two garlic cloves
•  1/2 tsp cumin powder
•  2tsp light soy sauce
•  1tsp oyster sauce
•  2tsp corn starch flour
•  oil
•  salt

These are Chinese light soy sauce and oyster sauce, which can be bought from most Chinese food shops.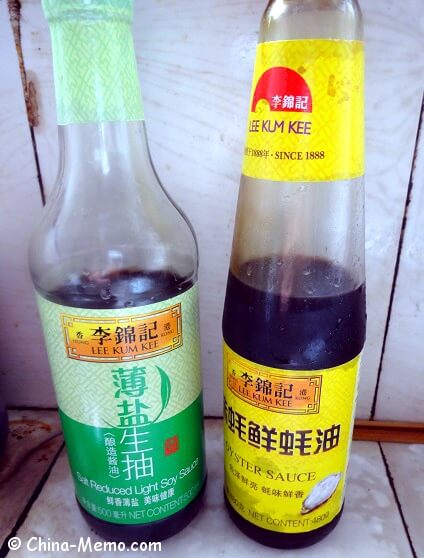 Method for Chinese Pork Potato

•  cut pork into thin threads. You may check a my Youtube video here, see how my father does this.

•  Mix the meat with salt, light soy sauce and corn starch flour. Marinated for about 5~10 minutes.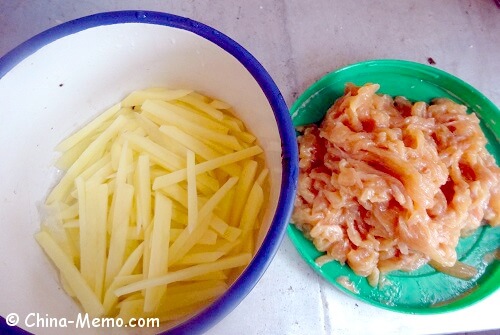 •  Heat up the wok or frying pan to high heat. Add oil, wait till oil become very hot.

Add pork to fry. Stir to make the meat well separated. When cooked about 70% done, take the meat out.
Why? The reason for this is that because in our family cooking, my parents always prefer the meat to be tender, not being over cooked; otherwise the meat will become hard and dry. My mum describes it as chewing wood:)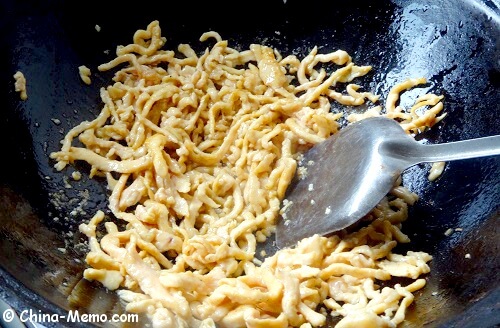 •  Before frying the potato, fry the garlic till fragrant, then add potato.  For seasoning, add light soy sauce and oyster sauce. Cooked for about 3~4 minutes. (Note, my parents' cooker is using gas fire so it is cooked very fast. You may need to adjust the time according to your cooker.)
• Add pork back to mix with potato. Before finishing, add cumin powder and mix well.
If you use cumin seeds not cumin powder, you may quick fry the seeds before frying the meat, which helps to get the flavour of cumin seeds.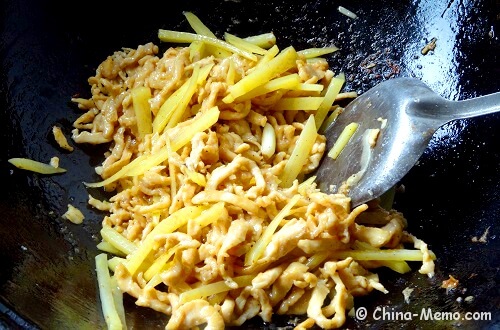 •  Once done, serve hot.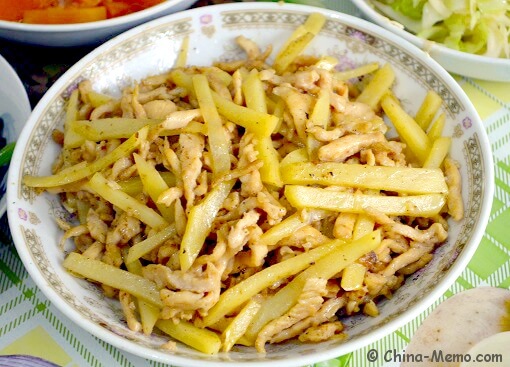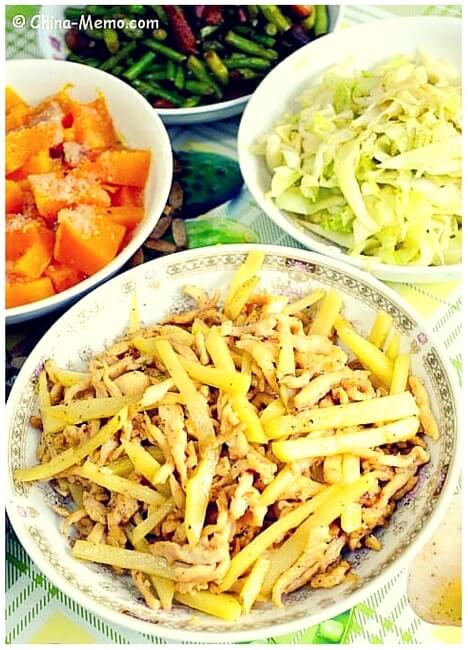 Use the same way of cooking, we sometime also fry the potato with Chinese pork sausages (in Chinese called Xiang Chang). It is even easier, because there is no need to marinate the meat as the sausage itself is well seasoned already.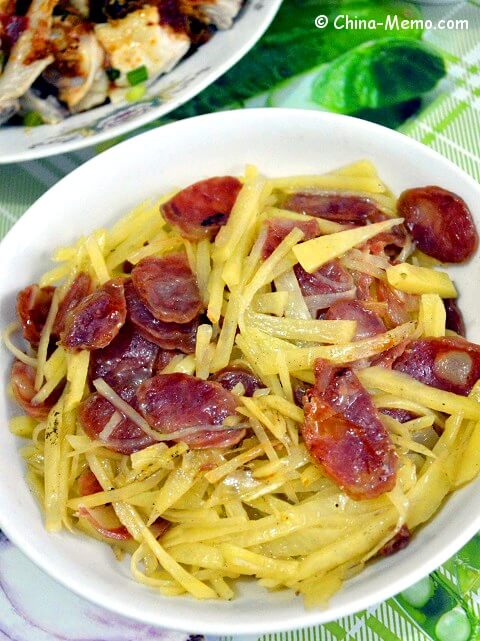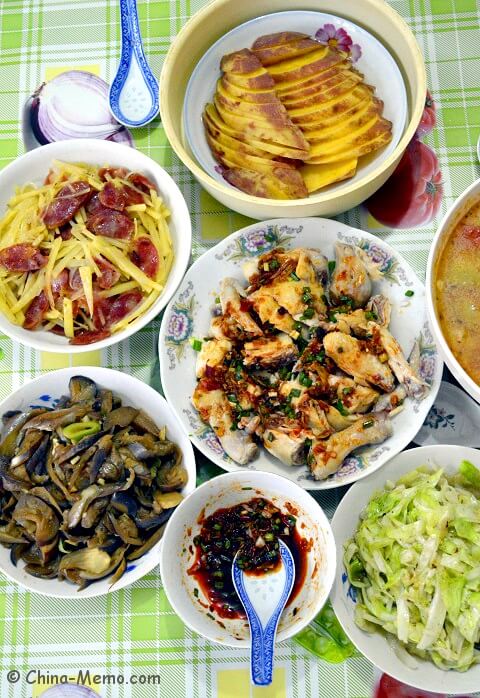 You can watch the cooking video for this dish, which is also posted on my Youtube channel. You may subscribe to my channel to get the regular updates.

Hope you like this Chinese pork potato dish. If so, please click Like in Facebook or share with friends. Thanks:)
(Post: 21/09/2015)

You may also like my other Chinese Meat Recipes:
Like It? Share It!