In fact this Chinese Pork Mince Rice Noodle dish also has a fancy Chinese name called "Ma Yi Shang Shu", meaning "ants climb the tree". But my version does not follow the traditional way, as it has too many "ants", not enough "trees";) so I just name it by the ingredients. Still tasty though:)

In Chinese cooking, rice noodle is very often used as the ingredient rather than main food. We may use it with meat, vegetables (such as Chinese Spinach with Rice Noodle), add it into the soup, or hot pot. The dish using Chinese pork mince with rice noodle is a very common family dish.  

Looking at this name "ants climb the tree", it is not difficult to imagine that the cooked mince sticks with the noodle when you pick the noodle up... So ideally, it should have more noodle than pork mince, but I did the opposite. 

There is a traditional way to make that ant climbing tree dish, but I didn't try to follow others, so just make my own version of it.

I used Chinese dry mushroom as one of the ingredients. The dry mushroom is commonly used in Chinese cooking. For example, you may find it in another reciep Chinese Eggplant with dry mushroom.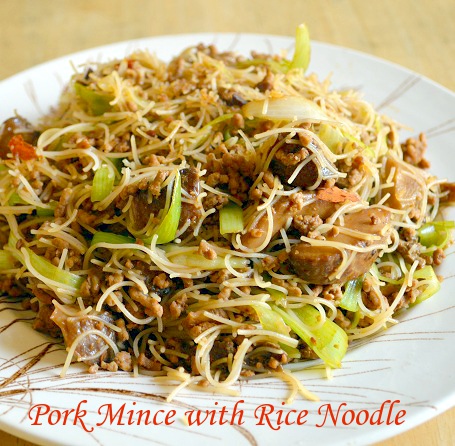 ---
Ingredients
•  250g pork mince
•  150g rice noodle (cooked)
•  Chinese dry mushroom (soaked)
•  2 tbsp oil
•  ½ tsp salt
•  1 tsp sugar
•  ½ tbsp soy sauce
•  1 tbsp corn flour (optional)
•  Chinese chilli bean paste
•  leek (sliced)
Method
for Chinese Pork Mince Rice Noodle
•  Prepare the ingredients.
The dry mushrooms need to be soaked in advance. I would do this overnight. If not, at least give it for about one hour.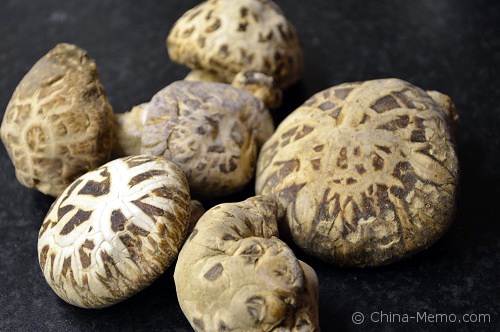 After soaking, the dry mushroom is greatly expanded. I normally soak them with other dry ingredients at the same time, such as wood ears. Cut the soaked mushroom. Set aside.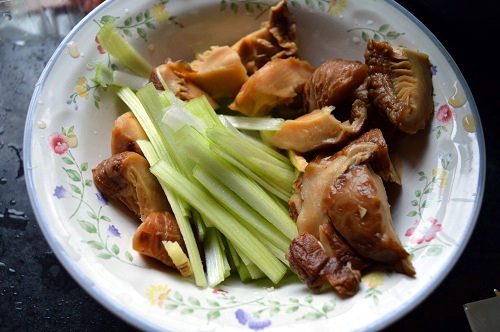 If prefer, you may marinate the pork mince using salt, corn flour and soy sauce for about 10 minutes before cooking.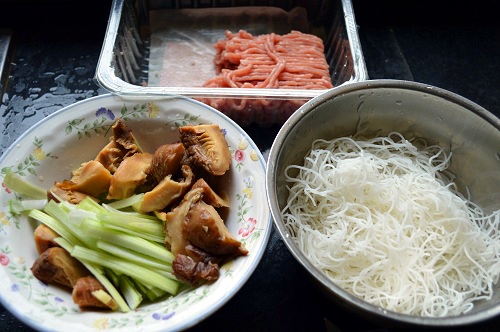 •  Heat up the wok or cooking pan till high heat, add oil.
•  Wait oil to be very hot, add chilli bean paste to fry for about 1 minute. Then add sliced leek and soaked mushrooms to fry till fragrant.
•  Add pork mince to fry, till it is cooked.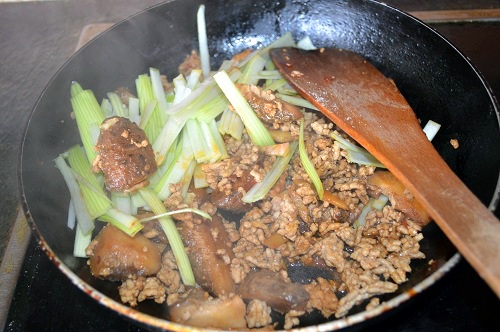 •  Add rice noodle on the top. If you want the rice noodle to have more taste, may add some extra seasonings on top of it. For example, sometime I may add oyster oil, or sesame oil, or chilli oil.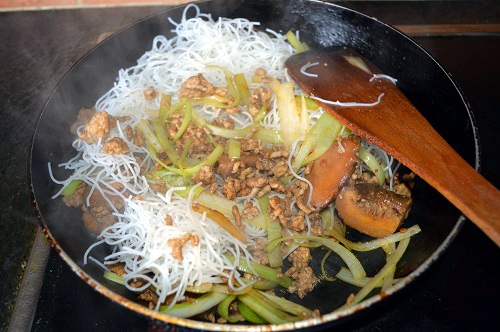 •  Mix all ingredients and make sure all flavours are blended well. Before finishing, garnished with spring onions or corianders. Serve it hot.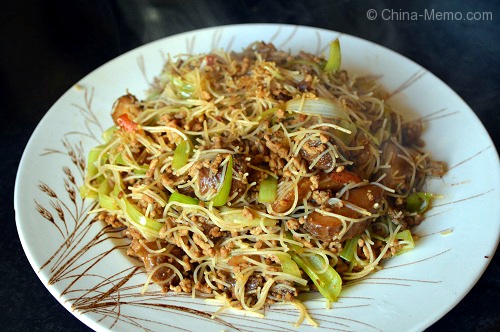 So this is not the dish "ant climbing the tree", otherwise I should use more rice noodle and less pork mince. But it is still a nice dish for the weekdays.
Hope you like this Chinese pork mince with rice noodle dish. If so, please like it in Facebook or share with your friends, thanks :)
You may also like:
Like It? Share It!