This Chinese pork liver recipe is from our usual family cooking, in which marinated pork liver is fried with green chilli. The liver is very tender, hot spicy and full of nutrition.    

Pork liver, called Zhu Gan (猪肝) in Chinese, is a good resource of iron and protein. In China, pork liver is not a stranger in family cooking or in the local restaurants. We can make different dishes using pork liver. For example, there are stir fried liver, a pork liver soup with green vegetables, or a cold plate (can be served as a starter or side dish) with well seasoned and cooked liver.
I noticed there are livers in UK's supermarket, either pork liver, lamb liver or even chicken liver. But only liver made food I can see is for something like liver paste. Well, I guess that might be the most popular way of eating liver in the West?
In this post I am showing this recipe for Chinese pork liver with green chilli, which is how my parents usually do with liver in China. The recipe is similar to those stir fried meat, such as chicken fried with green chilli or pork fried with potato.
As usual, my parents prefer the liver to be fried in very short time in order to keep the tenderness of the liver. So, big fire or high heat is a must for cooking this dish.

Here is our family lunch in China, with this pork liver fried green chilli dish in the middle:)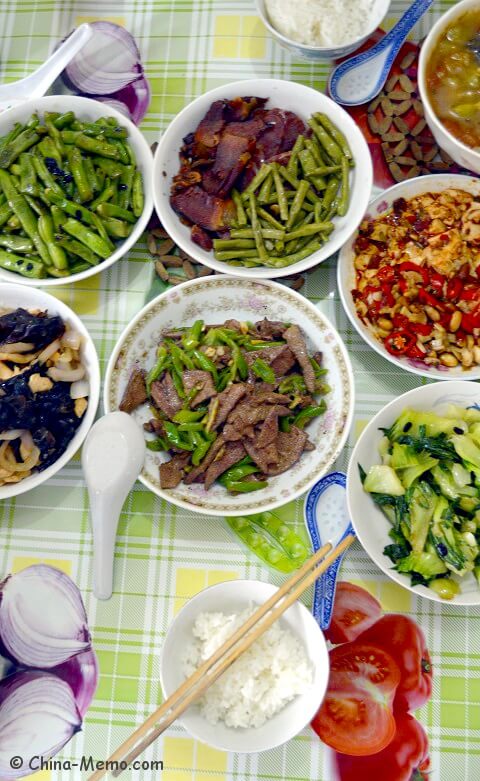 ---
Ingredients:

•   200g pork liver, shredded or diced
•   three green chilli, sliced
•   garlic and ginger
•   light soy sauce
•   oyster sauce
•   corn starch flour
•   oil
•   salt

Method for Chinese Pork Liver Fried Green Chilli

•  Prepare the ingredients. Cut garlic and ginger into thin slices.

•  Cut pork liver into threads or diced, which helps the liver to be quickly fried and easy to get flavour.
•  Mix the liver with salt, light soy sauce and corn starch flour. Marinate for about 10 minutes.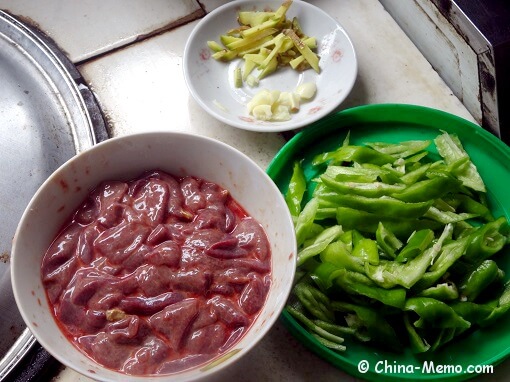 •  Heat up the wok or frying pan to high heat. Add oil and wait till oil become very hot.
• First add garlic and ginger for a quick fry, less than a minute, till fragrant.

•  Add pork liver to fry. Stir to make the liver well separated. When cooked about 70% done, usually it is when you notice the liver just start to become firm. Take the liver out. Don't worry that it is not fully cooked yet, as you will re-cook it later on.
•  Fry the green chilly. For seasoning, add light soy sauce, or salt if needed. Add bit water and cook for about 2~3 mins (when using gas fire.  Adjust the time if use electric cooker).
•  Add pork liver back to mix with green chilli. Add oyster sauce to give an extra flavour. Mix well for about 2-3 mins. Not too long, otherwise, the liver turn hard. Once done, serve hot.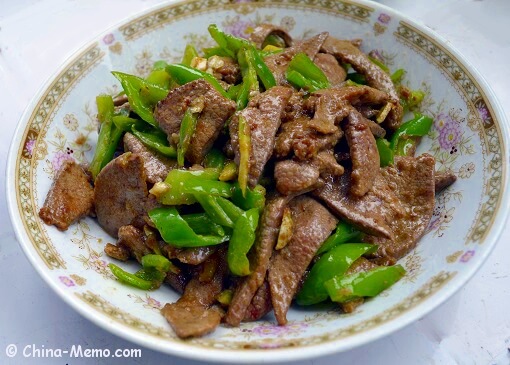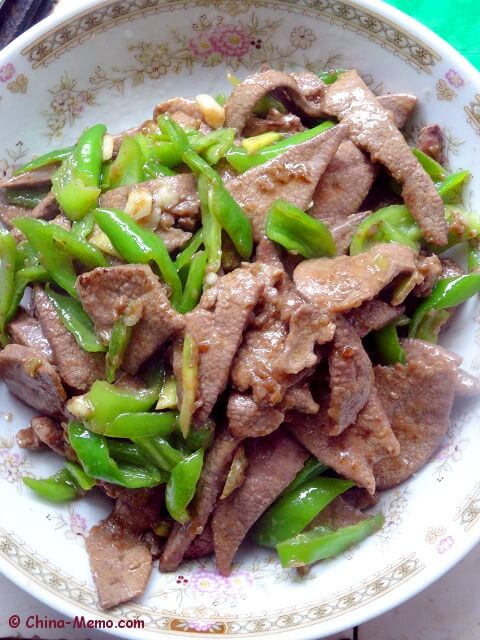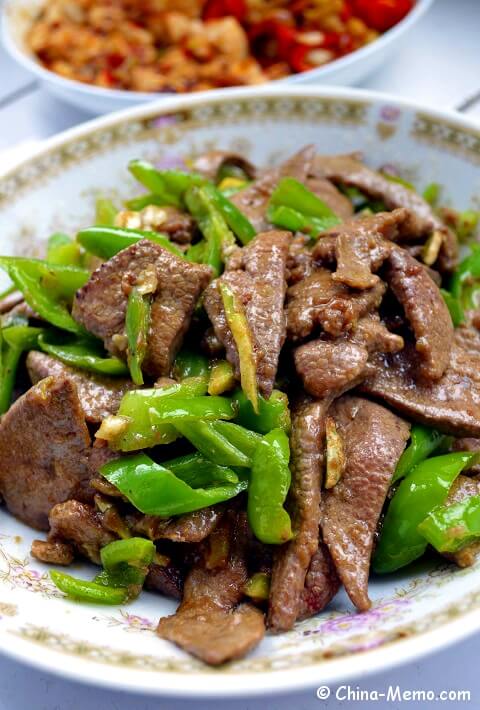 I edited a cooking video for this Chinese Pork Liver dish, you can watch it here. You may also subscribe to my Youtube channel to get the regular updates, where I normally post two videos per month.

Hope you like this Chinese pork liver dish. If so, please click Like in Facebook or share with friends. Thanks:)
(Post: 19/10/2015; update: 26/01/2017)

You may also like my other Chinese Meat Recipes:
Like It? Share It!