When I make my travel plan this summer, Xian Muslim street (Huifang Style Street) is on the top of my list. As a famous food street in Xian, it is a must visit place for me, I may not cook well, but definitely love to travel and eat:).
I stayed at a hotel opposite Xian Drum Tower and Muslim street is just behind it. To get there, I just need to walk cross a road, which is very convenient.      

It is said that this street has a very long history back to thousands year ago, when Xian was the starting point of the ancient Silk Road. 

Behind this stone road sign, you may notice the street is still covered by the square, grey flagstones.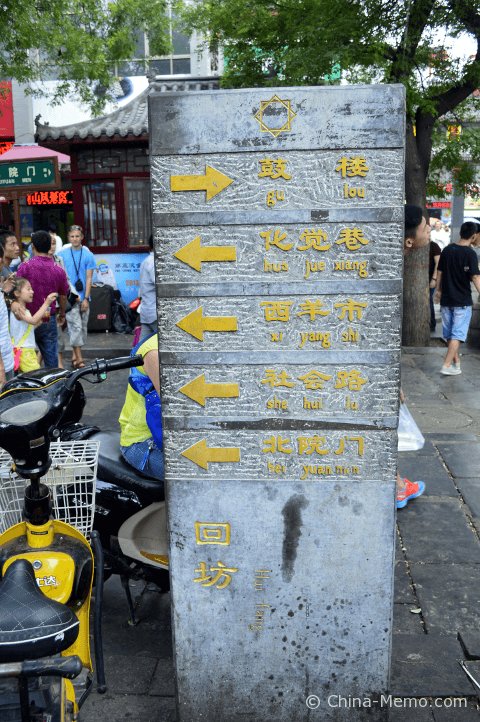 At the street entrance you will notice some sculptures, which seem to tell some stories about the locals.

You can see a man squatting on a stool with a bowl in his hand, (eating noodles? I guess). This is a typical scene that we may still see in the North region countryside.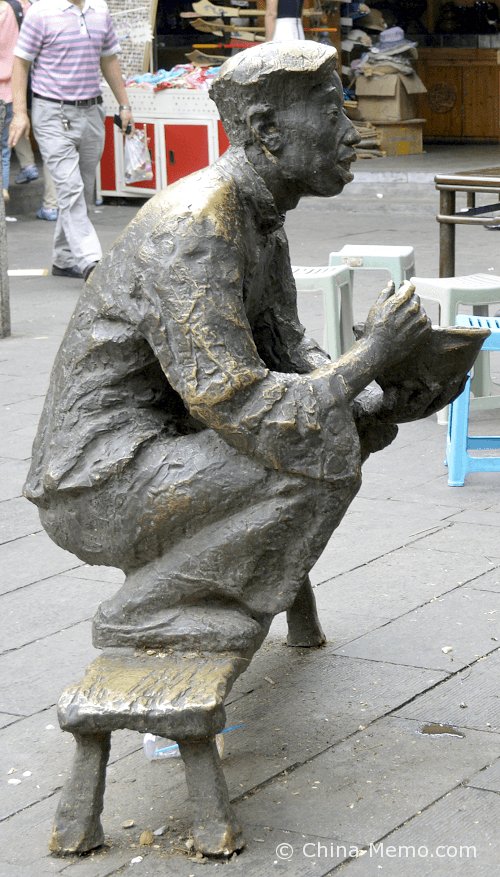 The street is surrounded by all kinds of food shops, which still keep the ancient style windows, front doors and shop signs. If you go to the top tier of Drum Tower, you can see these traditional buildings from the top.

You may notice that the building has three huge red Chinese characters on its wall, that is a noodle restaurant. The three words are read as "biang biang mian", which is one type of noodle in Xian.

The word "biang" is famous because it is such a complicated Chinese character that we can't even find it the computer (if typing its Chinese pin yin). 

You will notice this word quite often in Xian Muslim street, such as being hung on the street.
This is another "biang biang" noodle restaurant, can you recognize this character from the shop sign board?
The whole street is packed with food shops, stalls and restaurants. As a famous food street, it attracts many visitors. It can be crowded at some places, but you can still manage to walk through.
The whole atmosphere is great, the street vendors are shouting, someone is banging noodles on the desk, and other two men are hammering something so hard (later on, I found out, that's for making candy!).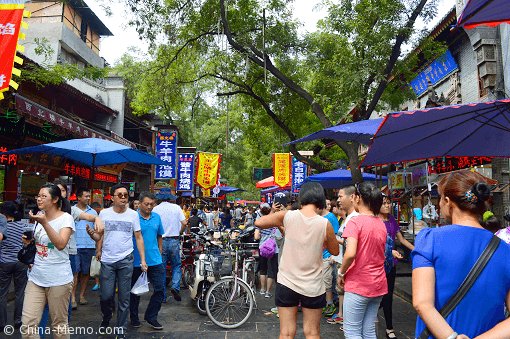 From time to time, the electrical motors try to squeeze in and eventually manage to go through. It may seem bit mad to visitors, but is quite normal thing to the locals.

There are some popular restaurants in this street, such as this restaurant for "Guang Tang Bao", the steamed buns served with sauces inside. If you don't know which place is famous, just follow the locals, see the long queue outside the restaurant!

This is just about the look and feel of this Xian Muslim street. Continue to see more about Xian Muslim Street Food (1), (2) and (3).

You may also check another post about my journey of Xian Two Day DIY.  

(post: 13/09/2014; Update: 08/03/15)
You may also like:

Like It? Share It!