If you visit China Xian, apart from the Terracotta Warriors, Xian City Wall is another "must visit" place. You can find a lot information about it from the China travel agency site.

This page is to share with you my own travel experience in City Wall. You may check my other posts about my two days' trip in Xi'an and how I planned to visit those famous attractions within two days (read more in  Xian Two Day DIY).
 
Xian City Wall was the third site in my list, after stuffing myself with plenty local food at Xian Muslim Street and watching a drum show at Xian Drum Tower (a drum show video included in that page).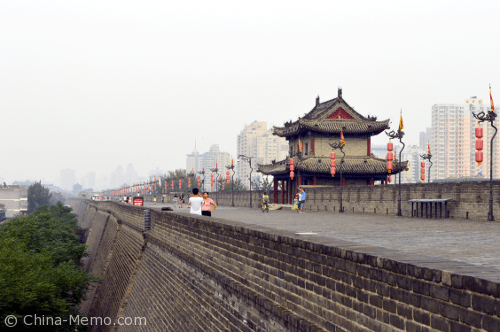 I made a video including the shot travel clips and photos for this trip, you can have a look here.
From Xian Drum Tower to Xian City Wall

There is a bus stop at Drum Tower, any bus route stops at "West Gate" is ok. Bus takes less than 10 minutes. If you don't know the stop, just get out the bus once you see the City Wall.

Of course you can take the taxi. But if you are adventurous enough, you may try the electric tricycle, which I call the "motor taxi". I tried it twice in Xi'an, it was so fun.

It feels better than Beijing huton's tricycle, because the electric one is much faster. I was little bit concern about whether it was safe. But I guess it was just this little "risk" made it far more exciting than human ride tricycle. Perhaps the best way to escape from the heavy traffic too. In fact, Xi'an locals use those a lot. But of course you need to decide this by yourself, don't just follow what I said ;)
Xian City Wall West Gate (An Ding Men, 安定门)
Because I took the bus from Drum Tower to City Wall, the nearest gate it arrived was the West Gate.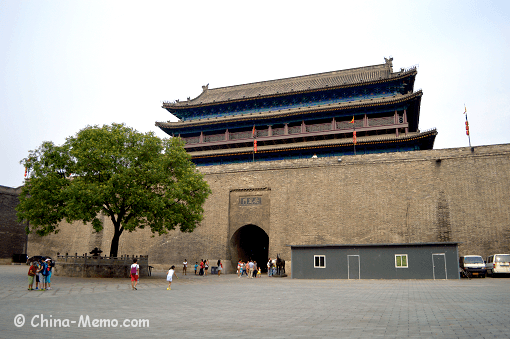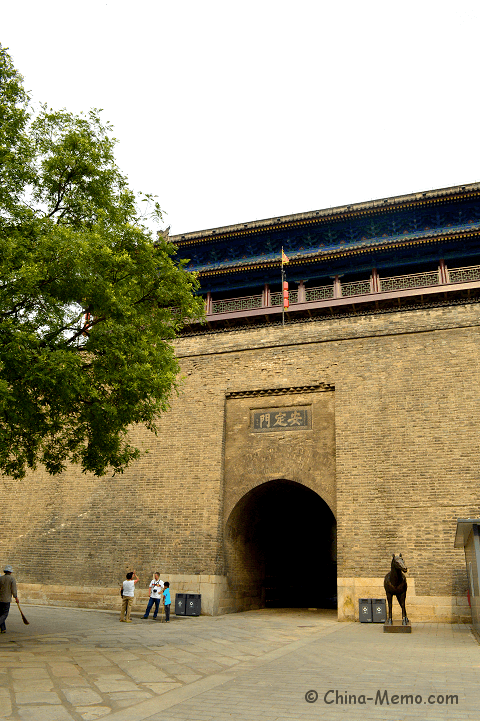 In Chinese, this gate is called An Ding Men, "an ding" 安定, meaning "stable". The name is shown on the wall.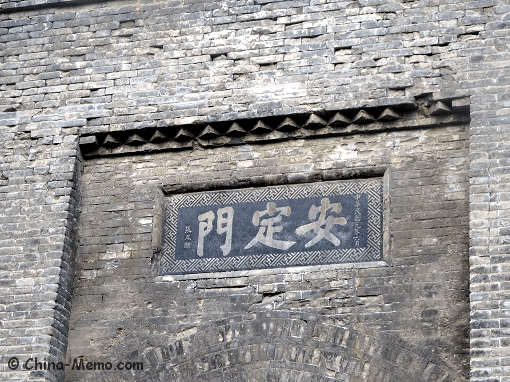 You will need to buy ticket to enter. The price was about RMB100 per person (in August 2014), students can get discount. Comparing to the East Gate, this gate is relatively quiet, which I mean, less tourists.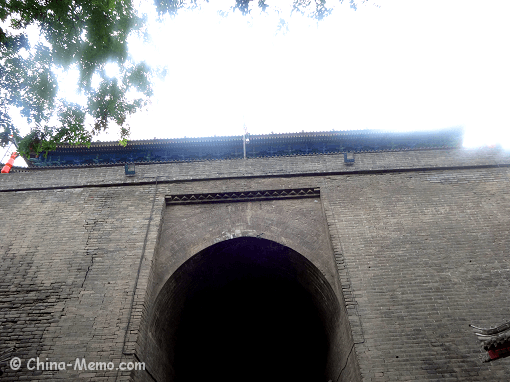 There is a guide on the wall, which shows the structure of the gate, the key place is indicated by numbers.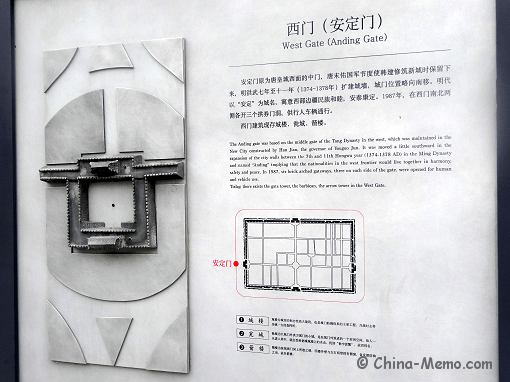 The area in the middle (No. 2) is called "Wong Cheng" (瓮城). In Chinese, "Wong" means urn or earthen jar. The name can be explained as a dead zone for the enemies, as if they enter into this area, they will be very difficult to get out.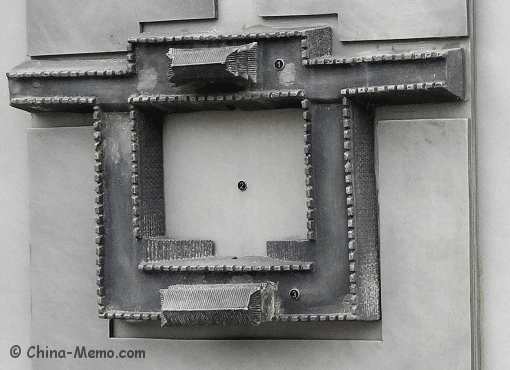 From Wong Cheng, there are sloped horse passages leading to the top of the city wall.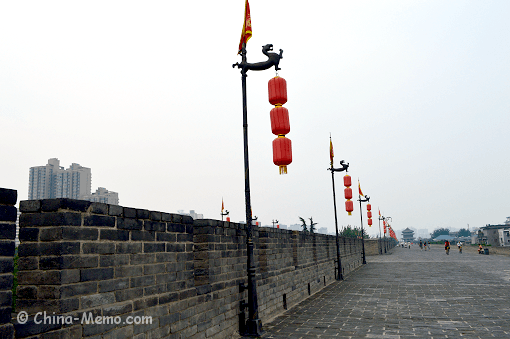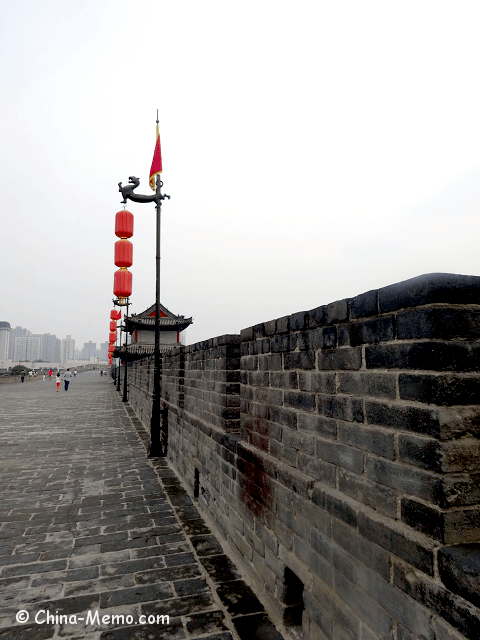 The typical feature on the wall perhaps is the red lantern.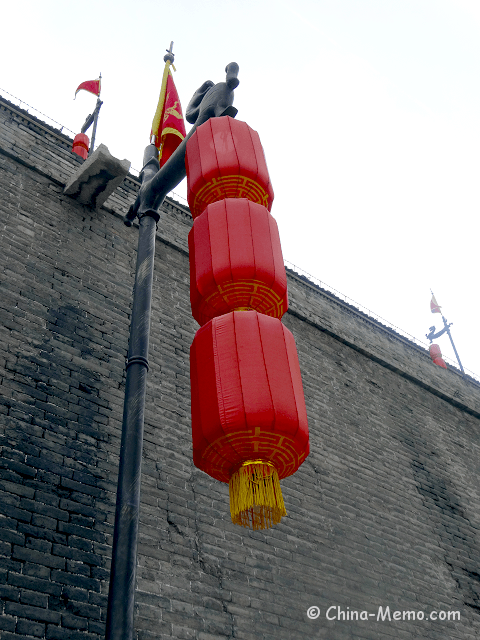 Between two gates, there are a number of small towers.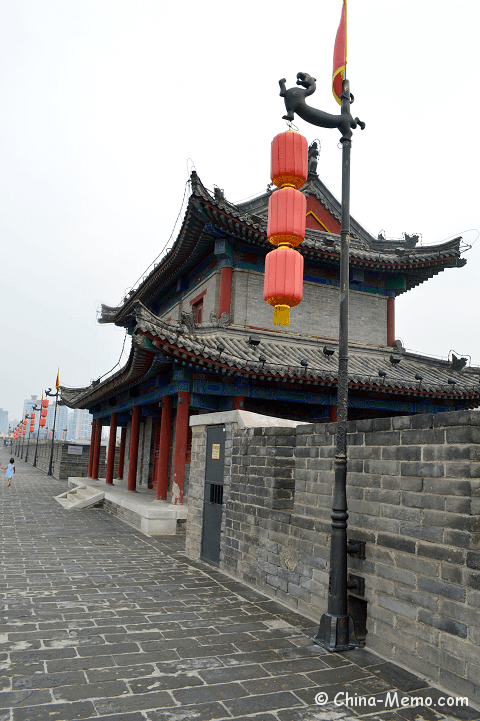 Continue in Xian City Wall (2).

Hope you like this page, if so, please share with friends and like it in Facebook :)
If you like this post, you may also like my other posts Xian Two DIY and Xian Muslim Street Food.  

(post: 26/01/2015)
Like It? Share It!