Dining out in China just got a whole lot easier. SPOONHUNT app, a brand new mobile app with English menus for China Restaurants that solves all the problems you might come across when eating at the restaurants in China.

If you are a foreigner visiting China for the first time, this might sound familiar to you. Have you ever gone out to a restaurant in China and had no idea what was on the menu or how to even order? Or maybe you were too scared to go into a new restaurant because you weren't confident in your Chinese? Or maybe the staffs in China local restaurants might not able to communicate in English? 
SPOONHUNT is a free mobile app that helps you find the translated menus of all types of restaurants in over 2000 cities in China. You can search through millions of restaurants by location, restaurant name, cuisine type or food.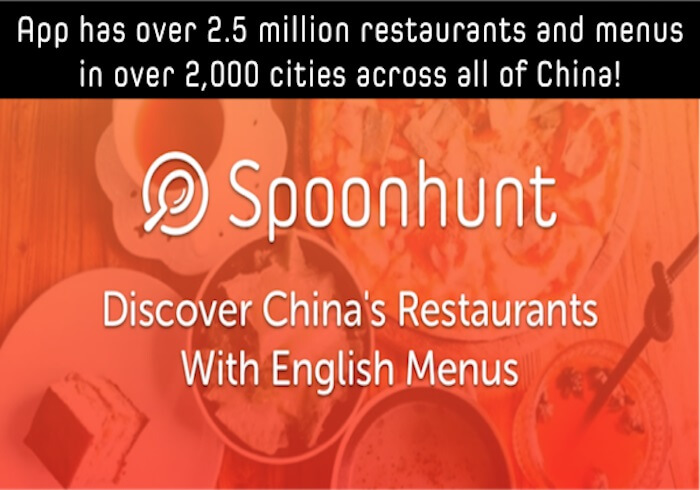 Key Features of SPOONHUNT App
The mobile app menus have both English and Chinese names, which is convenient for you to show the dish when you make the order. Some Chinese dish may have a lovely name but can hardly tell what it is. The app menus include the pictures and prices for each dish, so you know how the dish looks like thus help you decide your order.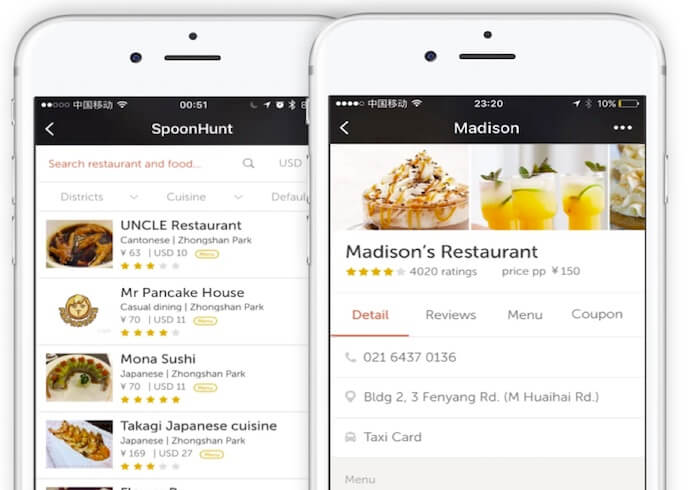 Apart from bilingual menus, SPOONHUNT app also has a ton of other features to help you navigate the Chinese dining scene. For example, the app provides the additional information for the restaurants, such as the type of cuisine and the restaurants' address. 
Even better, the app offers a feature called taxi cards, which helps you to show the restaurant's address to the local taxi driver, so you don't need to worry to speak Chinese or bother to write down the address in paper. No Chinese language skills required!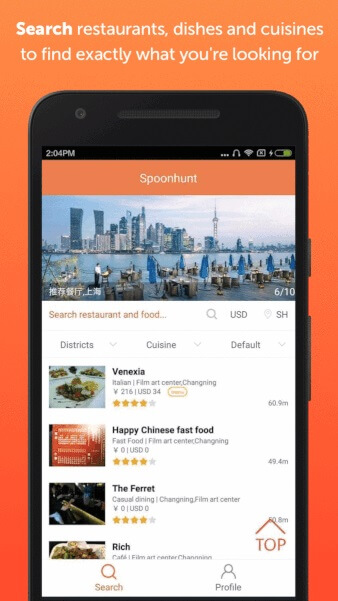 The app has the ordering feature to tell the waiter what you want to eat. You can instantly translate any special requests you have for the order, for example you could tell the waiter "I'm allergic to peanuts." 
You can add your favorite menu items to a restaurant and review the places you've been. You can save restaurants to your favorites list for later! The restaurant maps even feature driving, walking or public transportation directions.
With SPOONHUNT app, no matter you are traveling, visiting, or living in China, you would feel comfortable dining out anywhere in China.  The mobile APP is free for Android or iPhone. You can find it by scanning the QR below or "search SPOONHUNT" in the App Store!
SPOONHUNT app also has a WeChat account you can follow, where you can see the weekly articles about Chinese food culture and fun dishes to try. WeChat ID: Spoonhunt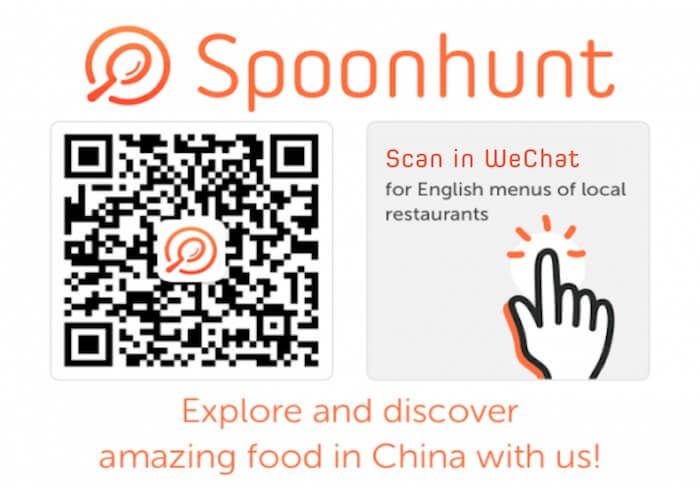 Additional Notes from Min:

Thanks to Adam Liu from Spoonhunt who provided this post and pictures. You can read Adam's another guest post for Top 6 Famous Sichuan Food You Must Try.
If you want to introduce your food/travel website or business in China via guest posting on my site (Alexa ranking here), or want to find more about it, feel free to drop me a line via contact form. Thanks!:)    
---
If you like food and travel in China, you may also like Xian Food Travel and Beijing Food Travel.
Like It? Share It!