Our home cooking for a simple and lovely sweet dish, Chinese sweet
tomato salad. For me it is a perfect cold dish for the summer. Scroll donw to watch the video.  

In my previous posts Chinese Sweet Treats, I have introduced some examples of sweet snacks and dishes that we normally have in our daily meal. In China we normally don't have the dessert that often. But occasionally, such as during the festival time, my parents would make a big table dishes, and they might also make one sweet dish, such as this Chinese sweet tomato salad. 

It is very simple to make. Basically you just need to use the hot water to help to remove the tomato skin, then cut the tomato and mix them with the sugar. To make the dish look nicer, my mum usually would garnish the dish with green spring onions. So the colour of the dish would look nice :).

Unlike the dessert from the West, we normally do not like the dish to be too sweet. So we won't put too much sugar in it and the dish will taste slightly sweet. I particularly like the juice, which combines the
sweetness and sourness from the tomato, and tastes really nice!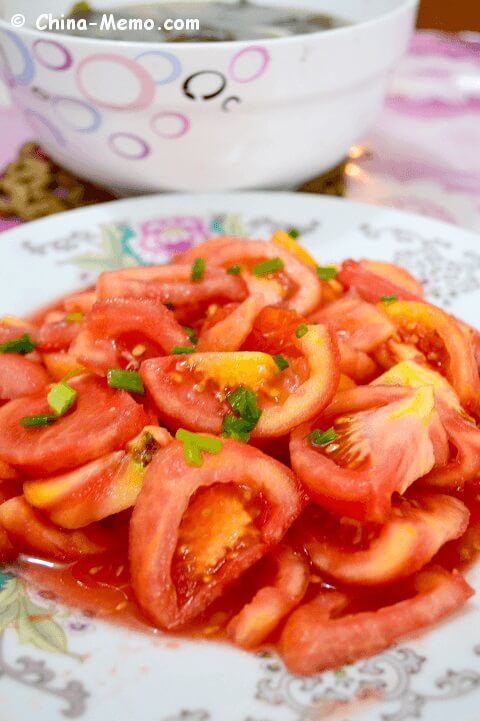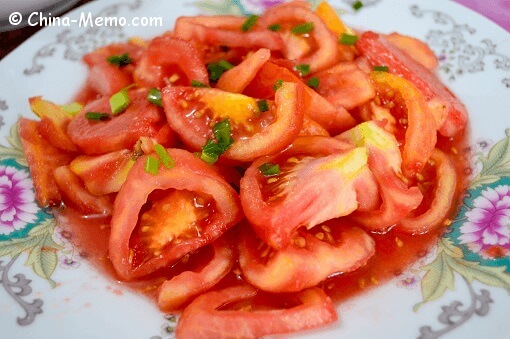 ---
Ingredients
•  4 medium size tomatoes
•  sugar
•  spring onions

Method for Chinese Sweet Tomato Salad

•  Bring the water (nearly) to the boil. Put the tomatoes inside the hot water. Turn the tomatoes to make sure the surface is covered by the water. Note, we are not cooking the tomato here, instead, we just use this method to help to remove the tomato skin. After one or two minutes, take the tomatoes out.

•  Use a knife or your finger to peel the tomato skin off. You will find out it is very easy to do if you have done the first step.

•  Cut the tomatoes into small chunks and place them in a plate. Because there might be some juice coming out from the tomatoes, it is better to use a plate will bit depth so it can contain the juice. 
•  Add sugar according to your taste. Garnish the dish with the chopped spring onions on top. That's it, you have a perfect cold dish for the summer!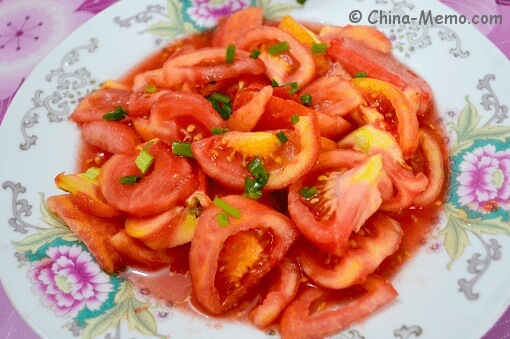 I upload a cooking video here and you will see how my mum makes this dish, which includes the easy step to remove the tomato skin. You may also subscribe to my Youtube channel to get the regular update.

I hope you like this Chinese Sweet Tomato Salad. If so, please like it
on Facebook and share with your friends, thanks :)

Like It? Share It!