I am not sure whether you like Chinese sweet sour meatball or not, I love it. It is always one of my favourite dishes in our family New Year food party.

The meatballs are fried to golden brown and taste great even without the sweet sour sauce. But with the combination of sweet and sour flavours, it creates a distinctively tangy mouthfeel.
I used to watch my mum did this in home at every Chinese New Year festival. So here is my version of Chinese sweet sour meatball, which I made when I joined this Chinese New Year food party with my Chinese colleagues. You can see it is not difficult to make by yourself.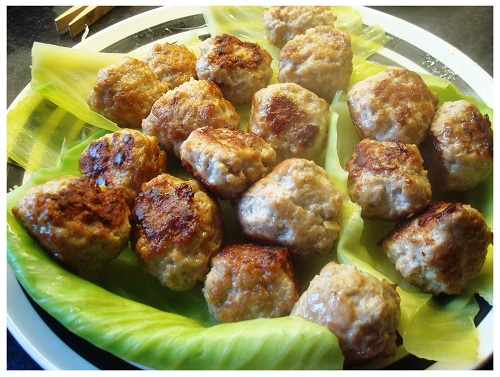 Scroll down to see the video.

---
Prep Time: 15 mins Cook Time: 15 mins

Ingredients:
250g lean pork mince

fresh ginger, finely chopped
1 tbsp light soy sauce
½ tsp salt
2 tbsp oil
2 tsp corn starch flour  
2 tsp sugar
2 tbsp vinegar
3 tbsp cold water
cabbage (for the base) 


Prepare:
Add salt, light soy sauce and chopped ginger into the pork mince.
Mix the ingredients with pork mince and make the meatballs.
For the sweet sour sauce, mix the corn starch flour, sugar, vinegar with cold water.  
Cook:
Heat the frying pan until hot, add the oil.
Meanwhile, heat another sauce pan to cook the mixed sweet sour ingredients.
Stir frequently, until the sauce is sticky.      
Use one sauce pan to boil the cabbage for several minutes till it is cooked. Place the cabbage in a large plate.
Once the meatballs are fried till golden brown, place them on the cabbage base.
Pour the sweet sour sauce on top of the meatballs, or use them as dipping sauce.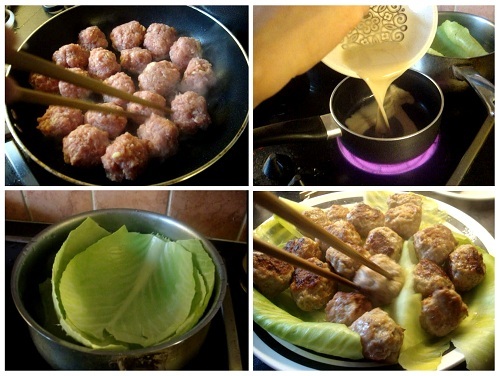 Tips:
The key ingredient for the meatball is the ginger. Finely chopping is recommended.
When make the meatballs, you may also mix some corn flour with the meat mince, which will make the meatball tender.
This dish has a better version, like my mother usually does in home. Instead of boiling, she would fry some sliced ginger and leek first, then add the cold sweet sour mixture in it, stir till it is thickened. I may try my mum's version in the future.   
---
Hope you like this and try it yourself. You may also check my other Chinese meat recipes, or egg and vegetable recipes.
(post: 31/03/2013;Update: 27/07/13)

Like It? Share It!