When I was writing my last Chinese squash recipe (Squash with garlic), I realized that my mum used to cook a dish made by squash, meat and rice and I really loved it. I guess in English this dish should be called as squash meat risotto? (anyone correct me if I am wrong:)

Anyway since I never cooked this dish by myself, I called my mum to ask her how to do it. Then I tried it twice to make sure it actually worked for me, now you know that I didn't just made this up from my head ;). Now, here is my version of this recipe.

Personally I think it tastes very good, well, at least much better than it looks in the picture I took. I feel it is very close to those made by my mum, if it is not better than she did. But anyway, I hope you will like it.

I don't know how westerners cook the risotto dish, but one thing I am sure that Chinese risotto never uses butter or cream, so this Chinese squash risotto has no creamy taste. You may adapt it by adding cream if you like.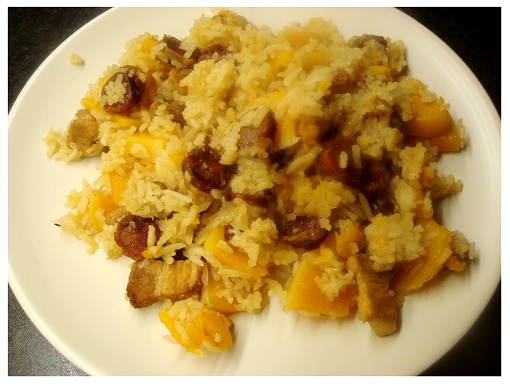 ---
Prep Time: 10 mins, Cook Time: 30-40 mins
Ingredients
100g rice

150g-200g squash


150g cooked pork belly

2 Chinese persevered sausage

1 tbsp oil

1 tsp dark soy sauce

½ tsp salt

2 tsp sugar
Method
Remove squash skin. Cut the squash into pieces. (Better not too thin as they will be slowly cooked for a while. We would prefer to see the squash in some shape rather than the smashed version.) 

The pork bellies are already boiled when I made the twice cooked pork belly. You can use other type of meat, but we prefer use belly as the little fat in between not only makes the dish smell good, but also helps to keep the dish moist. If use lean meat, it may be bit dry because we don't use butter or cream in this Chinese squash risotto dish.  

This Hunan preserved sausage brings a special flavour to the dish. If you don't have this, you may try to use some other meat with flavour. I may try bacon next time but hope it will not be too salty. 
Heat the pan or wok. Add oil wait till hot, fry the belly first. Add dark soy sauce for colouring then salt and sugar. It is similar as cook the

twice cooked belly

. To cook belly for about 3-5 minutes, add the sausage cubes and stir to mix well, for about 2-3 minutes.

Add squash to fry for about 3-5 minutes, seasoning with bit salt and sugar, adjust taste according to your own preference.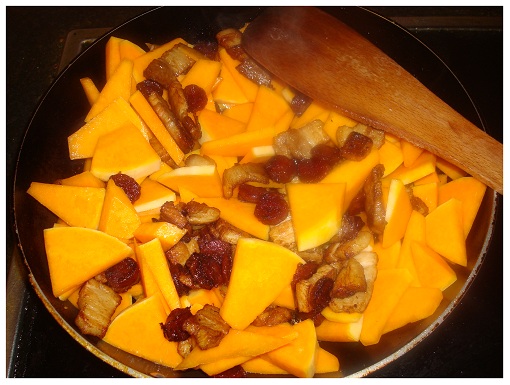 Then add the rice to mix together with squash and meat, for about 3-5 minutes or till the flavour is well mixed.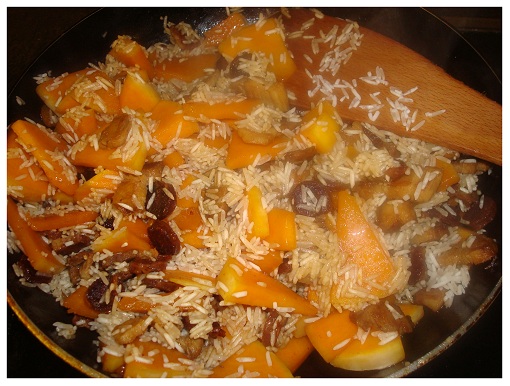 Transfer the squash, meat and rice to a rice cooker. If you don't have the rice cooker, you may use other cooking pan you have.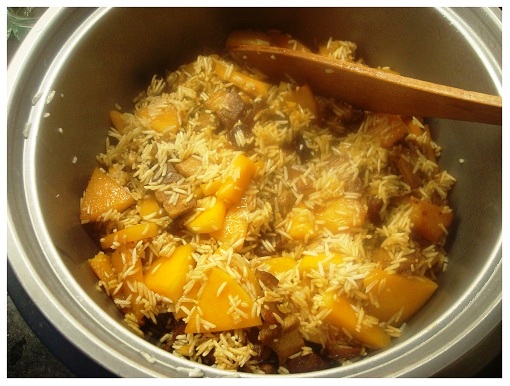 Unfortunately, since I never used other types of pan to cook rice before, I can only tell you how I did this using the rice cooker. 
Here I used 2 measuring cups of rice (about 100g). So if only to cook the rice, I will need to add the water suggested of 2 (by looking the indicator inside the rice cooker as shown in the picture).

But now since I am cooking rice with squash and meat, so I need more water. After my experimenting, I found out, 2 cups rice with squash and meat, I need to add the water indicated by 4.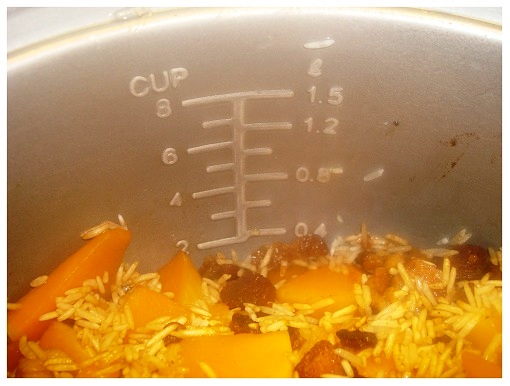 So add the water and the rice cooker works itself with the light of "cook" on.
About 20-25 minutes, cooking is done. you will see the light for cooking is off and the cooker automatically switches to the "warm" function.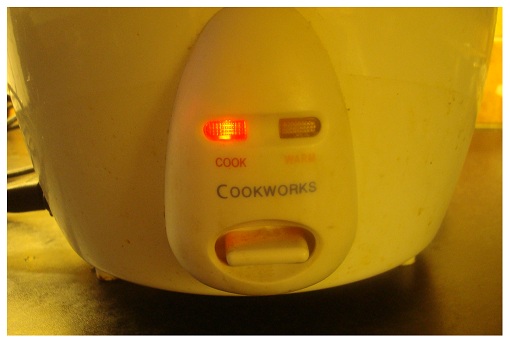 So this is how the dish looks once it is done, my Chinese squash meat risotto!
Rice is fluffy, flavoured with sausage meat and pork belly, well balanced with saltiness and sweetness. The squash tastes nice too. Thanks to the little bit fat, the rice is moist as well. Yummy, yummy :)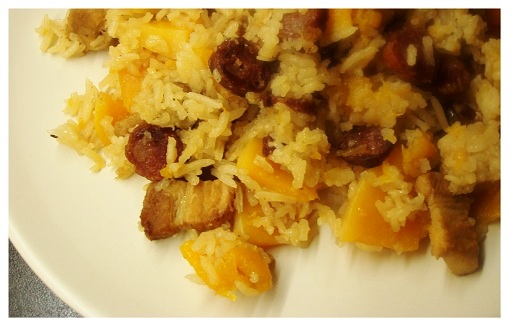 Tips
Switch off the rice cooker once the cooking is done otherwise under the "warm" function the rice at the bottom will get dry and stick to the bottom, hard to wash and remove.

Well, that's it. Hope you will try it and like it. Please share with your friends.
To get my updated recipes, please go to the top right of this page and follow me on Youtube, Pinterests, Tweeter or RSS.  

You may also check my other Chinese squash recipe, Chinese meat recipes, or egg and vegetable recipes.
(Post: 20/10/2013; update: 18/03/17)

Like It? Share It!