Here is our home cooking recipe for healthy Chinese Seafood Rice Noodle. An easy meal takes less than 15 minutes.

When it comes to making a quick meal, we like to make a noodle dish. It can be a light noodle soup with meat and veggies, such as our Chinese meatball, egg, and tomato noodle soup or simple Chinese Egg Veggie Noodle Soup.

Sometimes if I want to have a meal with more taste, I'd make a dish of noodle fried with meat and veggies. To make thing simple, the meat can be cooked or just use the leftovers, such as Chinese Noodle Fried Leftover Chicken.

In this recipe, I made a Chinese seafood rice noodle dish. The rice noodle can be found from the local Chinese or Asian food market. In the UK, I found this from Tesco. The rice noodle needs to be soaked in warm water for about 15-20 minutes in advance. 

Simply fry the vegetables with the rice noodle, add the cooked seafood, a healthy meal can be made within 15 minutes.  In order to make this dish properly, see the recipe below and pay attention to the order of adding each type of ingredients.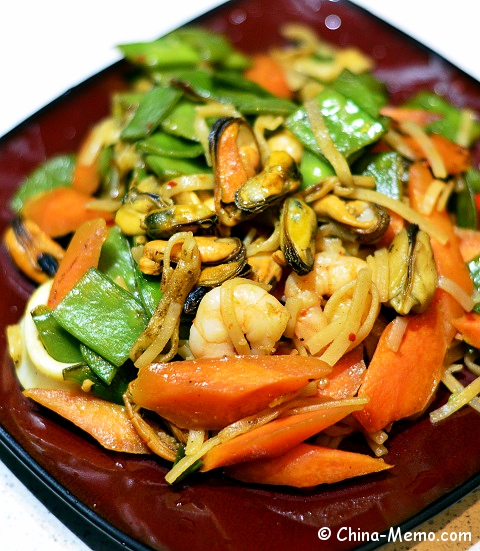 ---
Prepare: 5 mins  Cook: 10 mins, Serve: 2
Ingredients:

•    200g seafood, cooked
•    200g rice noodle, soaked
•    200g green beans and 1 carrot
•    1 medium red chilli
•    half leek, sliced
•    10 cooking spray
•    2 tsp light soy sauce
•    few drops of sesame oil
•    salt to taste

The seafood I bought from the supermarket has already been cooked. The selection of seafood includes the cooked prawns, mussels and squid.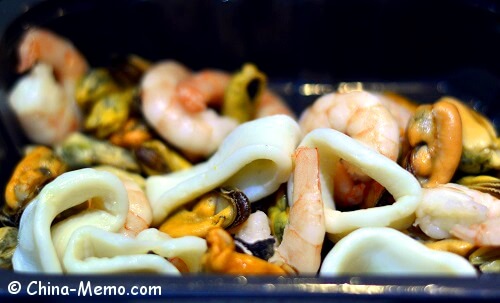 Method for Chinese Seafood Rice Noodle
•  Use warm water to soak the rice noodle for about 15-20 minutes before cooking.
•  Wash and cut the vegetables. Cut the red chili into small pieces. Cut the leek into thin threads.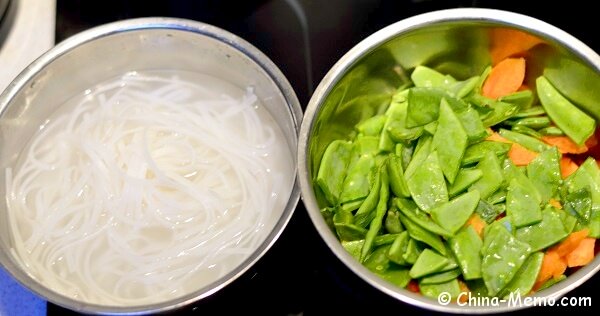 •  Heat up the cooking pan to medium heat. Add oil or use cooking spray (if you want a healthier option). Fry the leek and red chili first till fragrant (smell nice).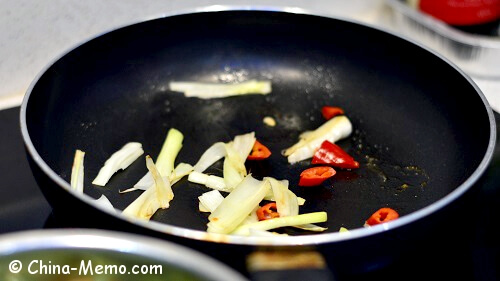 •  Add the vegetables, stir fry for about 4-5 minutes or till softened. Add salt if prefer.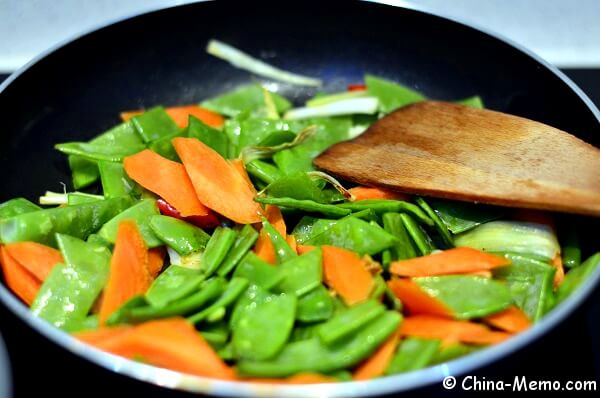 •  Once the vegetables are cooked, add the rice noodle. Add the light soy sauce on top of rice noodle then stir fry to mix with veggies.
•  Finally, add the seafood and cook with the rest for about 2-3 minutes. Before finishing, add few drops of sesame oil. Transfer to plates and serve hot.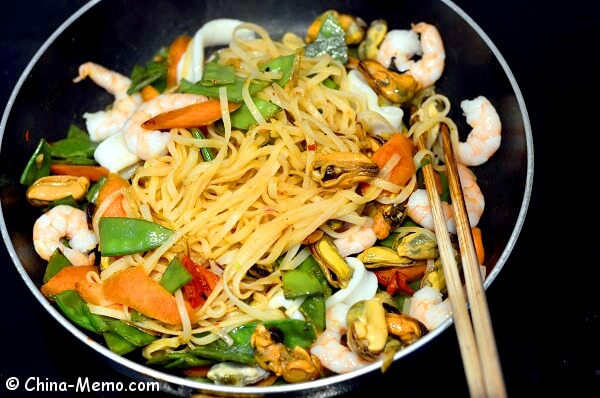 Note:
•  To fry vegetables before cook the noodle. This is because cooking veggie takes time. The rice noodles have already been soaked, it is better not overcook them otherwise the noodles might stick together and soggy.

•  Seafood is cooked so it is better to add at the end, otherwise, the seafood will be overcooked and lose the freshness.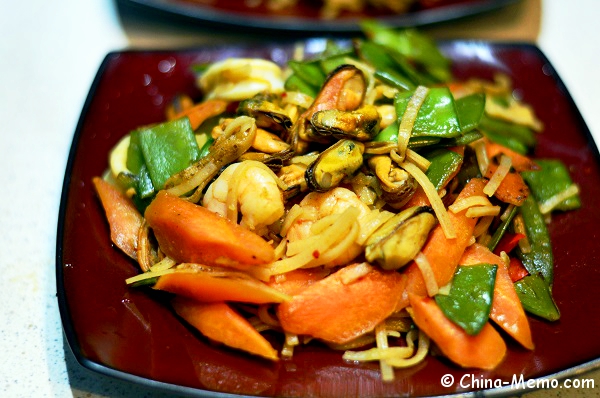 I hope you like this Chinese Seafood Rice Noodle recipe. If so, please like it at Facebook and share with your friends too.

If you like to watch Chinese home cooking videos, please check my Youtube channel and subscribe to my channel to get the regular update.

You may also like another Chinese noodle soup with meatball, egg and tomato, or the fried noodle with sausages and beans.

(Post: 08/05/17)
You may also like:

Like It? Share It!