>> Chinese Meat Recipe

Chinese Noodle Soup Meatball with Egg & Tomatoes (Video)
Is Chinese noodle soup well-known in western countries? I guess so, after I saw this in the movie KongFu Panda.
Depending on how much effort you want to put, the noodle soup can be simply served as snack or a generous main course.
In this recipe, I am making a fresh Chinese meatball noodle soup. I usually make this as my weekend brunch. 

For the soup, I use the egg fried tomatoes plus meatballs. If you don't like the fried egg, you can just add fresh tomatoes and beaten eggs into the stock you prefer to make the soup.

"I noticed when filming in China recently that every time we stopped at a resteraunt, all the girls in the crew asked for noodle soup. ... these bowls, filled with steaming broth, gleaming noodles and delicate vegetables and herbs like bok choi, spring onions, coriander and mint, are the best food in the world for those on a diet."
Rick Stern's Far Eastern Odyssey
---
Good Things About Chinese Noodle Soup
• Good for people who want to control calorie intake. Noodle plus soup can be very filling, so you probably won't feel hungry for 3 or 4 hours. Less feeling hungry, less chance of snacking. 
• Easy to make. Chinese noodle soup is perfect for days when you don't have time to cook from scratch but still want a fresh and tasty meal.

All you need is to prepare the soup base then add the cooked noodles. For example, if you have a nice meat dish from last night dinner. You can make the soup base by reheat the meat and add some stock or water. 

• Healthy options. Chinese noodle soup has different healthy options. Fro example, you can add noodles to your veggie soup, or add the leafy veggies  like lettuce or spinach at the end of cooking.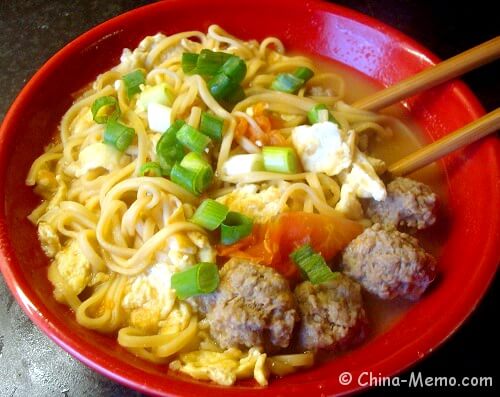 ---
Prep Time: 10 mins Cook Time: 25 mins Serve: 2

Ingredients:
For egg fried tomatoes  
For meatball
fresh ginger, finely chopped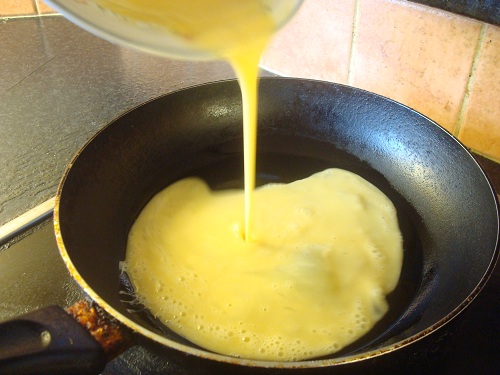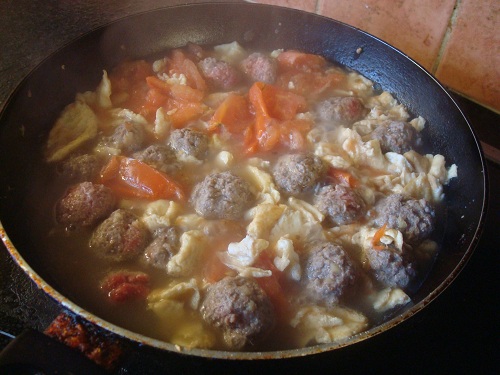 Prepare:

boil the water and cook the egg noodles
cut the tomatoes and beat the eggs
cut spring onions and chop gingers

Cook:
To make egg tomato soup base

• Add oil to fry egg first (3-5 mins). I prefer the eggs to be golden brown as this will release a nice smell from eggs.
• Add the chopped tomatoes, cook till the tomatoes are softened. Add stock or water.

• The soup will take about 5 minutes depending on the heat. You can use this time to prepare the meatballs.
To make meatball and add to soup
• Add salt, light soy sauce, chopped ginger, corn flour and water into the meat mince.
• Mix all the ingredients and make meatballs. This takes about 5 mins and egg tomato soup is cooked.
• Add meatballs to the egg tomato soup to cook for about 5-10 minutes (depends on the heat)
• Once the meatballs are cooked, add the cooked noodles. Stir and wait for 2-3 minutes to let the noodle take the flavour from soup. 
• Before finishing, add chopped spring onions. Done.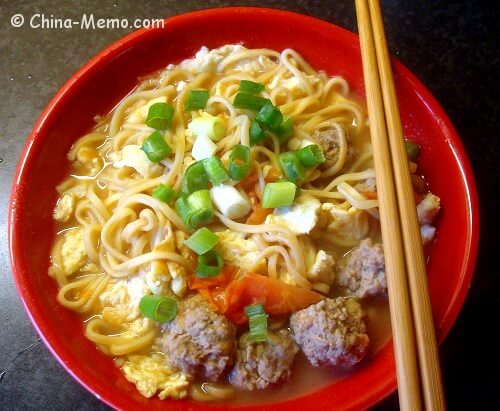 Tips:
• The key ingredient for the meatball is the ginger. Finely chopping is recommended. If you don't have it, you lose the key flavour of this meatball soup.
• Use corn flour helps to make the meatball tender.
---
You may also like this Chinese Chicken Noodle Recipe or more Chinese Noodle Recipes.

(posted: 27/01/13; update: 13/01/17)
You may also like:

Like It? Share It!