Our home cooking recipe for Chinese Mapo Tofu, soft tofu is simply fried and seasoned by Sichuan pepper corns and chilli bean paste.  simple, healthy and tasty:). Scroll down to watch the video.

When I came to the UK, I noticed that some Chinese food seemed very popular in the western countries, such as Chinese Egg Fried Rice, Kong Bao Chicken and this dish, Chinese Mapo tofu, as you can find them in most Chinese restaurants in the west. 
It is great to see that these Chinese dishes have been accepted by the westerners, although I know that the ways of cooking them may have already adapted to suit the locals' taste.
Chinese Mapo tofu is a very famous Sichuan dish. If track back to its original place, I think it was from Sichuan Chengdu. As I still remembered that my mother used taking me to visit Chengdu during my university holiday. There was a famous restaurant called Chen Mapo which was considered as the original place for this dish. When I check online now, Chen Mapo is still there!! I will definitely visit this restaurant if I visit Sicuhan Chengdu in the future.  

My parents are from Sichuan and our home cooking more or less reflects the taste of Sichuan cuisine. But I guess they have also changed the cooking slightly, such as not using Sichuan pepper corns that often, because me and brother were not the big fan of the tongue-numbing experience brought by the Sichuan peppers.
As Chinese Mapo tofu is such a well-known dish in the west, I never thought I need to post a recipe for it. But one of my visitors has asked for this recipe, so I think this may be still helpful to some people, hopefully:) 
When I looked up this dish from Sichuan Chengdu Chen Mapo restaurant, I saw many picture uploaded by the diners. I can see that dish is almost fully covered by the red chili oil! That is the version from Sichuan. Comparing to their version, our family cooking uses much less oil and less chili, so it is a relatively light version of Mapo tofu.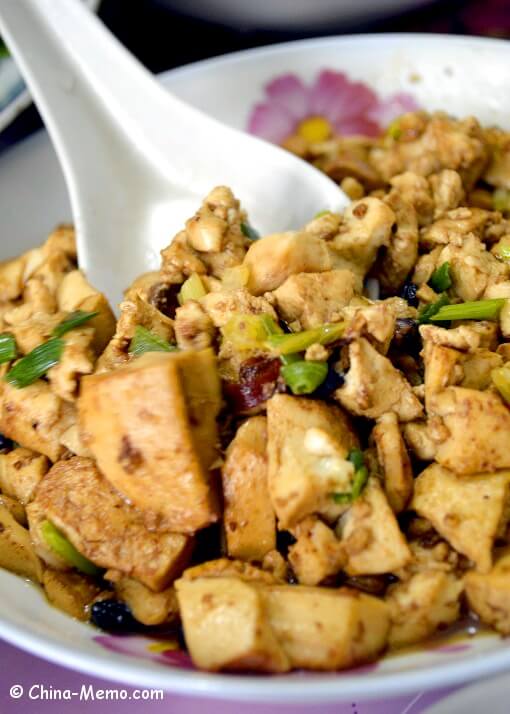 ---
Ingredients
•   Two square soft tofu
•   Sichuan pepper corns
•   Chinese chilli bean paste
•   Light soy sauce
•   Oil
•   Salt
•   Spring onions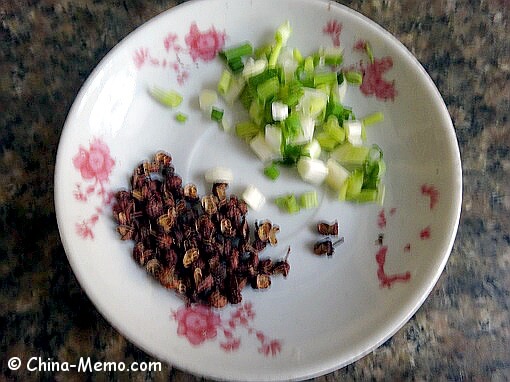 Method for Chinese Mapo Tofu

• To prepare the ingredients. Cut the firm tofu into small cubes.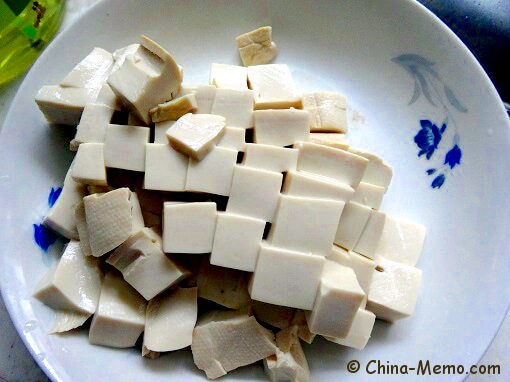 • Heat up the wok and add oil, wait till high heat.
• Add Sichuan pepper corns for a quick fry or till fragrant. Once done take the pepper corns out. Note, if the wok is very hot, don't fry pepper corns too long as they may get burnt. Depending on the heat, few seconds may be fine.   
• Add tofu and chilli bean paste to fry. If you use the soft tofu, carefully turn the tofu over and fry another side. Tofu is easy to cook so cook for about 4-5 minutes should be enough.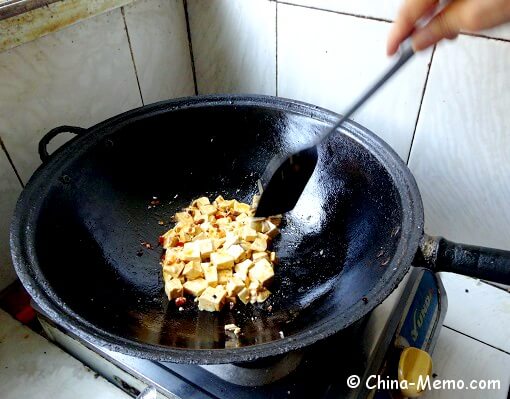 • While frying, add a pinch of salt to taste, also season the dish by light soy sauce.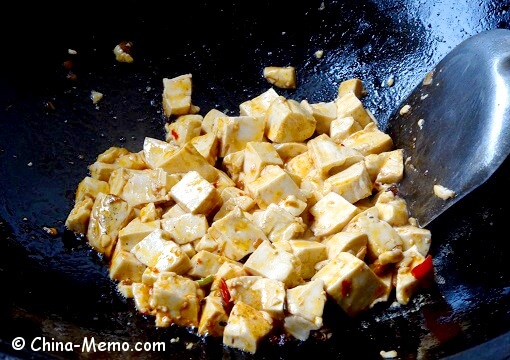 •  Before finishing, add spring onions for a quick mix. Transfer the tofu to a plate, serve hot.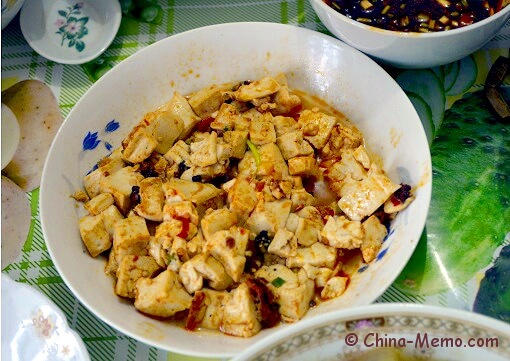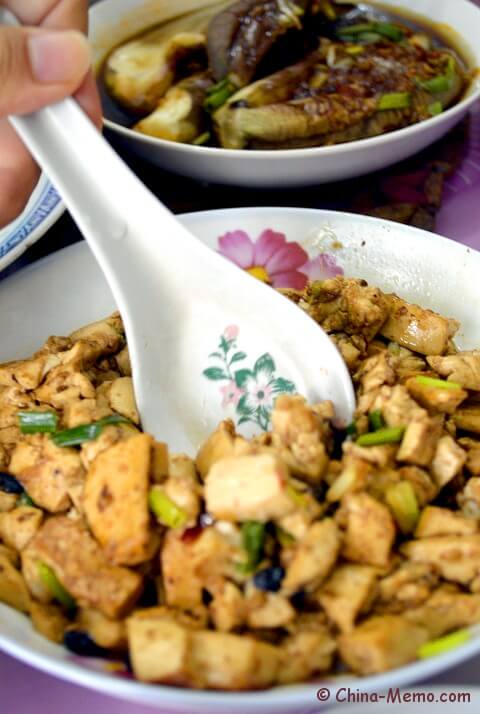 Hope you like our family version Chinese Mapo Tofu recipe, if so, please like or share with friends on Facebook and Twitter:)
I have uploaded a cooking video for this dish and you can watch it here. You may also subscribe to my Youtube Channel to get the regular update, (mainly I upload two videos per month).

Like It? Share It!