How do you deal with leftover meat? I made this easy Chinese fried noodle recipe to turn the leftover chicken into a lovely tasty meal, which only takes less than 20 minutes to make.

Every family has the leftovers, especially after a holiday period such as Christmas or Easter, because we usually end up buying more food than we can eat.

So how to deal with the leftover meat? Reheat and eat them is one option, but sometime it does not taste as the freshly made one.

What I did was to re-cook the meat by using different ways of cooking and adding some new flavours, which can end up with a completely new dish.

In this post, I am showing you how I made a Chinese fried noodle by using the leftover chicken and fresh veggies.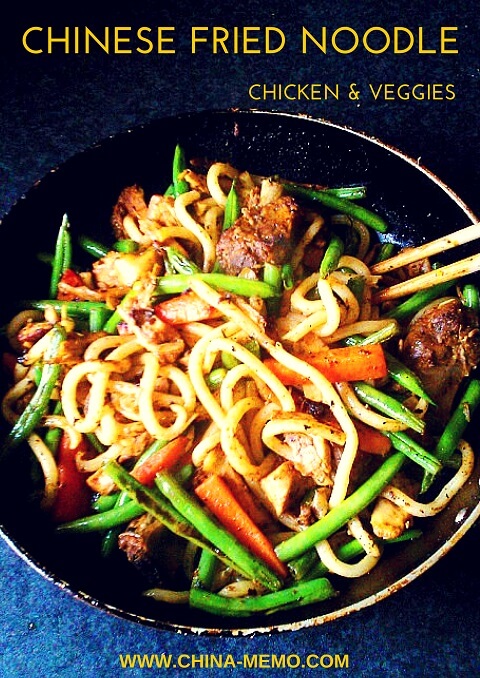 ---
Ingredients
•  2 leftover chicken thighs
•  100g udon noodle, cooked  
•  green beans, trimmed  
•  2 carrots, diced
•  ½ tsp Chinese chilli bean paste
•  2 tbsp oil
•  ½ tbsp light soy sauce  
•  salt
•  pepper or spring onions (optional)
Method
for Chinese Fried Noodle
• First to prepare the leftover chicken. If you use the leftover chicken breast, then just need to cut it into thin threads.
For chicken drumsticks or chicken thighs, I would remove the meat from the bone first, then cut it into thin threads.
The good thing about the leftover meat is that it usually has some flavour inside already, so there is no need to marinate.

• Wash and cut the green beans and carrots.  You may choose whatever veggies you like, but be aware the cooking time may vary.

• For the noodle, there are different types to chose, but important is to use those strong enough for stir-fry.
Here I used the udon, a Japanese style noodle, which is bit thicker than normal Chinese egg noodle. It is cooked and sold in a pack. I bought it from local Chinese/Asian food market.
Sometime I also use other type such as spaghetti, but need to cook them in the boiling water when I prepare the meat and vegetables.      

• Heat up the wok or cooking pan, add oil and wait till very hot.
• Add the leftover chicken to stir fry, adjust taste by adding Chinese chilli bean paste, add salt if needed. Cook for about 3-4 minutes. Take the meat out and set aside.

• Add oil to stir fry vegetable separately. The reason for this is because some vegetable would produce the liquid, which can dilute the flavour in meat. Cook the veggie separately for about 5 minutes or until withered.

• Add the meat back to the veggies, also add udon noodle and mix well. Adjust taste using the light soy sauce. Fry for about 3 minutes until undo get the flavour.

• If you like, you may also add pepper, or spring onions before finishing. Serve in hot.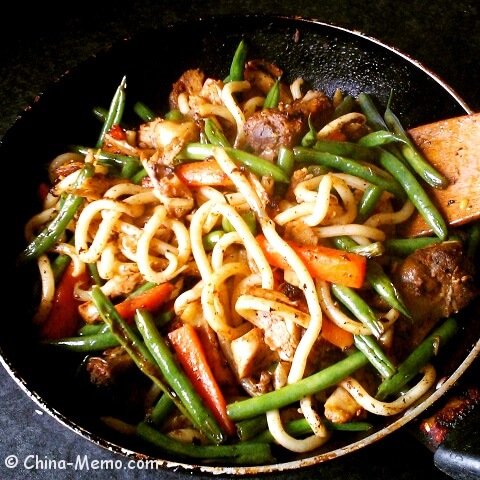 Hope this Chinese fried noodle recipe offers you a new way to cook the leftover meat. If you like it, please like it on Facebook and share with friends :)
(Post: 06/04/15)

You may also like:

Like It? Share It!