Perhaps this is the easist Chinese egg recipe I can think about, Egg Fried Rice, which seems to be popular outside China too. Same like egg fried tomato, this is another easy recipe for kids to learn Chinese cooking too. 
As you may notice that there are different ways to make it. I normally cook this as a quick meal by mixing the fried eggs with cooked meat and vegetables.
To save cooking time, I would use the hotdog sausages and cooked prawns. You may use other type of meat if you prefer. Just remember to cook the meat first, then add the cooked meat into the fried eggs and rice.
For vegetables I prefer to use the green peas, because they won't produce too much liquid as other vegetables. We would prefer the fried rice bit dry, which means rice are not sticky, showing bit oil is fine, but no liquid.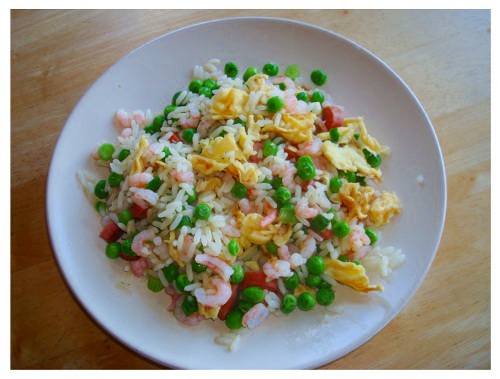 ---
Prep Time: 5 mins Cook Time: 15 mins

Ingredients:
Prepare:
Cook:
Add cold cooked rice, mixed with eggs and sausage. Cook for about 4 to 5 mins and make sure rice are well separated.

Add green peas and salt, cook for about 3 mins.

Before finishing, add cooked prawn and spring onions, mixed for half minute. Place on a plate and serve at once.
Tips:
In this Chinese egg recipe, quick frying is the key. The oil needs to be very hot, otherwise the fried eggs will not be fluffy.

Make sure to use cold cooked rice, otherwise the rice would be sticky.
The prawns are already cooked, so they do not need to cook again. You can use other meat like

cooked

chicken or pork if you like.

Do not overcook the spring onions. Otherwise they will lose the natural flavour.



I hope you like this simple and easy Chinese recipe. Please feel free to share with others.

You may also like to check my other Chinese egg recipe Egg Fried Tomatoes, and Chinese Meat Recipe.

(Posted: 28/04/12; Last Update: 15/07/13)

Like It? Share It!