I love egg dishes, good source of protein, easy to make. This egg fried onions is a very common Chinese home cooking dish, nothing too fanciful, but simple, easy and tasty.

When I started this website, the first recipe I wrote was for Chinese egg fried tomato, because that might be the first dish I learned to cook when I was a teenager. Because the egg fried vegetable is so easy to make that almost every Chinese knows how to do it.

Apart from the egg fried tomato, we also have different combinations, such as egg fried onion, egg with spinach (which can also make as a soup if you add stock after quick frying them), egg fried leeks or cucumbers.
The fried eggs are fluffy and smell so good, the onions are soft and tastes bit sweet.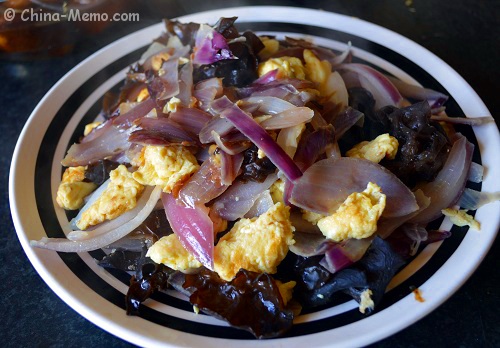 I usually make this egg dish with some wood ears as well. Wood ear is commonly used in Chinese cooking. It is very nutritious, not only full of vitamins but also helps to low the blood cholesterol. In market it is sold as dried, so it needs to be soaked in advance. The dry wood ears look like this.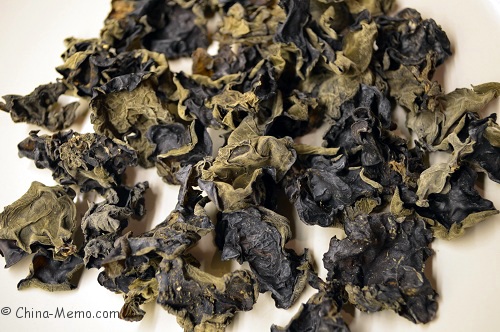 Once soaked, it becomes half transparent. The wood ear itself does not have any special taste or smell, bit crunchy, but can absorb the flavour from other ingredients.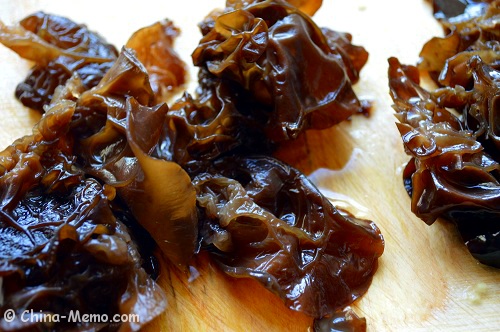 ---
Ingredients
•  3 eggs, beaten
•  3 onions, cut or sliced
•  Chinese dry wood ear, soaked
•  2 tbsp oil
•  ½ tbsp salt
•  ½ tbsp soy sauce

Method for Chinese Egg Fried Onion& Wood Ear
•  In a medium bowl, beat the egg with salt, mix well. Set aside.
•  Soak the dry wood ears in advance, then chop them to small pieces.
•  Cut the onions.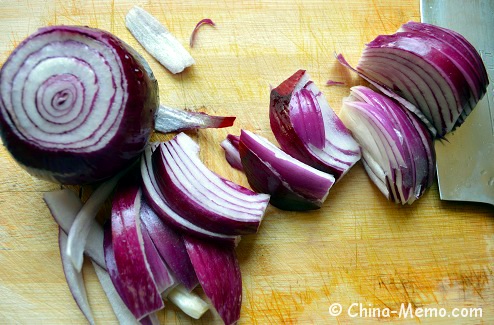 •  Heat up the cooking pan or wok, add oil and wait till high heat.  
•  Add egg to fry till golden brown, remove the egg to a plate, set aside.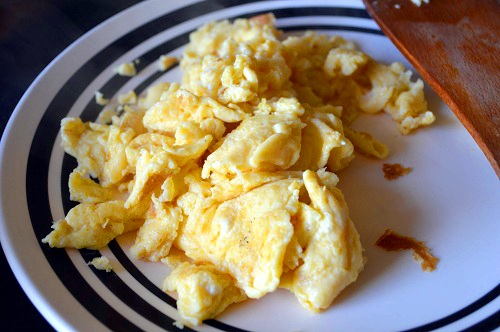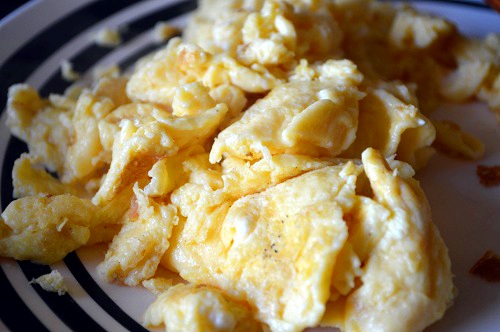 •  Add bit oil to fry the onions. Once softened, add the wood ears. Add salt and soy sauce to adjust the flavour. If you want to use leek, you can add it here to cook together.
•  Once onions and wood ears are cooked, add the egg back and mix all ingredients.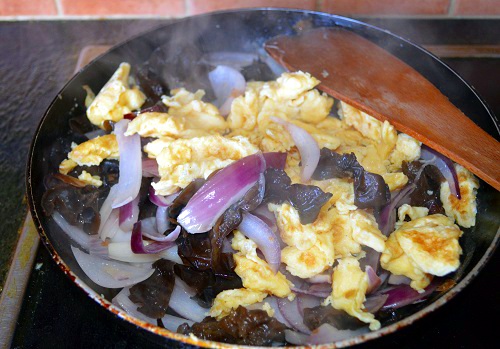 Once finished, serve in hot.
Usually we can add some spring onions before finishing a dish. But I don't see it is necessary here as it already has onions. Maybe you can try to use some other herb ingredients at the end. Experimenting is fun :)
Hope you like this dish, and please share with friends and family:)

---
Like It? Share It!