If you love egg and vegetables, check this Chinese egg fried chive recipe. It is very simple and easy to make, but without a doubt very tasty too. Scroll down to watch the video.

In China, we cook egg with different types of vegetable. The egg and veggie dishes are really easy to make. In terms of nutrition, there is no doubt that these two make a healthy combination because we all know that egg is a good resource of protein and vegetable is rich in fibre and vitamin.

When I look what dishes we have made for egg and veggie, I was amazed so many we can have. You can find our popular recipes from this site, such as Chinese Egg Fried Tomato, Egg Fried Onions, Chinese Egg & Tomato Soup and Egg & Shepherds Purse Soup. Apart from these, we also make egg fried spinach and egg fried cucumbers. Really plenty of choices, right?:)
For most times the egg is fried first, then taken out before frying
vegetables. In this Chinese egg fried chive recipe, there is a slightly
different approach. Before cooking, the egg is mixed with chopped chive first, then they are fried together. This really gives a different
flavour and texture of both egg and chive.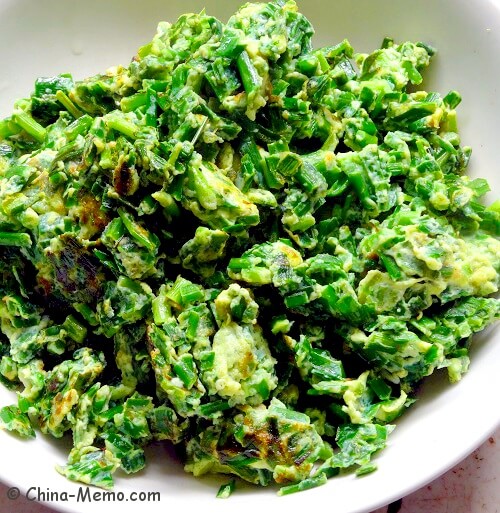 In China chive is very commonly seen in the market and we buy it like
normal vegetable. But in the UK I noticed that chive is normally sold
as the ingredient. I guess there is limit supply of chive here. But I
have seen them in UK's local Chinese food shops. So depend on where you live, maybe you can find them from your local area too.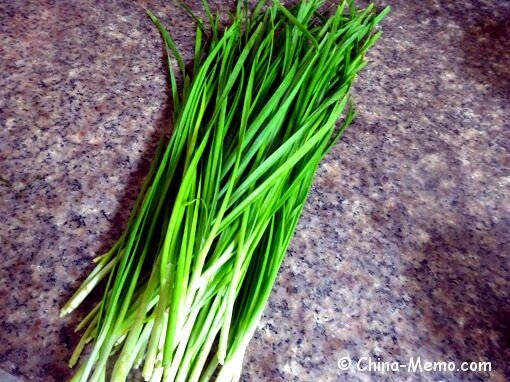 Ingredients
•  250g chive
•  3 eggs
•  3 tablespoon oil
•  salt

Method for Chinese Egg Fried Chive

•  Wash chive before chopping them into small pieces.

•  Beat the eggs in a bowl. Add salt and adjust the taste according to your like.
•  Pour the beaten egg on the top of the chopped chive. Stir to make them well mixed.
•  Heat up the wok or frying pan. Add the oil and wait it to be hot. Add the mixed egg and chive to fry until the egg turns to golden brown. Once finished, serve hot.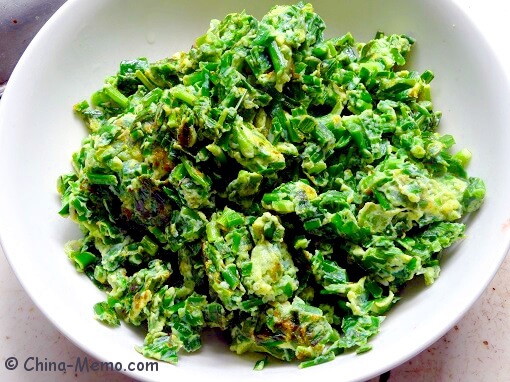 I have uploadd a cooking video for this dish here. You may also subscribe to my Youtube channel to get the regular updates for more Chinese food and travel videos. 
I hope you like this Chinese Egg Fried Chive recipe and if so, please
share with friends on Facebook or Twitter:)

You may also like to see more Chinese Egg Recipes such as Egg Tomato Meatball Noodle Soup and Chinese Egg Dumplings.

(Posted: 17/01/16)
Like It? Share It!