This time I was trying to do one of my mum's dishes Chinese egg dumplings, which she normally makes during the Chinese festival time. The minced meat or vegetable fillings are wrapped by the egg made "skin", then either deep fried or used for the soup. I really loved it.

There are some dishes my mum would make during the Chinese festival time, such as her special Sichuan Tiger Skin Pork Belly (Kou Rou), Pine Nut Fish, Sweet Sour Meatballs, and, this Chinese egg dumplings.
I used to watch her making this at home many times, which seemed very easy and nothing complicated at all. So I was trying this at this Chinese New year, when I joined my Chinese colleagues for Chinese New Year food party.
It turned out that it was more complicated than it looked. Somehow I still managed to finish it. Looks not bad at all, right?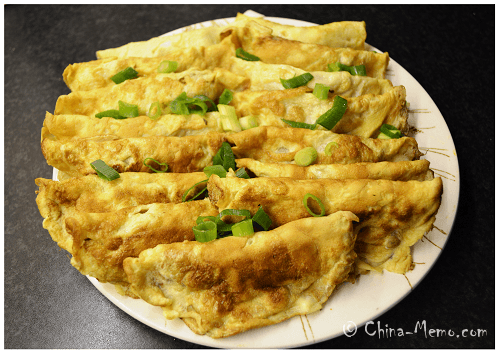 Ingredients
eggs
pork mince

oil
salt
corn starch flour (optional)

dark or light soy sauce
leek, finely chopped
ginger, finely chopped

spring onions   

Method for Chinese Egg Dumplings



In a medium bowl, beat the egg with salt, mix well. Set aside.

For the fillings we usually use the minced pork, but you can choose other type you like; or even finely chopped vegetables. If use vegetable, make sure to squeeze hard to remove the juice from the vegetable.
Add salt, soy sauce, chopped gingers and leek, mixed well with the meat. You may add corn starch flour which helps to make the meat tender.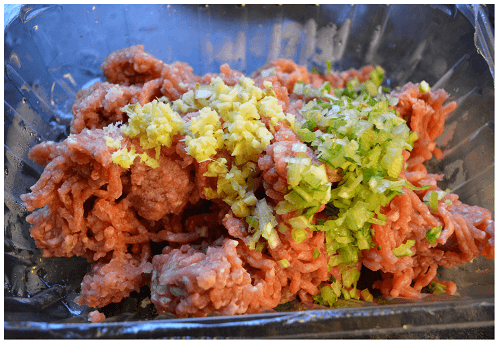 Heat up the wok or frying pan. Add oil to stir fry the filling till cooked. In fact, you may not need this step if you plan to deep fry or use the dumplings for soup, as they will be cooked later on anyway. Since I prefer to eat them directly, neither deep frying or soup, so I want to fillings to be cooked in advance.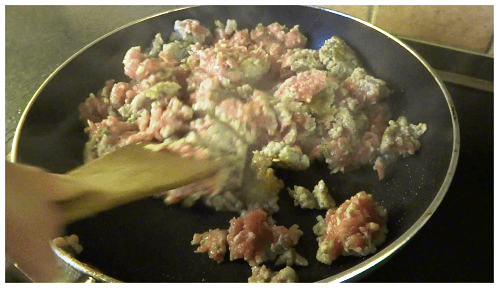 Now it comes to the tricky part, to make the dumpling skin. Heat up the frying pan, add bit oil, not too much. 
Make sure the pan is hot, pour a small amount egg (not too much!) on the pan and tilt the pan to spread the mixture across the pan base. To control the size of the dumpling skin, better to use a smaller pan, not as shown in this picture, which I used a big one at the beginning. It was not easy to make a round shape. 

Once the egg is set, add the fillings on top. Then use the chopsticks (or other tool you prefer) to lift the egg skin and carefully fold it over the fillings.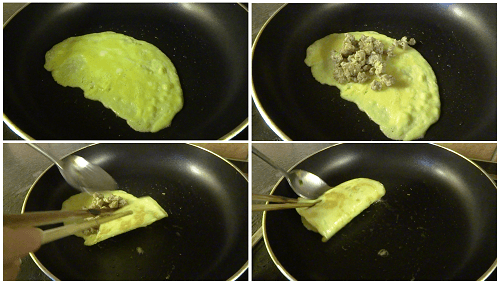 If you pour too much egg, the skin maybe too thick to fold. Unless you make the Chinese omelette, for small size dumplings, the skin needs to be thin. You may need try few times at beginning.  
Because the filling is already cooked, we only need to make sure the skin has covered the fillings. Use some egg to seal the edge if needed. 
Once the edge is sealed and one side turns to golden brown, turn it over to fry another side.
It may take a while to make this, depending on how quick you can do this, and how many dumplings you want to make. But trust me, it's fun :)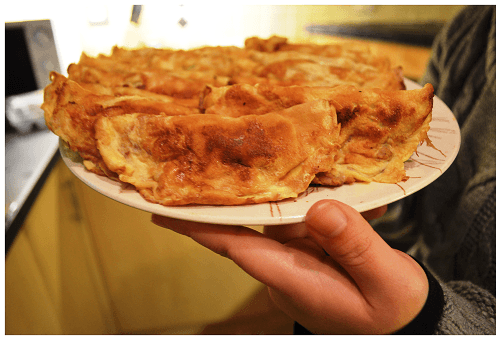 Once all is done, you may garnish the dish by spring onions. When it comes to the food party, would your guests be amazed?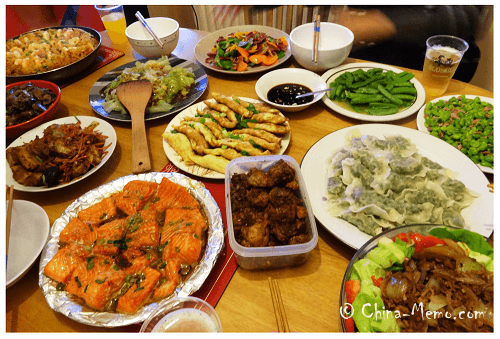 At least my colleagues were wowed by these Chinese egg dumplings;)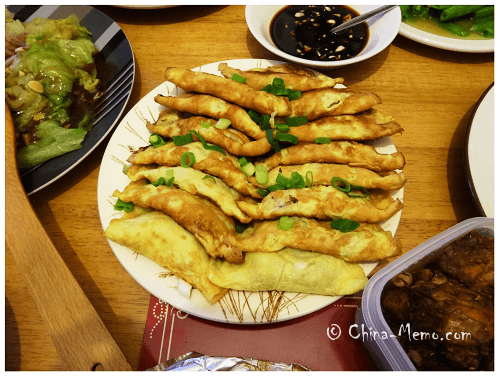 Summary

Use smaller size frying pan.
Amount of egg used for each skin is depended by size of the dumpling. The smaller the dumpling, the thinner the skin, otherwise it maybe too thick to fold.   
Final words, if you like this dish, please help me to share it!!! Then be quick, enjoy the dumplings before they turn cold….:)
Check the video below. Not perfect. The process of making was a bit mess, but final looks are ok. Hope you like it :). Keep sharing please!  If you want to get this update, you may subscribe my Youtube Channel.

Like It? Share It!