Our home cooking recipe for Chinese Chicken Cauliflower, marinated chicken is stir-fried with the cauliflower, tender and full of flavor. Scroll down to watch the cooking video.

Cauliflower is a very common vegetable in our daily meal. I also notice that it is very common in the UK too. In the UK, people may use oven to cook cauliflower dish, such as cauliflower baked with cheese.

Because in China we don't have oven in our kitchen, one of the easy ways of cooking the cauliflower is to stir fry, such as this Chinese chicken fried cauliflower.

As usual for all my parents' cooking, they would marinate the chicken with light soy sauce. To make sure the meat is tender, they would also use the corn starch flour to mix with the meat. Otherwise they would feel that the meat tastes dry and hard.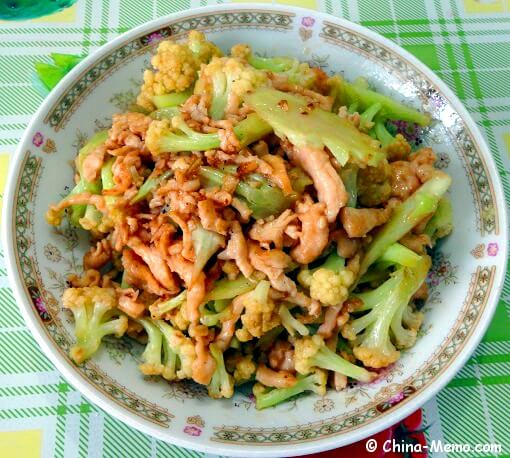 For this dish we may also use different ingredients. Such as instead of chicken, we might use Hunan local produced preserved pork sausages. To make the dish with more healthy ingredients, add some Chinese black wood ears will be a good option.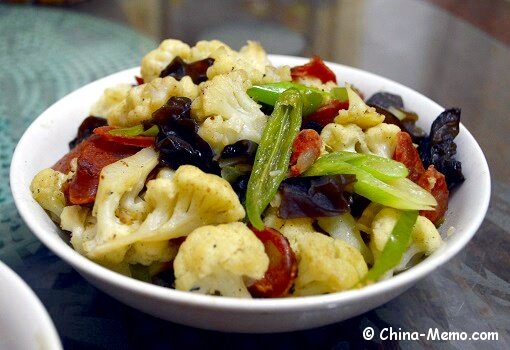 Sometimes I also use the same way to make chicken fried broccoli with red dry chili. Such an easy and tasty dish to make!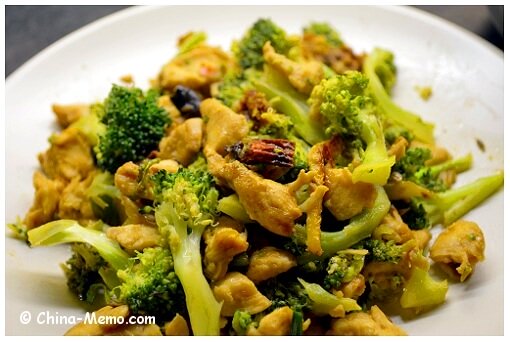 ---
Ingredients:
•   200g chicken
•   half cauliflower
•   2 tsp light soy sauce
•   2 tsp corn starch flour
•   1 tbsp oil
•   salt to taste
•   1 tsp oyster sauce (optional)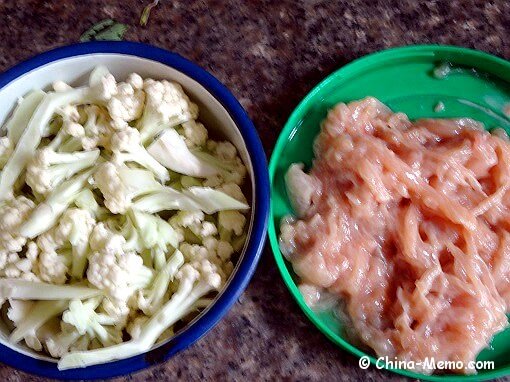 Method for Chinese Chicken Cauliflower

• Cut cauliflower into small chunks. Cut the chicken to thin threads. Place the meat in a bowl.

• In the bowl, add light soy sauce, corn starch flour and salt. Marinate the chicken for about 5 minutes.

• Heat up the wok and add oil, wait till high heat. Add chicken for a stir fry till the meat turn firm. Take the meat out, set aside.

• Fry the cauliflowers till soften. Add soy sauce for taste if needed. Add the chicken back to the stir fry with the vegetable. Cook till all ingredients are well mixed. Add oyster sauce if prefer. Transfer the dish to a plate, serve hot.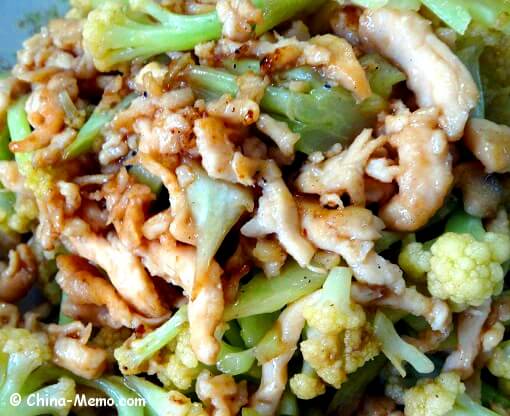 That's it. It is a very simple home cooking dish and everyone can make it. I will add a cooking video for this dish later on. Please subscribe to my Youtube Channel for a regular update.

Hope you like this Chinese Chicken Cauliflower recipe. If so, please like it on Facebook or share with friends at social network sites.
Like It? Share It!