Our home cooking recipe for Chinese Beans Fried Sausages with the dried Chinese black beans used as one of the ingredients. Scroll down to watch the cooking video.

This is a very easy dish to make. Sometimes we just want to make a quick dish to fill up the dining table. So there is not many tricks or complicated ingredients involved, but can still be tasty though.
What we usually do for those meat fried veggie dishes is that, we normally start with frying the meat first, then take the meat out and fry the veggie separately. The reason to take the meat out is that we prefer to keep the meat tender and not over cooked. You may check this Chinese Chicken Fried Cauliflower recipe here.

This dish is even easier than that, because we are frying the sausages, or hotdog sausages. Therefore, we don't worry to keep the meat tender as we cook those fresh meat. So normally we don't need to take the sausages out. Instead just fry the sausages first, let it to have some fried taste then straightforward add the green beans to mixed them with the sausages. That's it.

For this Chinese Beans Fried Sausage dish, we also like to make it
slightly different by adding some Chinese black beans. If you don't have it, or don't like it, that's ok, because this is just an optional ingredient. 

Frying the sausage with some garlic at the beginning is highly recommended as  the garlic will give some special flavour to the dish.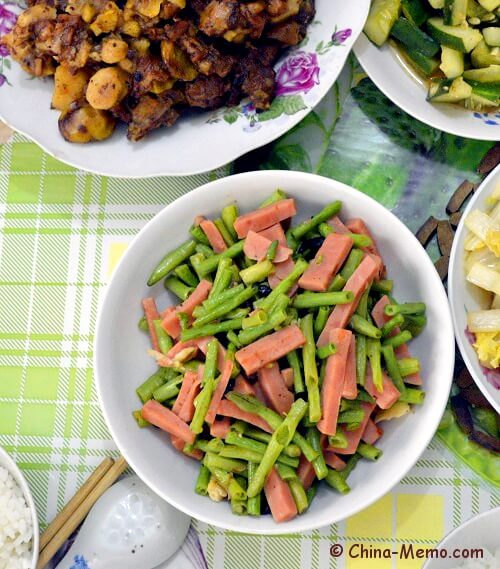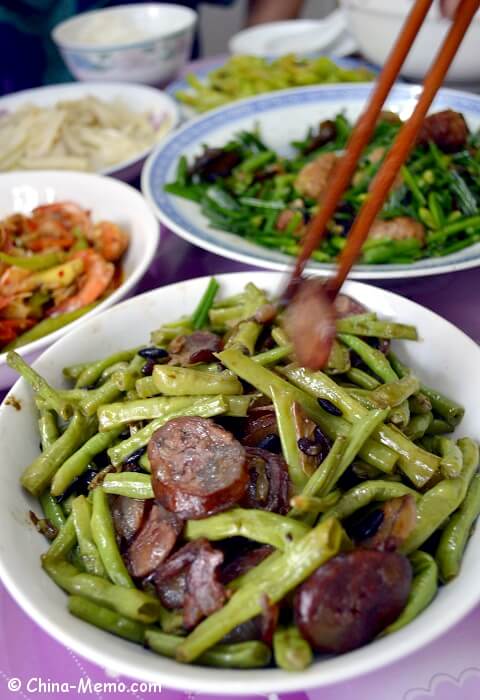 ---
Ingredients
•  2 hotdog sausages (or other type sausages you have)
•  green beans
•  2 garlic cloves, smacked 
•  1 tsp Chinese black beans (optional)
•  1 tbsp oil
•  salt to taste  

---
Method for
Chinese Beans Fried Sausages
• Peel the garlic and smack or cut it into small pieces.
• Wash the green beans and cut them into about 1 inch long. In China, we have this long green beans. In the UK I normally see the green beans shorter than these but this does not matter.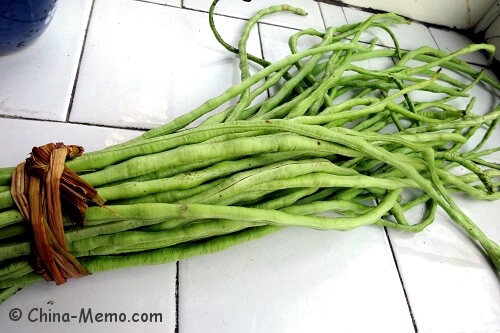 •  Cut the hotdog sausages into shape as you prefer. Better not to
thin. Place the sausages in a bowl.set aside.

•  Heat up the wok and add oil, wait till high heat.
•  Add garlic and hotdog sausages for a quick fry. Depending on your heat, this might take just one minute (for gas cooker) or several minutes (for slow heat-up cookers). Normally if the sausage get golden brown that should be fine. But make sure do not burn the garlic.  

•  Add green beans to fry with the sausages for few minutes.
•  Add Chinese black beans and make all ingredients well mixed. Add water or stock to cook till the green beans cooked. Transfer the dish to a plate, serve hot.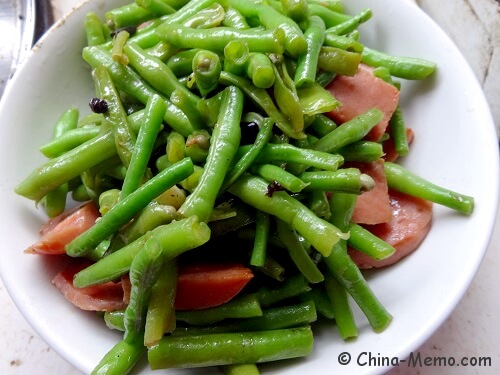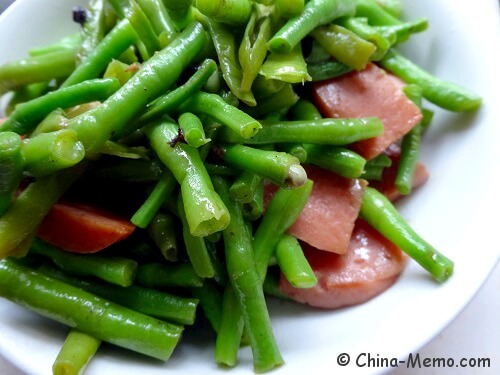 You can also use the uncooked fresh meat sausages. If so, you will need to fry or cook them first before frying the green beans. The sausages will bring additional flavor to the dish.
Here is what we had in China, we used the preserved (cured) Chinese pork sausages.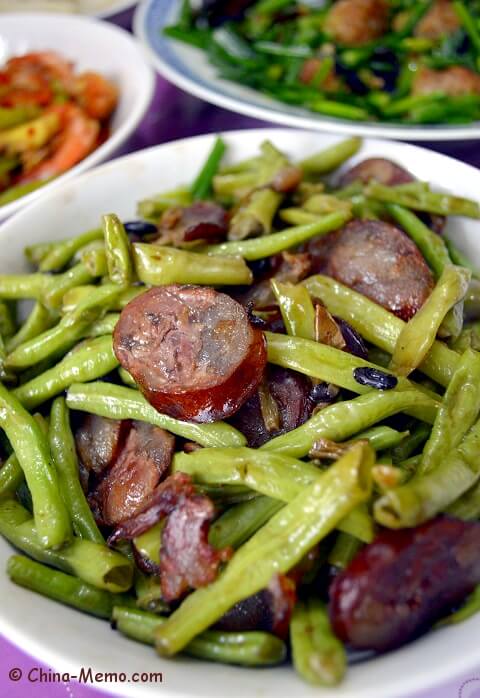 Hope you like this Chinese Beans Fried Sausages, if so, please share with friends and family, like it on Facebook or share it on Twitter :)
You can watch the cooking video for this dish here. To get the regular update for more Chinese home cooking videos, please subscribe my Youtube channel, thanks:)

You may also like:
Like It? Share It!