3. Beijing West Station Platform
In China the passenger taking soft sleeper train can enter the platform earlier than others who take normal seats and hard sleeper), therefore avoid the big crowd on the platform.
I was glad to notice there was lift/elevator to reach the platform, because not every train station has the lift. I remebered that I used carry my own luggages, which was difficult sometime. But with the devlopement of China, I hope that this has been improved.

Talking about carrying your own luggage, there are people can do this for you. The fee is about 10-15 RMB. They normally approach you once you arrived, either at platform, or outside the station.

Those people shown up at the platform usually wear the red or yellow vest. They may work for the station or are regulated by the station. I used their service sometime. But I never let people outside station to help with my luggage.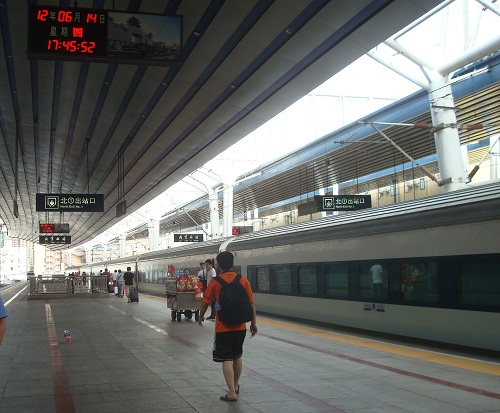 4. Boarding

Before boarding China sleeper train, a staff will take your ticket and give you a card. The ticket will be returned to you when he wakes you up, perhaps half hour before your destination. This exchange ticket process is operated in all types of China sleeper train. (I am not sure whether European train does the same.)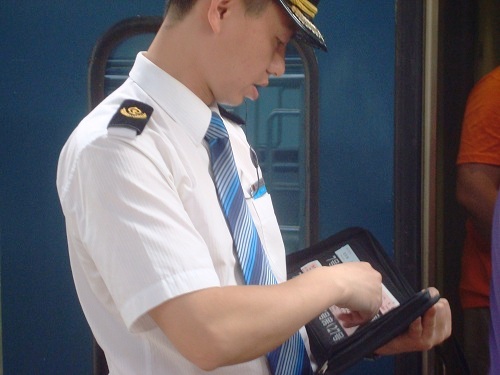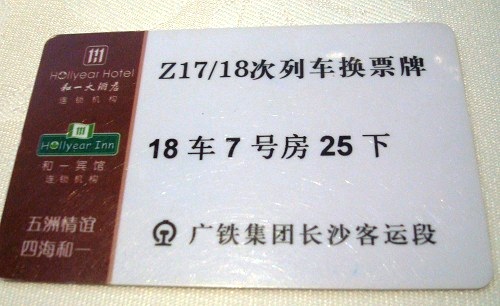 5. China Sleeper Train Facilities
This Z type soft seat sleeper cabin has four beds and a sliding door that you can lock inside, which is more secured than the hard seat sleeper (which normally has six beds and without a door). For D type train (Deluxe Soft Sleeper), there are two beds in cabin including toilet facilities.

There is space for luggage under the bed, highth limited of course, also it has the space above the door for bigger suitcase. But I normally just squeeze it beneath the table.
There is up limit for luggage weight but I can't remember this, you need to check with local train station. Normally no one checks the weight when you boarding. However, there will be some staff check this when you arrive. They are very experienced, just by looking at the size of luggage, they can tell whether it is over weighted. If so, you have to pay extra for it.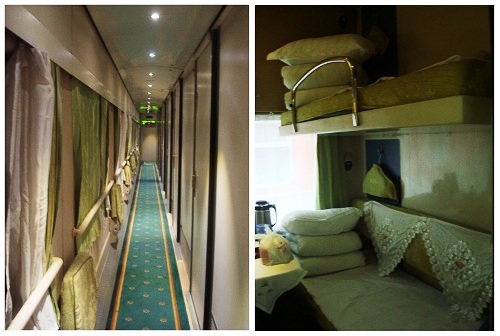 At the end of carriage, you can find the boiled water, one washing room with two basins and two toilets.
The boiled water is a must for Chinese because we need this for green tea and instant noodle (the cup noodle with fork inside). You can buy it from the train station shop. This is the food you will see most Chinese have on the sleeper train.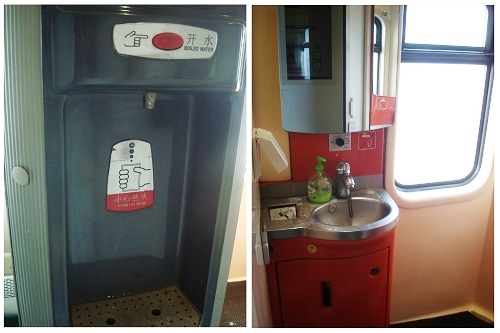 Apart from instant noodle, I like to have the tinned rice porridge as the breakfast. But every train has the food carriage, it is like a proper dining place, you can order the dishes. Bit expensive for Chinese, but I think it is ok for most from the West.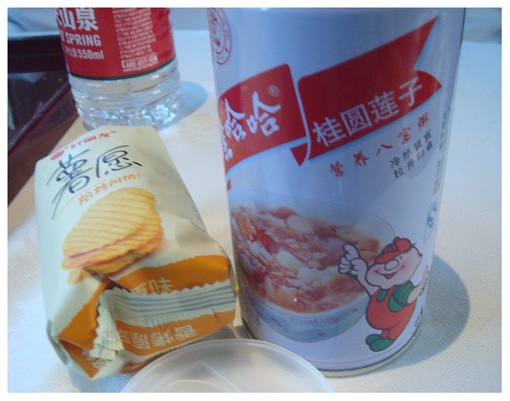 About the toilet, most trains in China use the squat toilet not the modern seated toilet. But for the higher class train such as soft sleeper, both types are available.
One last thing but important one, please always have some tissues with you when you go to the toilet, just in case there is no toilet paper (or run out already). Trust me, if you are traveling in China, you need to remember this, because it does happen, a lot!
6. Summary
Some advantages of taking soft seat sleeper train.
- Obviously it is cheaper than flight. A single flight from Beijing to Changsha costs about 1200 RMB. A soft seat China sleeper train (Z type) costs 529 RMB (for ticket) plus 30 RMB (handling fee for booking by hotel). 
- This Z type sleeper train has no stops in between. It leaves Beijing West Station at 1815 and arrives at 730 next morning which saves my day time.
- Condition of soft seat sleeper train is good comparing to the hard seat sleeper.
Less positive part?
- Condition of the train station. Although Beijing West Station provides a separated waiting room for Soft Seat passengers, it is still bit crowded comparing to the airport.
- Depending on station, if there is no lift at platform I have to carry my own luggage to climb the stairs or walk long distance.
One last thing I would recommend is, better to avoid travel by train near the big Chinese festivals, particularly Spring Festival, National Day (Oct 1st) and May 1st, because all train stations will be very busy.
Like It? Share It!