Here are something you might need to know about the Beijing transport before taking bus, taxi and subway there.

1. Beijing Bus

Beijing bus fare is very cheap. Most routes within city just cost 1 RMB.
Buying tickets on bus is self-served and no change is given, so you need to prepare exact amount coin or notes. Some bus routes operate from 5am till middle night.
It is better to know your bus route in advance as it might be a problem to communicate with bus driver in English.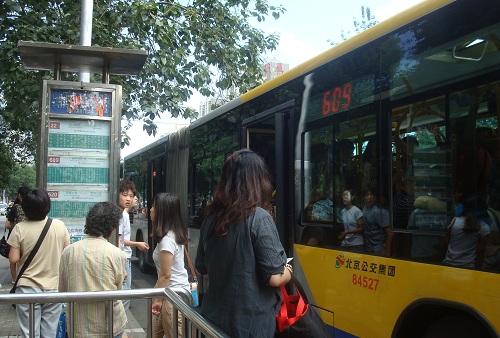 The front and side sign boards inside bus tells you the name of stops, in both Chinese and English. But there is no voice announcement. (But I am not sure whether this is same for all bus routes in Beijing).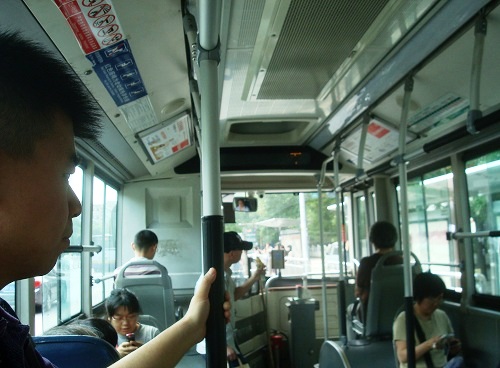 One thing different from the bus in the UK or some European countries, the bus in China does not have a stop button (as seen in 2012). The driver normally checks the passengers' movement from his front mirror to decide whether to open the back door. So you need to make a move to the back door in advance.  
In the place I came from, a middle size city in Hunan province, the bus does not stop at each stop unless it is needed. Sometime the bus is so crowded that the driver can't see the back door, and the passenger has to shout aloud to let the driver stop bus. This sounds funny but it is true in the small city or town. I guess it is unlikely to happen in Beijing though.           
2. Taxi in Beijing

Taxi is always a good option to avoid the crowdedness. But there are things you might find not that convenient when it comes to taking taxi in China.
Unlike in the UK or USA, where you can book taxi by calling the taxi company in advance so that the taxi can pick you up on time. In China, unless your hotel may do this for you, most likely you have to stand along the main road and wait an empty taxi show up. Depending on the time or the location, it may take long time to get a taxi.
One problem I met for taking taxi in Beijing is that some unprofessional drivers may refuse to take the customer. Part of reasons is because that the distance is short (such as cost only 10 RMB, minimum taxi fare in Beijing). This happened to me, not only once.
In other cases, I heard not only once from my foreign colleagues, that the taxi driver took them to a longer route.

But most time the taxi service is fine and I hope those special cases will never happen to you.   
3. Beijing Subway (Underground)

The fast and convenient public transport vehicle in Beijing should be the subway (underground). It has the clean environment and good facilities. Some stations seem to have better facilities than what I experienced in London.
Before entering the platform, you need to have your bags to pass the security check. (I don't think London underground have used the security screen system to date).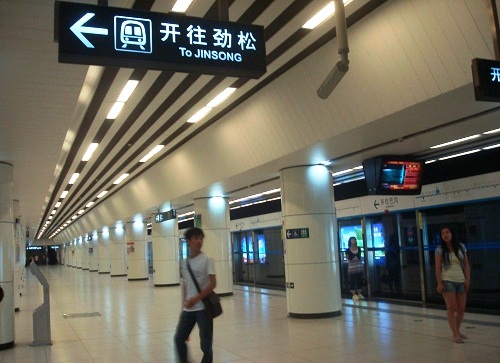 You can buy the ticket from the machine or at the ticket window. Each single ticket costs 2 RMB (in 2012). The machine has English instruction and easy to follow. It only takes 1 RMB coin, or 5 RMB and 10 RMB notes. Note, 1 RMB note will not be accepted.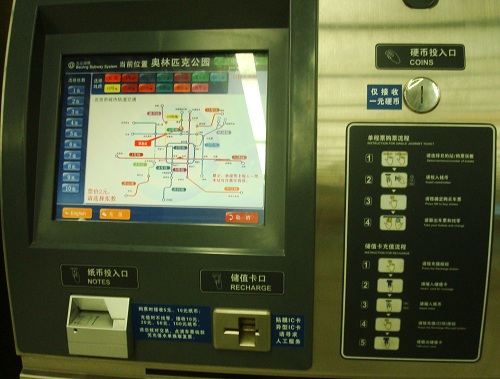 Inside the subway train, there are also maps and voice announcement for each stop in both Chinese and English. So you don't need to worry about missing the stops.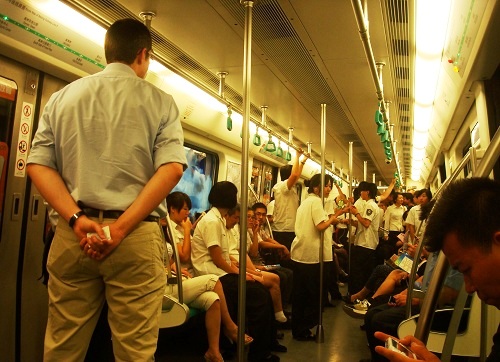 4. Beijing Bicycle

Bicycle is still popular in Chinese's daily life. It is handy to get around within short distance, such as less than half hour journey. When I was in China, I used to cycle to workplace as it took only 10 minutes. In Hunan Province there is a new self-serving public bicycle hiring system. But I haven't seen this in Beijing yet. (Update: Beijing has used such system in 2015).

These are the bicycles outside a Beijing local park where people are gathering for their community activities.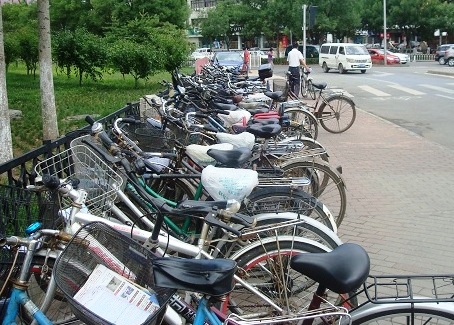 Continue to read post about Beijing transport, my experience of taking the sleeper train from Beijing to Changsha.
(Post: 31/12/12; Update: 22/03/15)
---
You may also like: 
Like It? Share It!