Authentic Chinese Food Lovers
Issue 28# May 31, 2016
Hi,
How have you been? Hope you are doing well:) I don't know your place, but here in the northwest of UK where I live, it feels summer now, well, at least for the locals. In China, 20C is still spring, but in the UK, you'd better to grab the chance to enjoy a short period of sunshine:)
Month of May has been a busy month for me. Yesterday I just handed in my final work for C&G Level-1 in Photography. I did this course in my part time (evening class for a year). It seemed long, but time really passes so quick. I am glad that I finally made it. At least, I didn't waste my time and have learned new skills. Hope I will make better food & travel pictures in the future:)
---

In this issue, you will see:

• Recipe: Chinese Cold Noodle

• Recipe: Chinese Spinach with Rice Noodle

• Cooking Video: Chinese Mapo Tofu

• Video Clip: China Local Hotpot
---
Picks of May, 2016
• Chinese Cold Noodle

My hometown Hunan is located in the south of China, where the summer is very hot and humid. Therefore a cold dish is always desirable in the summer. This is our home cooking recipe for Chinese Cold Noodle. The cooked noodle is seasoned by rich flavor sauces, which is my favorite noodle salad dish in the summer. Click the picture to see the recipe.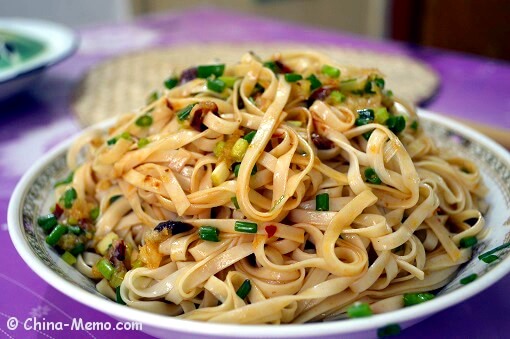 ---

• Chinese Spinach with Rice Noodle

This is my simple Chinese salad, spinach with rice noodle. Simply cook spinach, mixed with salt, sugar, vinegar and sesame oil. Light, easy and tasty salad dish.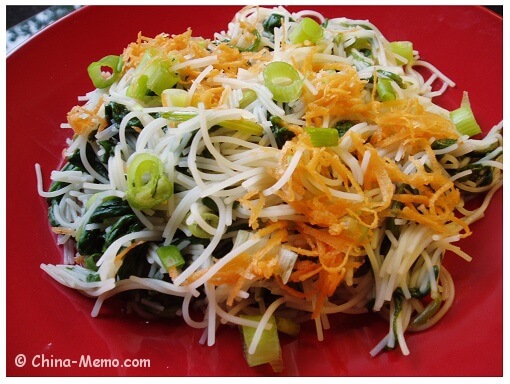 ---

• Cooking Video: Chinese Mapo Tofu

Last month I have posted our family recipe for a light version of Chinese Mapo Tofu. This time I uploaded a cooking video for it. You can click the picture or the link to watch video for Chinese Mapo Tofu on Youtube.
---

• Video Clip: China Local Hotpot

Just a short clip taken from China local hotpot restaurant, all food is cooked on the sticks, you make your own dipping sauce, eat as you can, 1 stick = 1CNY, easy to pay the bill. This kind of hotpot is very popular in China. Tasty and fun:)

Click the link to watch video for China Local Hotpot (Food on Sticks) on Youtube.

---
Ok, that's all for this month. Please feel free to share with friends about this Authentic Chinese Food Lovers Ezine . Thank you!

Wish you well and I will talk to you next time,

Min :)

Youtube | Pinterest | Facebook | Twitter | Goole+
---
www.china-memo.com is powered by Site Build It (SBI).