Authentic Chinese Food Lovers
Issue 6# June 30, 2014.
Hello,
This month I had one more steamed dish and one lovely egg dish, hope you will like them. Also you can see one cooking video, so check it out.
In this issue, you will see:
• Chinese Egg Dumplings
• Chinese Steamed Eggplant
• Video of June: Egg Dumplings
---
Picks of June
• Chinese Egg Dumplings

Ok, this was me trying to make my mum's dish Chinese Egg Dumplings . What she did seemed easy but it was more tricky when I tried it. But final looks are good, taste good too!:) It was a fun to make. You can do this at home too. Watch the video below.



• Chinese Steamed Eggplant

If you like vegetable, you may try this Chinese Steamed Eggplant . The sauce recipe for this dish was from my parents, they make this during summer time, but they usually use the pressure cooker, so the eggplant is much softer. You can try pressure cooker too if you like.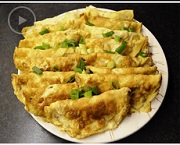 • Video of June: Egg Dumplings

You can watch this Chinese Egg Dumpling video . Not perfect as it was my experiment, but I was happy with the final looks, and my friend loved it as well. Just see how I did this, and you can do it too:).

You can watch it from my Youtube channel . If you have subscribed my Youtube channel, you will get the update any time when I add new videos.

---
Ok, that's from month of June. Hope you like these. Please feel free to share with friends, or forward them to Authentic Chinese Food Lovers Ezine subscription . Thank you!

Until next time, enjoy life and happy cooking!

Min :)
---
www.china-memo.com is powered by Site Build It (SBI).