Authentic Chinese Food Lovers
Issue 5# May 31, 2014.
Hello,
This month I have tried some Chinese steamed recipes, which I learned from Chinese website and tried at home. If you like to try some healthy Chinese dishes, have a look and try.
So for this month, it is all about Chinese steamed dish recipes. In this issue, you will see:
• Chinese Steamed Meatballs
• Chinese Steamed Tofu
• Video of May
---
Picks of May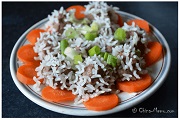 • Chinese Steamed Meatballs

A dish China Hunan locals like and gives it a beautiful name called pearly meatballs . Chinese Steamed Meatballs with Rice . The finely chopped ginger was mixed with minced meat, gives the meatball a fresh touch and makes the taste different.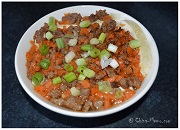 • Chinese Steamed Tofu

If you like tofu, maybe try this recipe Chinese Steamed Tofu . I think the difference here is it add the fried meat mince at the top, so there is extra flavor actually coming from the meat. Simple and effective.

If you want to make it more tasty, may try different ways for the meat. Or if you prefer no meat, may try some pickled vegetables on the top. So you can use this idea to make your own version :).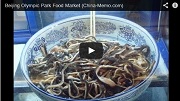 • Video of May

For this month video, I edited a collection of the pictures taken from Beijing Olympic Park food market , which shows many famous China regional snack food. Have a look to see what Chinese really eat in China :).

You can watch it from my Youtube channel . If you have subscribed my Youtube channel, you will get the update any time when I add new videos.
---
Ok, that's all from me. Please feel free to share with friends, or forward them to Authentic Chinese Food Lovers Ezine subscription . Thank you!

Until next time, enjoy life and happy cooking!

Min :)
---
www.china-memo.com is powered by Site Build It (SBI).