Authentic Chinese Food Lovers
Issue3# March.31, 2014.
Hello,
I don't know where you live, but the spring is finally coming to the place where I live. This is my favourite season because everything seems so fresh and exciting. Hope you start to enjoy the wonderful season too :).
In this issue, you will see:
• Recipe of March: Chinese Omelette
• Video of March
• Chinese food guide on Hunan preserved pork dishes
---
Pick of March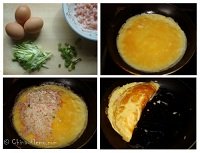 • Recipe

If you are interested in the egg recipe, you may like to see this Chinese Omelette recipe . Inspired by Japanese version egg wrap rice, which is a fun and easy to make, looks nice too :). Hopefully this will add one more interesting egg dish to your table.

• Video of Match

You may or may not see my post about Hunan Iron Plate Grilled Food , but I have added a video for it, so you can see how the food is cooked plus more pictures. You can also watch it from my Youtube channel .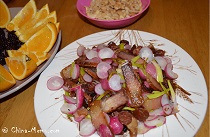 • Chinese Food Guide

I have updated a post about Hunan preserved pork. This time I added one more recipe for Hunan preserved pork dish (click the link to find out more). You will see how we prepare the Hunan preserved pork at home and cook a dish using preserved pork and vegetables.
---
"500+ Healthy Chinese Recipes in 5 minutes"



ChineseFoodDIY's cookbook "Real & Healthy Chinese Cooking" - 500+ low carb and low fat recipes with 170+ colorful pictures. Based on a master chef's 40 years of cooking practice and 4 years of writing and research, it has helped over 12,800 people worldwide improve their health.

Click here to read the whole story that reveals how ANYONE can cook delicious Chinese food and improve their health... in less than 20 minutes.
---
Ok, that's for March, hope you like it. Please feel free to share with friends, or forward them to Authentic Chinese Food Lovers Ezine subscription . Thank you!

Until next time, enjoy life and happy cooking!

Min :)
---
www.china-memo.com is powered by Site Build It (SBI).