Authentic Chinese Food Lovers
Issue1# Jan.31, 2014.
Hello,
How are you? I hope all with you goes well. I am very excited to share with you the first issue of my E-zine. Thanks for joining me.
Do you know that Jan 31, 2014 is the traditional Chinese New Year, also called the Spring Festival. So I wish you a Happy Chinese New Year, and you achieve whatever you wish in 2014!:)
In this issue, you will see:
• Pick of January
• Chinese Ingredients: leek and spring onions
• Easy Chinese egg dishes ideas
---
Pick of January
Two lovely recipes have been added this month, if you haven't seen them yet, you may check them by click the link.

• Chinese eggplant with dry mushroom

• Chinese microwave oven fish (cod) (with Video).

• A new post: four things about Chinese Daily Meal, so you can see what Chinese eat and how we eat.

• Big Site News! China-Memo.com is now on Facebook!

Yes, at last. I have been thinking this for a while. Mainly worry that I won't have enough time to spend on Facebook daily due to my day job. But I think it should be a good way to stay in touch with all fans.

So, please do come to visit new China-Memo.com FB page, hope you Like it, please Share or Leave comment! Thanks.
---
Chinese Ingredients: leek and spring onions
In Chinese cooking we use leek and spring onions a lot as ingredients, so I put these two together in this month's Ingredient Tips.

• Leek can be fried with other ingredients at the beginning, such as gingers or chilli paste. You will immediately notice its special aroma. But don't fry it too long or burn it as that will change the smell.

• Leek is also good if you finely chopped it and mix it with minced meat, such as make a meat ball dish. In China, we usually use the chopped leek as a key ingredient for Chinese dumpling stuffing. Try this when you make the meatballs.

• Spring onion is often used at end of cooking. Simply garnish the dish or soup by adding chopped spring onions on the top. You even don't need cook it. But if you prefer to cook it, less than a minute is enough. Otherwise, the nice smell is gone.

• Unlike leek, spring onion is not suitable for frying at beginning. I guess the heat will kill its special flavour, which we normally call it "dead".
---
Ideas for easy Chinese egg dishes
I love egg dishes, good protein, easy to make. Here I share with you some ideas to make simple Chinese egg dishes. All these egg dishes can be made by using the same recipe: Egg Fried with tomato, a very common Chinese dish.

• Egg fried with sliced onions.

• Egg fried with spinach, this can also make as a soup if you add stock after quick frying them.

• Egg fried with leek

• Egg fried with cucumbers.

Sooooo easy, right? you can make different dishes every day. So, why not try it at home :)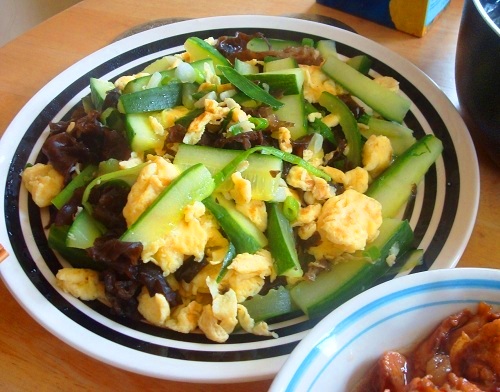 ---
I hope you like this issue. If so, please share with friends, or forward them the Authentic Chinese Food Lovers Ezine subscription link. Thank you!

If you have any questions want to ask, please feel free to drop me a line.

All the best and happy cooking!

Min :)
---